Where is located Aruba on the Map
Aruba is located in the southern Caribbean Sea, about 25 kilometers (15.5 miles) north of the coast of Venezuela. It is part of a group of islands known as the Lesser Antilles in the Kingdom of the Netherlands. To find Aruba on a map, you can look for the coordinates 12.5211° N, 69.9683° W.
On Aruba map page, your ultimate guide to exploring this tropical paradise! Aruba is a beautiful Caribbean island known for its white sandy beaches, crystal-clear waters, and warm hospitality. With our interactive map, you can discover all the hidden gems of Aruba and plan your perfect vacation.
Aruba detailed map includes major cities, landmarks, and topographical features, allowing you to explore every inch of this stunning island. Whether you're interested in visiting the historic Oranjestad, sunbathing on Palm Beach, or exploring the rugged terrain of Arikok National Park, our map has everything you need.
With WorldMap1's Aruba map page, you can zoom in to get a closer look at each region and start planning your next adventure. Our map also includes useful information such as hotels, restaurants, and other attractions, so you can easily plan your itinerary.
Whether you're a first-time visitor or a seasoned traveler, our Aruba map page has everything you need to make the most of your trip. So what are you waiting for? Visit WorldMap1's Aruba map page today and start exploring this stunning island paradise!
For more about Aruba >>
map of Aruba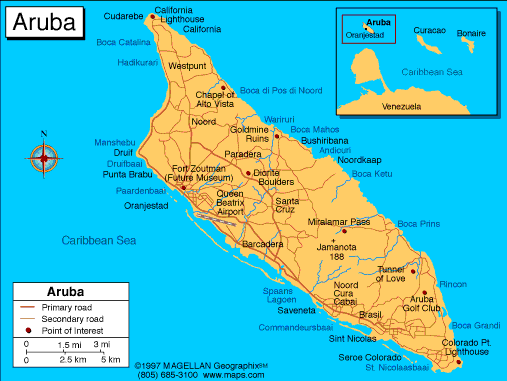 ARUBA CITIES MAP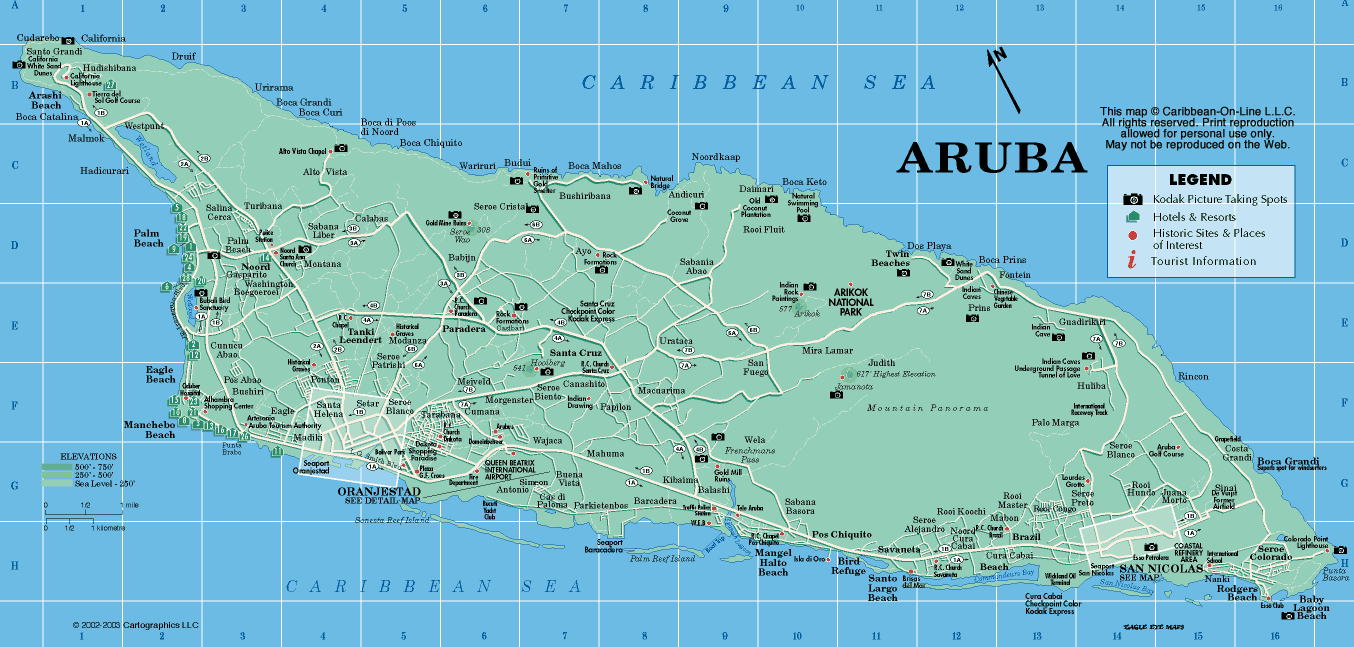 Brief information about Aruba
Aruba is a small Caribbean island located north of the coast of Venezuela. It is a constituent country of the Kingdom of the Netherlands and has a population of approximately 110,000 people. The official languages are Dutch and Papiamento, although English and Spanish are also widely spoken.
Aruba is known for its warm and sunny climate, stunning beaches, and crystal-clear waters that are perfect for swimming, snorkeling, and diving. The island is also home to unique flora and fauna, including several species of cactus and the Aruban burrowing owl.
Tourism is the main industry in Aruba, with visitors drawn to its natural beauty, vibrant nightlife, and rich cultural heritage. The island also has a thriving culinary scene, with a wide range of international and local cuisine available in its many restaurants.
Aruba has a stable and prosperous economy, with a high standard of living and a relatively low unemployment rate. The island is also known for its commitment to sustainability, with initiatives in place to promote renewable energy and protect the environment.
Here is some statistical information about Aruba:
Area:
180 km² (69 sq mi)
Population:
Approximately 110,000 (as of 2021)
Demographics:
Aruba has a diverse population with a mix of different ethnicities and cultures. The majority of the population is of mixed European and African ancestry, known as "Arubans". There are also significant populations of Dutch, Colombian, Venezuelan, and other nationalities.
History:
Aruba was first inhabited by the Caquetio people, an indigenous tribe that arrived on the island around 1000 AD. The island was later colonized by the Spanish in the 16th century, and subsequently came under Dutch control in the 17th century. Aruba gained autonomy within the Kingdom of the Netherlands in 1986.
Economy:
Aruba has a prosperous economy that is heavily dependent on tourism, which accounts for over 80% of the island's GDP. The island is a popular vacation destination and receives millions of visitors each year. Other important sectors of the economy include oil refining, financial services, and the export of aloe and other products. Aruba has a high standard of living and a relatively low unemployment rate.
A Collection of Aruba Maps and Aruba Satellite Images
map of Aruba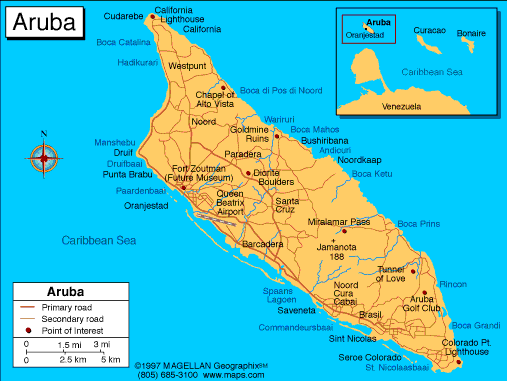 aruba map oranjestad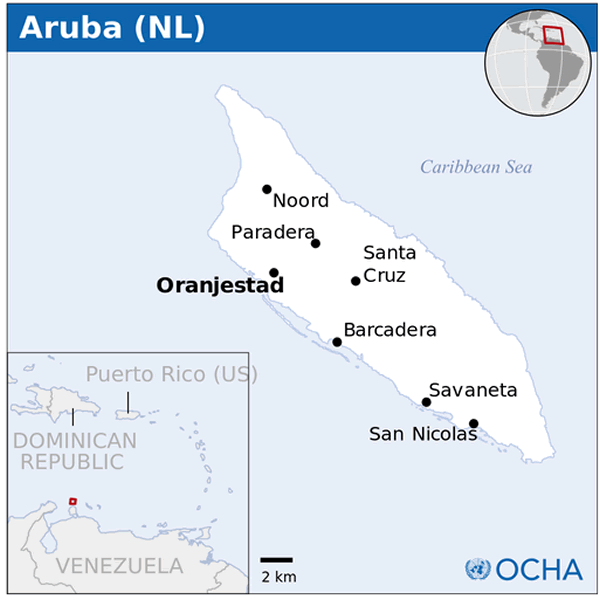 where is aruba in the world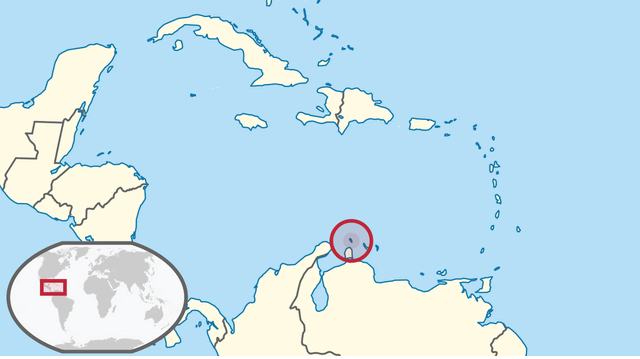 aruba cities map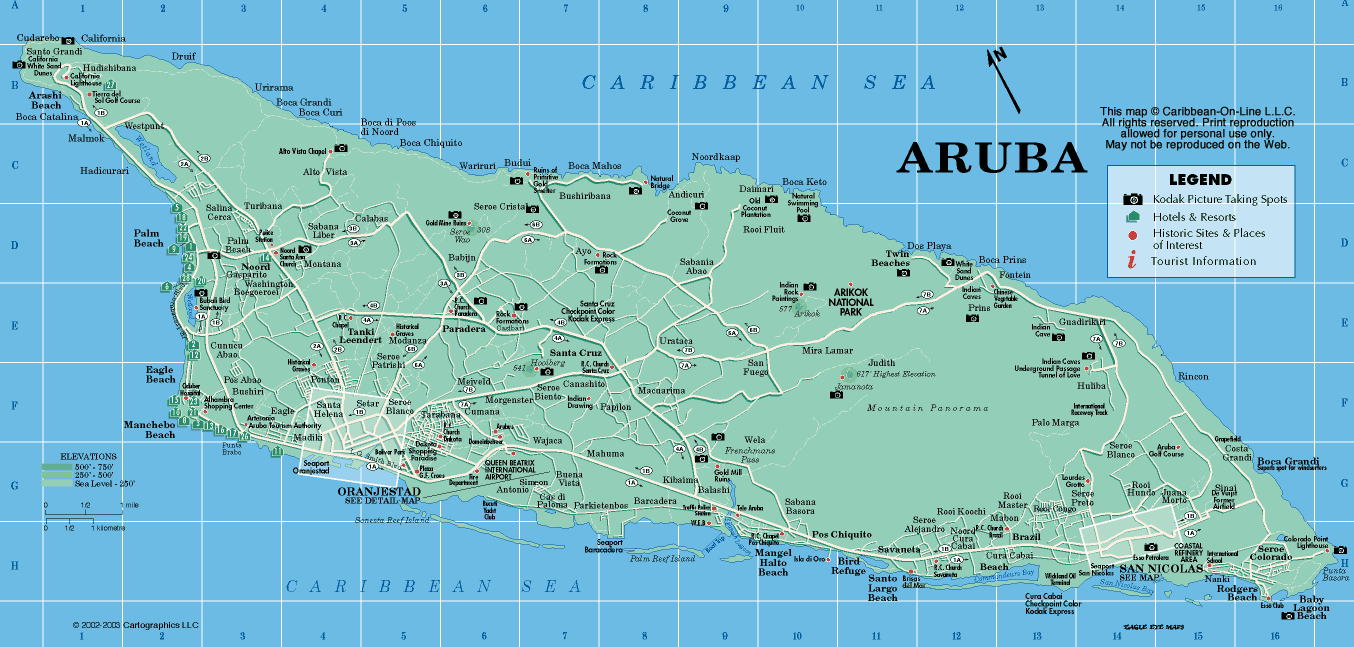 aruba island map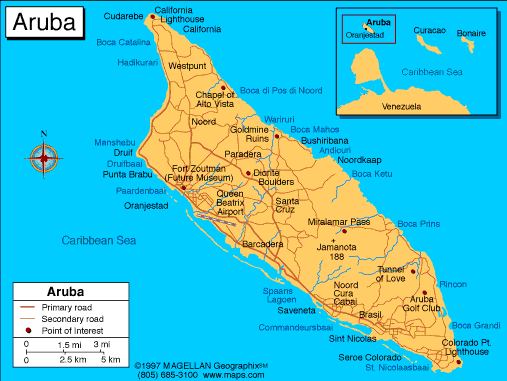 aruba map caribbean sea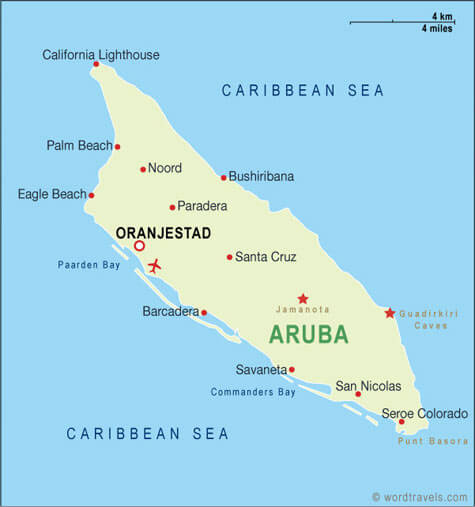 aruba map caribbean world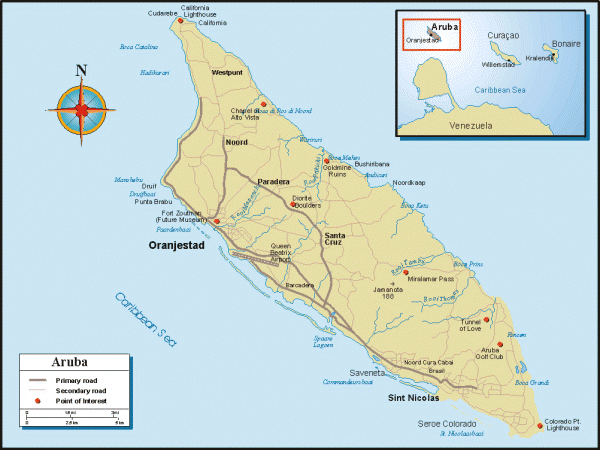 aruba map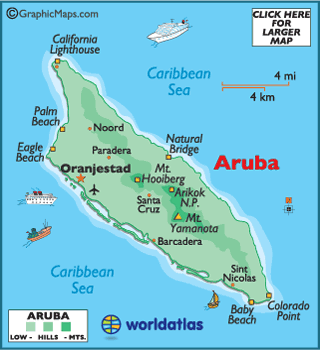 caribbean map aruba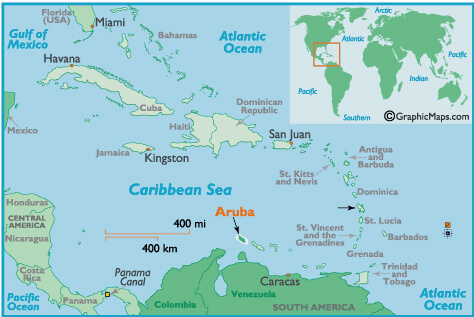 map of aruba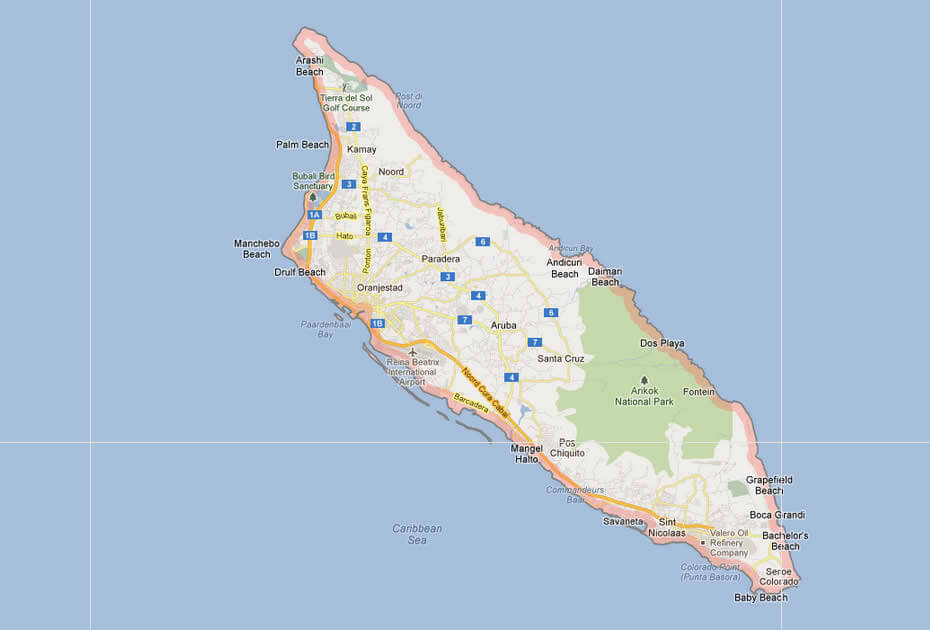 map aruba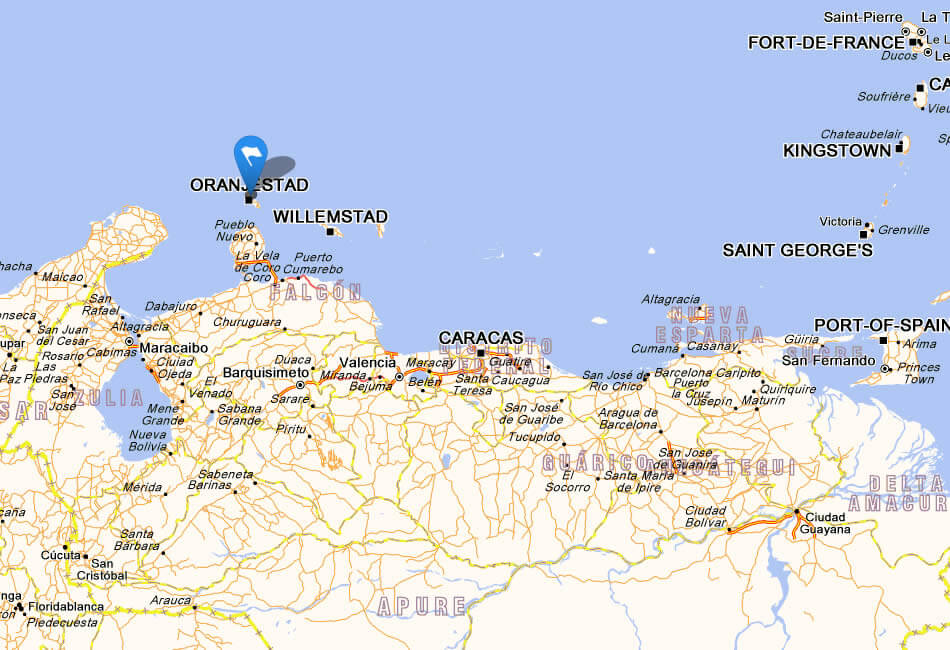 Aruba Earth Map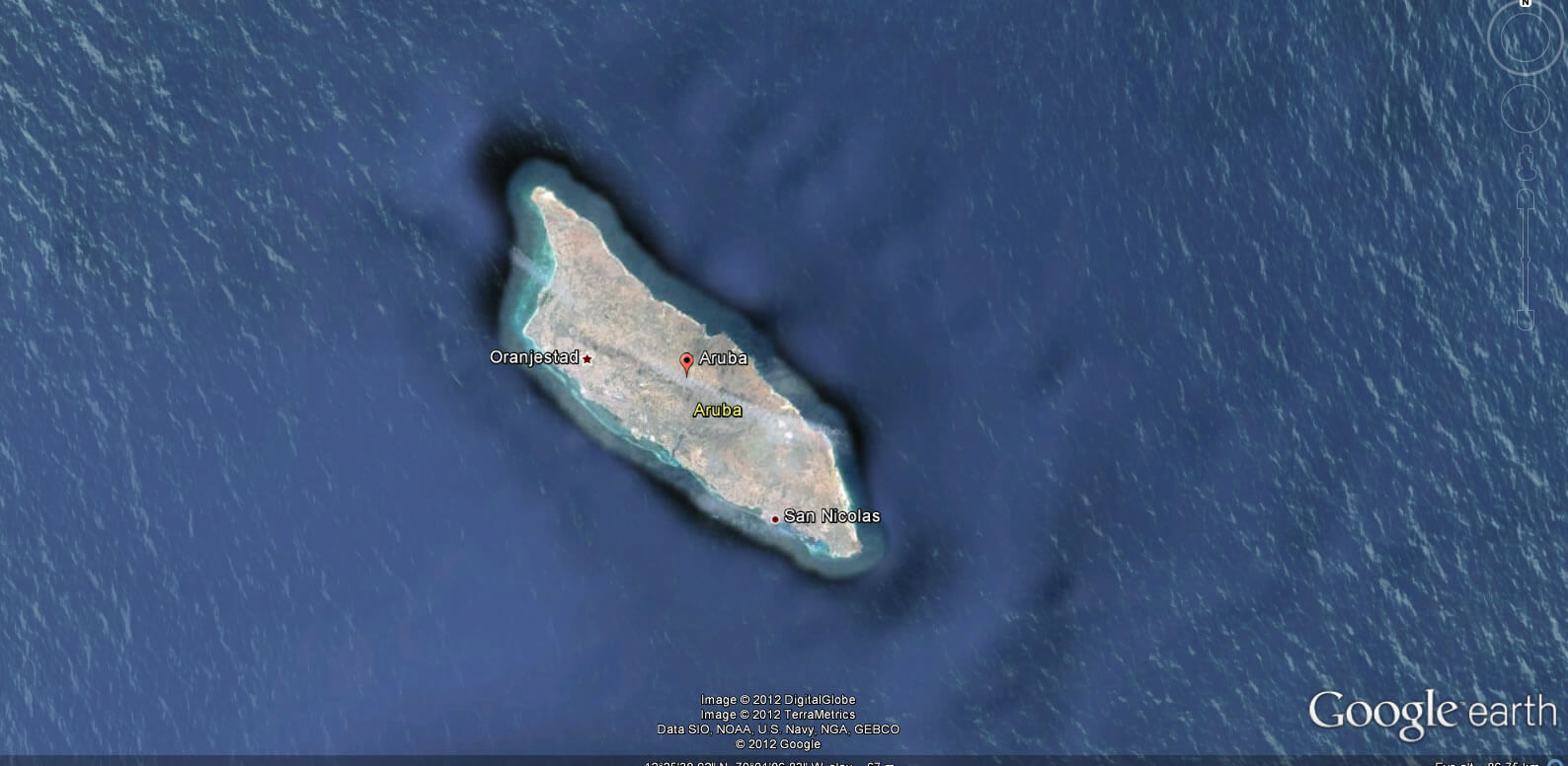 Author:
Arif Cagrici