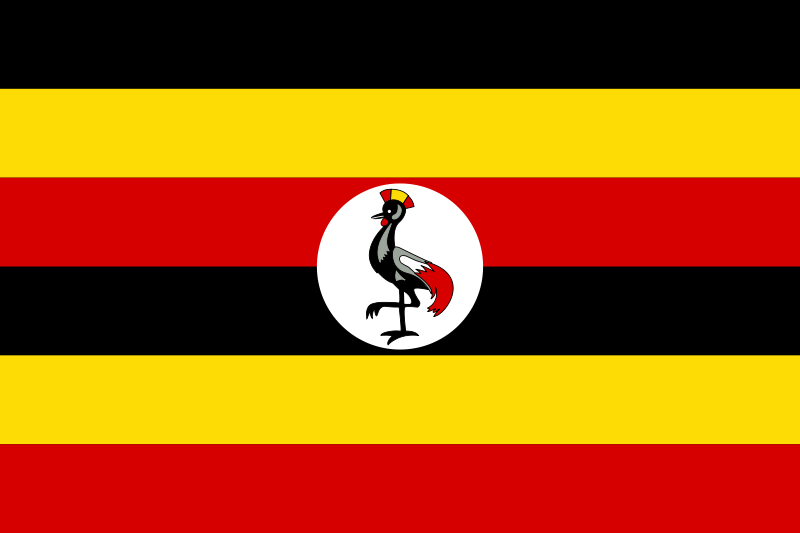 Capital : Kampala
Population : 35,873,253
GDP : $16.810 billion
Per Capita : $477
Calling Code : +256
Jobless Rate : 4.20%
Time Zone : +3
Where is located Uganda on the Map
Uganda is located in East Africa, situated right on the equator. It's a landlocked country surrounded by five countries:
South Sudan to the north.
Kenya to the east.
Tanzania to the south.
Rwanda to the southwest.
Democratic Republic of Congo to the west.
Uganda lies within the eastern hemisphere of the Earth. One of its significant geographic features is Lake Victoria, which it shares with Kenya and Tanzania. This lake is the source of the Nile, the longest river in the world.
For more about Uganda >>
MAP OF UGANDA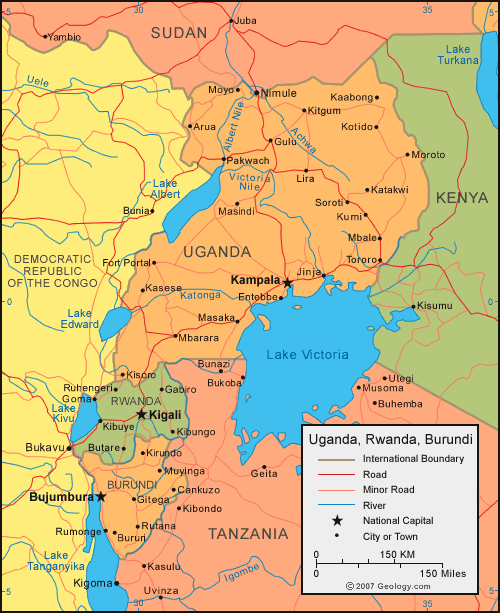 UGANDA REGIONS MAP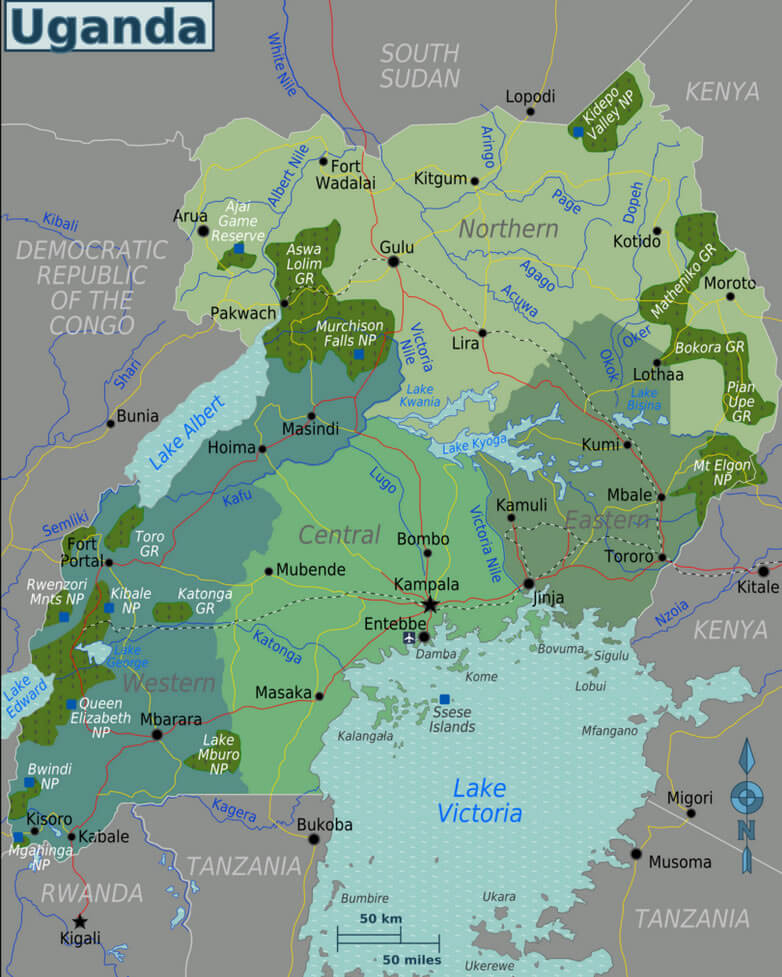 Brief information about Uganda
Uganda, officially the Republic of Uganda, is a landlocked country in East Africa. It is bordered to the east by Kenya, to the north by South Sudan, to the west by the Democratic Republic of the Congo, to the southwest by Rwanda, and to the south by Tanzania. Uganda is the world's second most populous landlocked country after Ethiopia.
Area:
Uganda covers an area of approximately 241,038 square kilometers (93,065 square miles). It is a landlocked country located in East Africa.
Population:
As of 2021 estimates, the population of Uganda is around 45 million people.
Demographics:
Uganda is a multicultural and multilingual country, home to more than 40 different indigenous ethnic groups. The Baganda are the largest group, making up approximately 16.5% of the population. Other significant groups include the Banyankole, Basoga, and Bakiga. English and Swahili are the country's official languages, but several indigenous languages are also spoken.
History:
Uganda has a rich and diverse cultural history, with evidence of human habitation dating back to the Stone Age. It was colonized by the British in the late 19th century and gained independence in 1962. The post-independence period was marked by political instability, but conditions have generally improved in recent years.
Economy:
Agriculture dominates Uganda's economy, accounting for over 70% of employment. Key agricultural exports include coffee, tea, and fish. The country is also rich in natural resources, with substantial deposits of copper and cobalt. In recent years, significant oil reserves have been discovered. Despite these resources, Uganda remains a low-income country, with a GDP (PPP) estimated at around $115 billion in 2021.
A Collection of Uganda Maps and Uganda Satellite Images
MAP OF UGANDA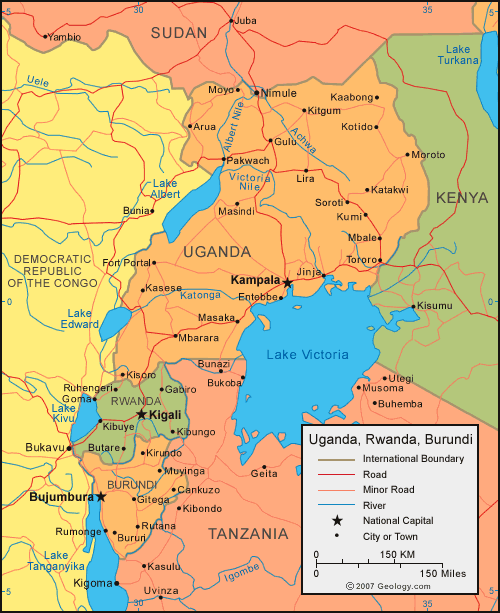 WHERE IS UGANDA IN THE WORLD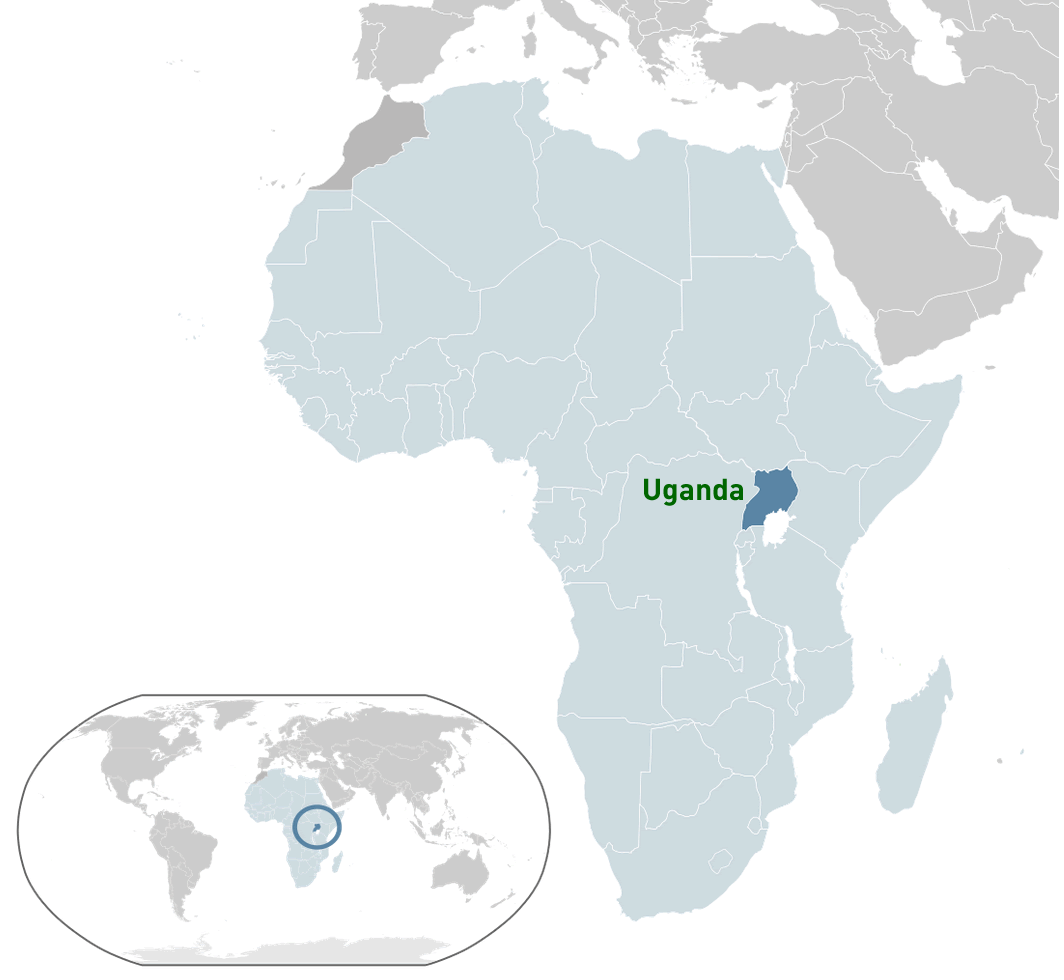 SPOKEN LANGUAGES IN UGANDA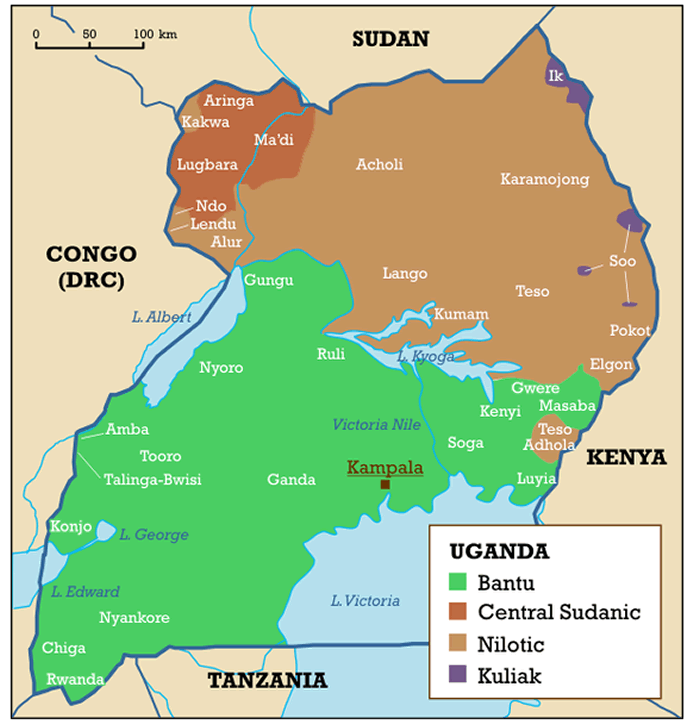 UGANDA REGIONS MAP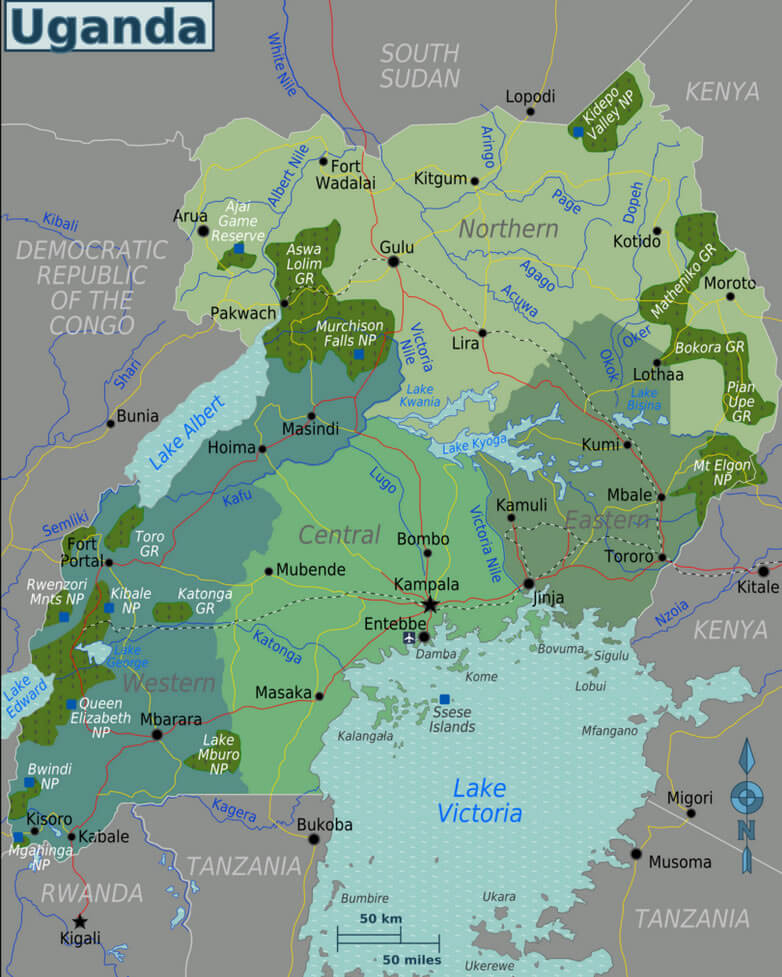 KAMPALA UGANDA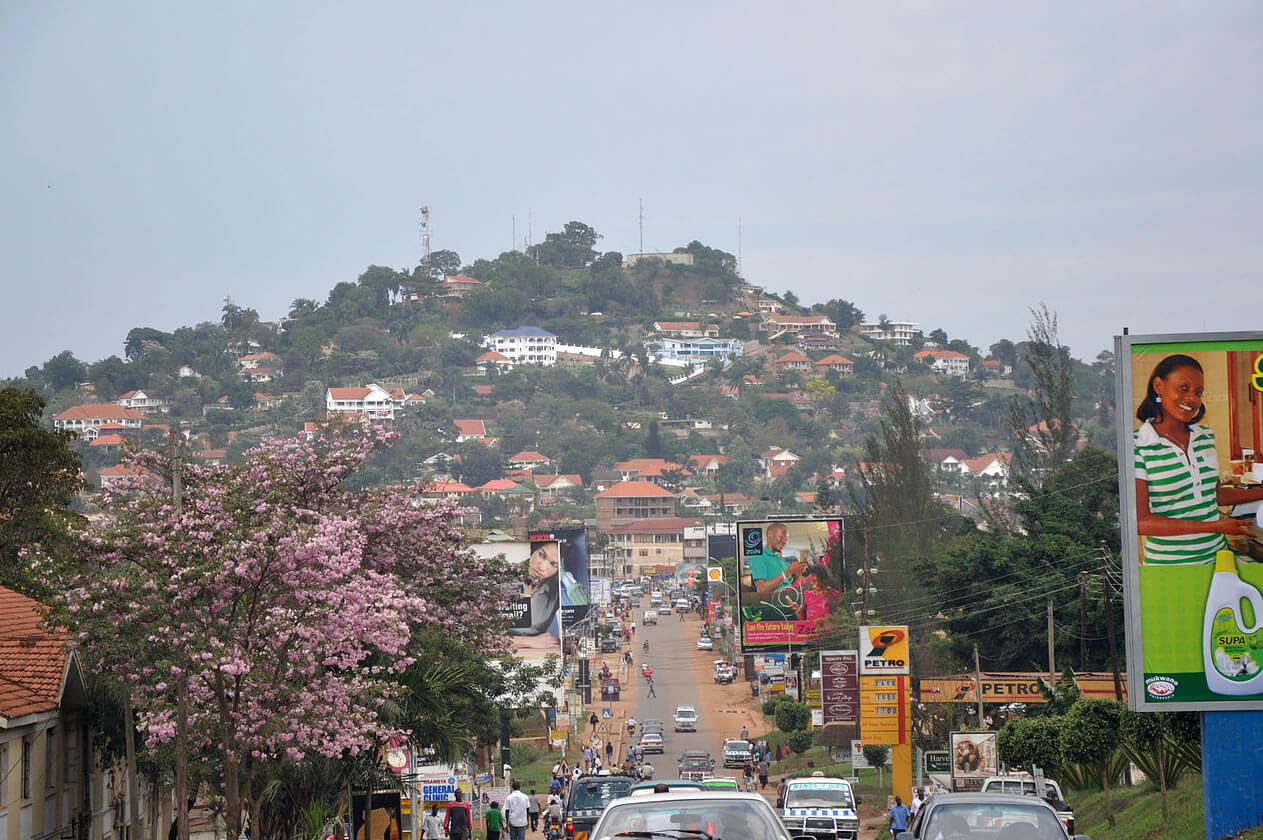 ADMINISTRATIVE MAP OF UGANDA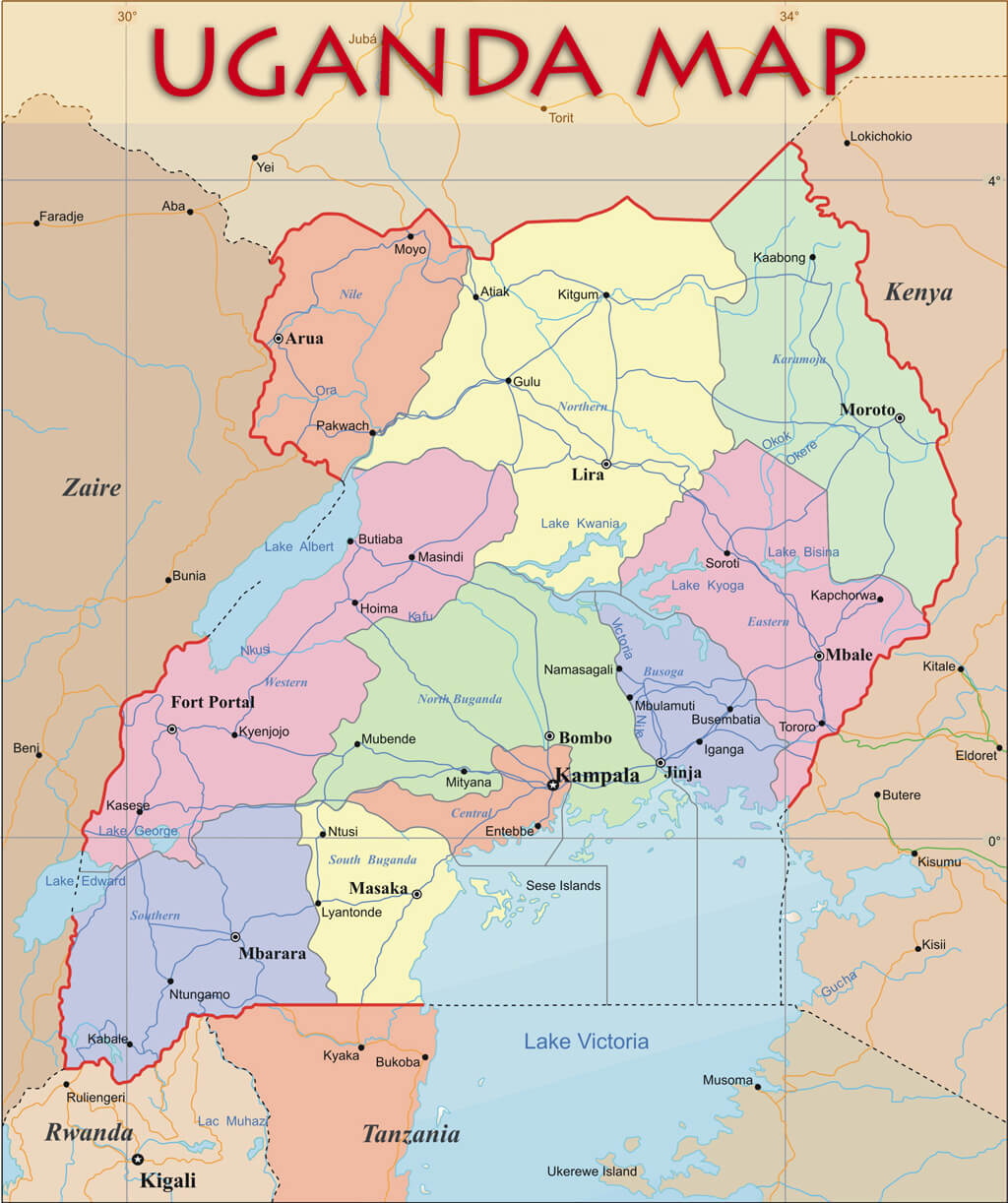 MAP OF UGANDA AFRICA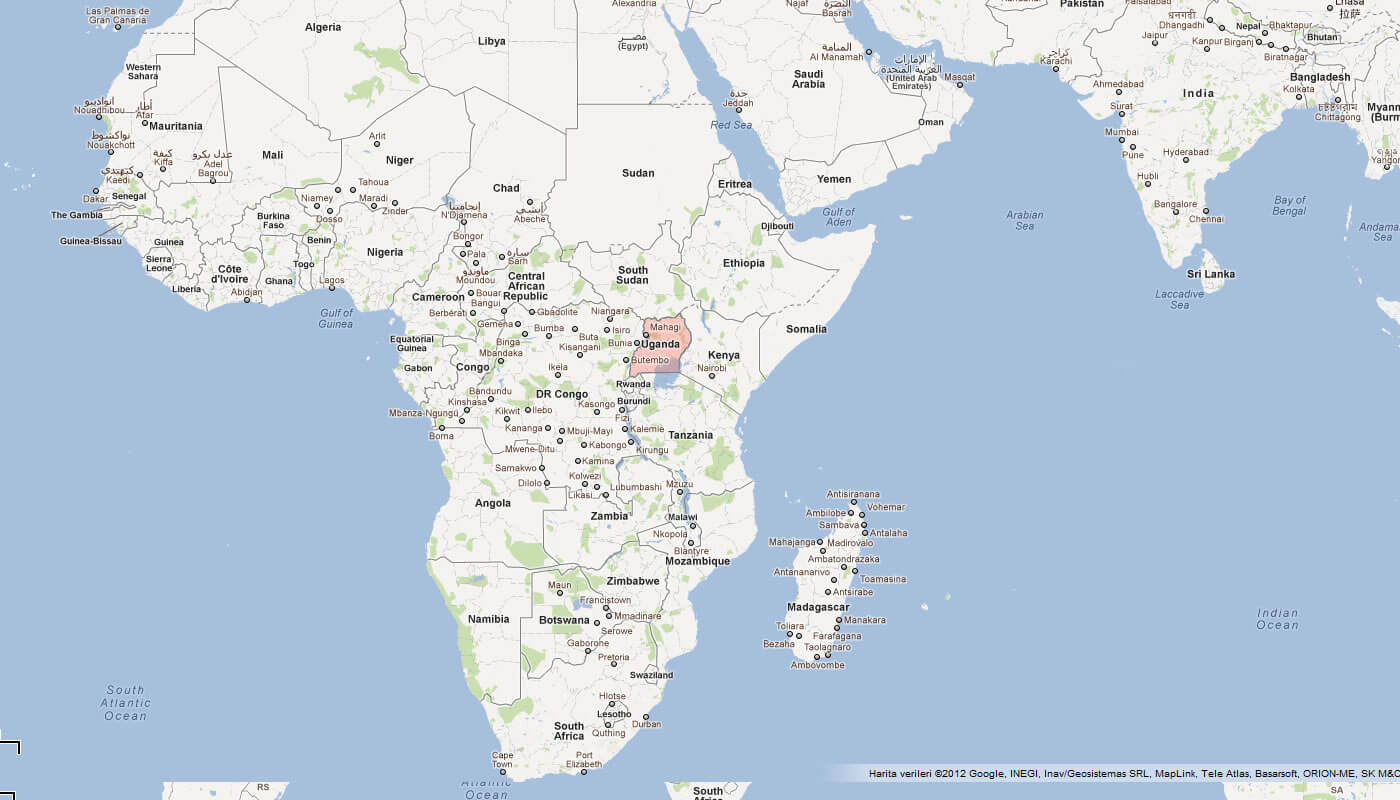 MAP OF UGANDA WORLD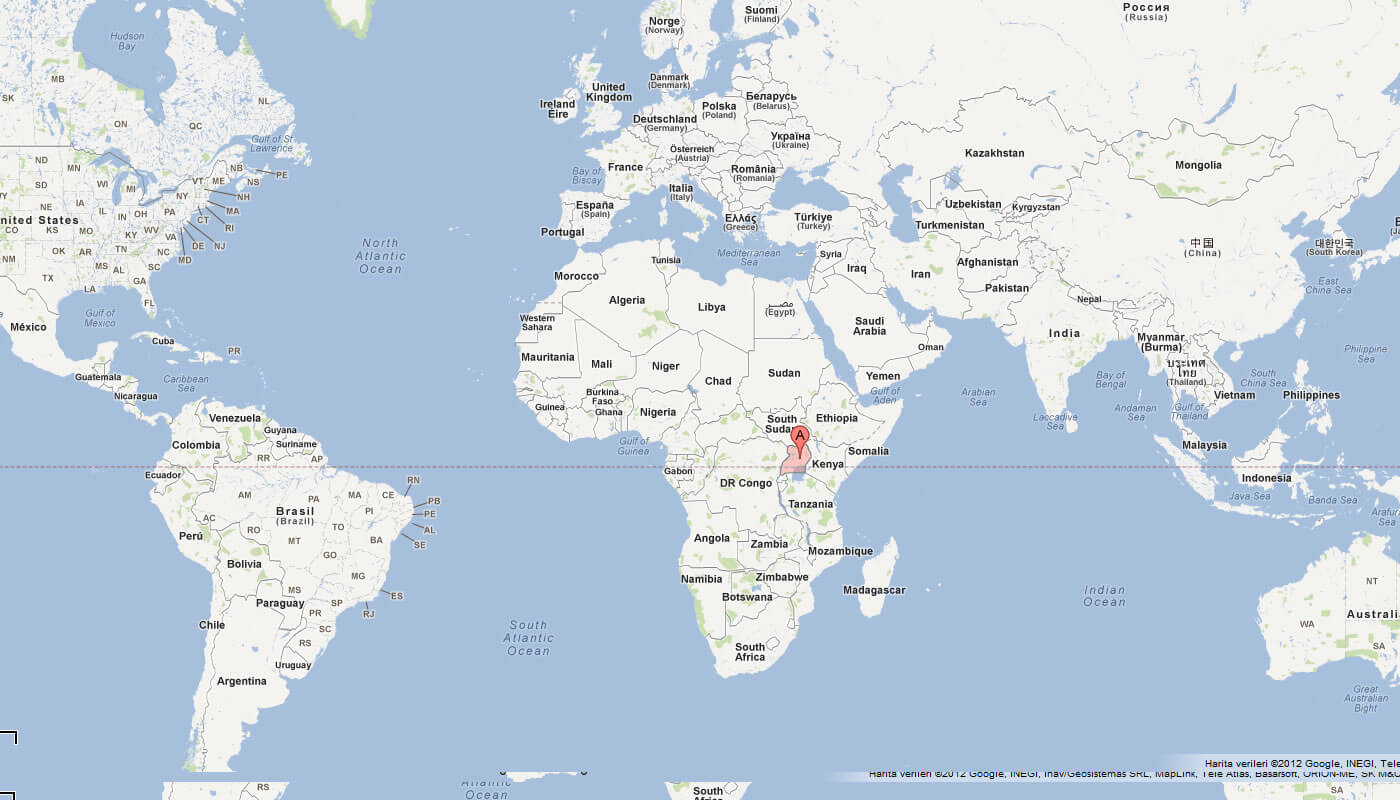 MAP OF UGANDA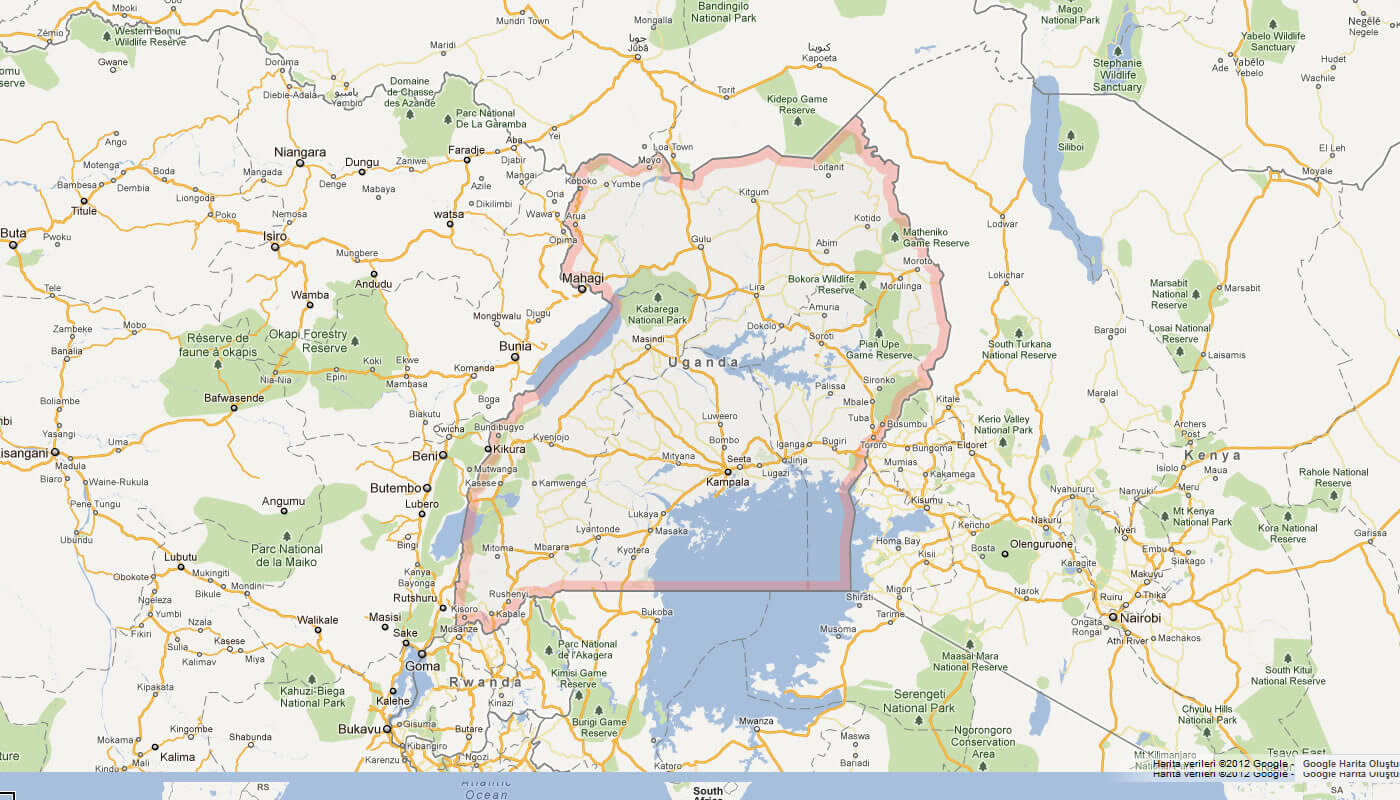 MAP UGANDA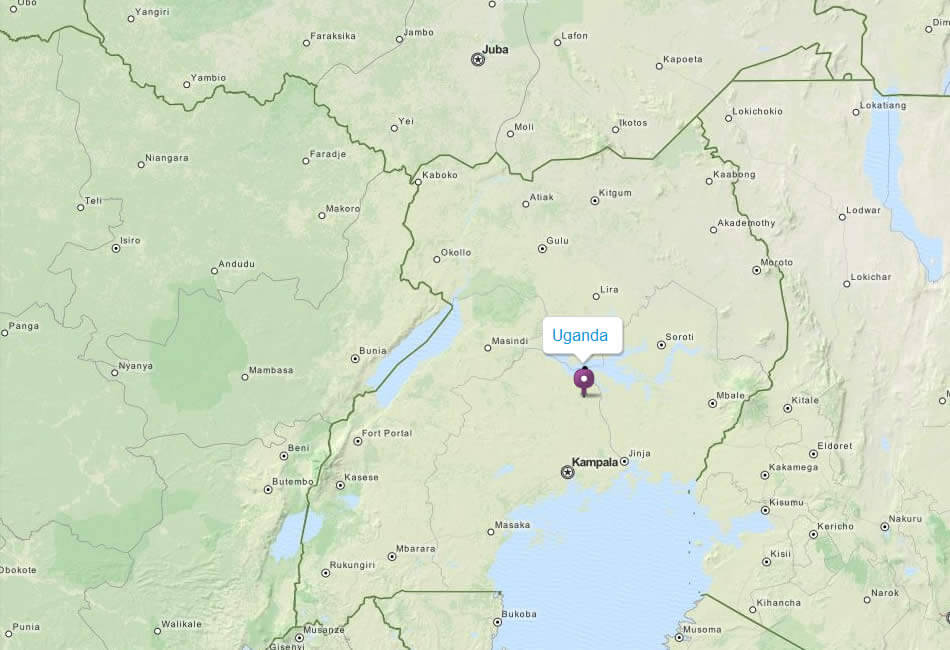 UGANDA CITIES MAP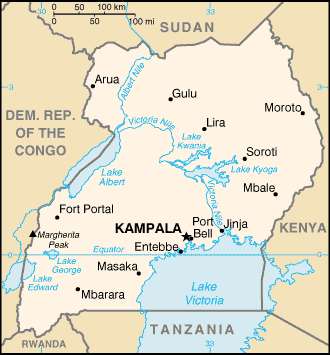 UGANDA MAP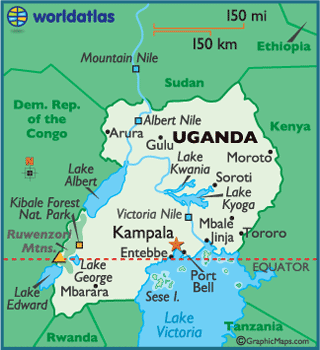 UGANDA MAP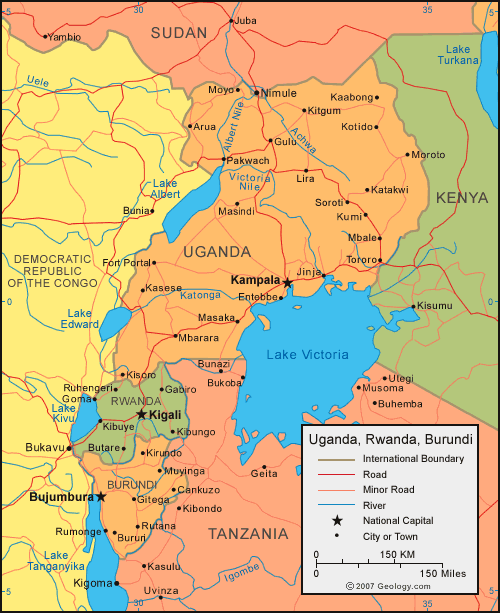 UGANDA POLITICAL MAP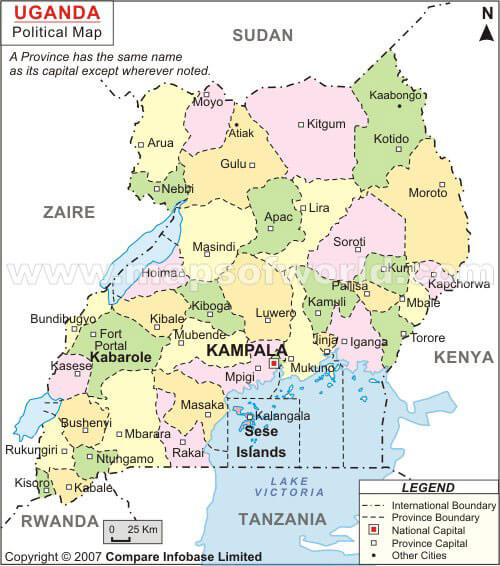 UGANDA AFRICA MAP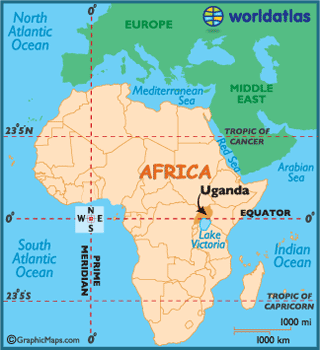 UGANDA MAP
UGANDA MAP KAMPALA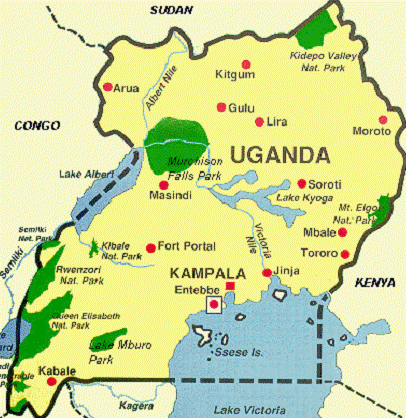 UGANDA REGIONAL MAP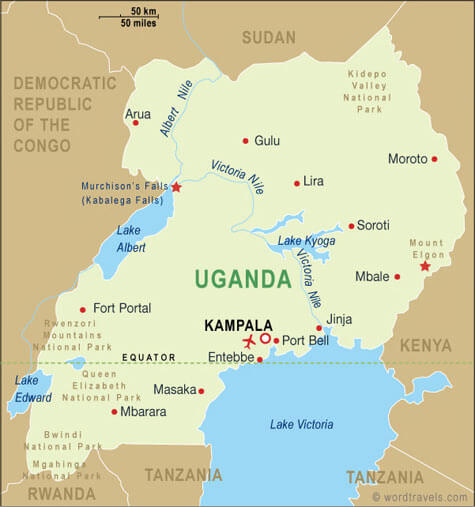 UGANDA REGIONS MAP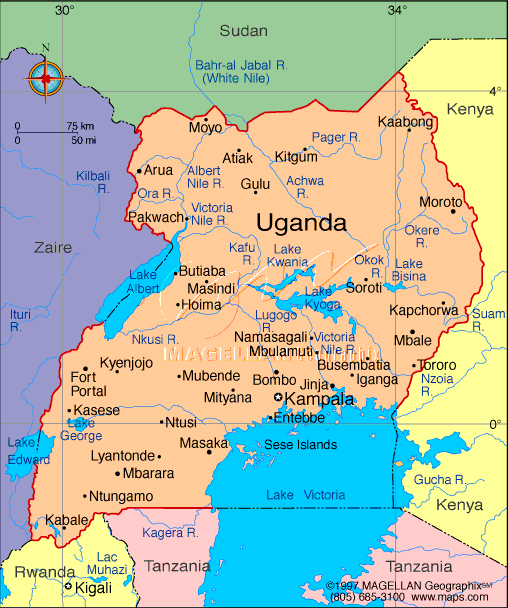 UGANDA EARTH MAP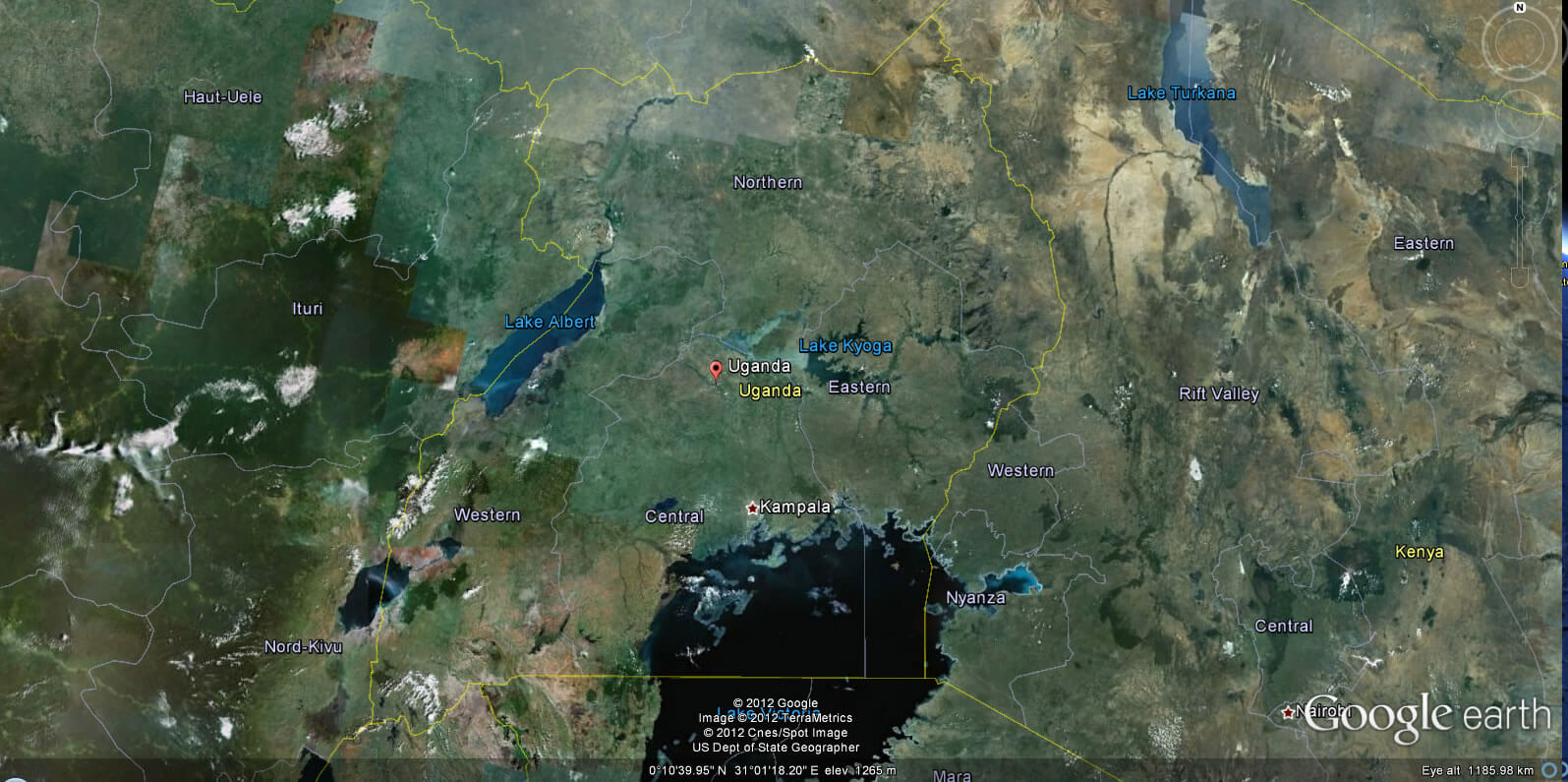 Author:
Arif Cagrici