Top 15 Places to See in Istanbul - Youtube Video
Please subscribe on "World Guide" channnel on Youtube at
youtube.com/c/WorldGuide
1. Hippodrome - Sultanahmet Meydani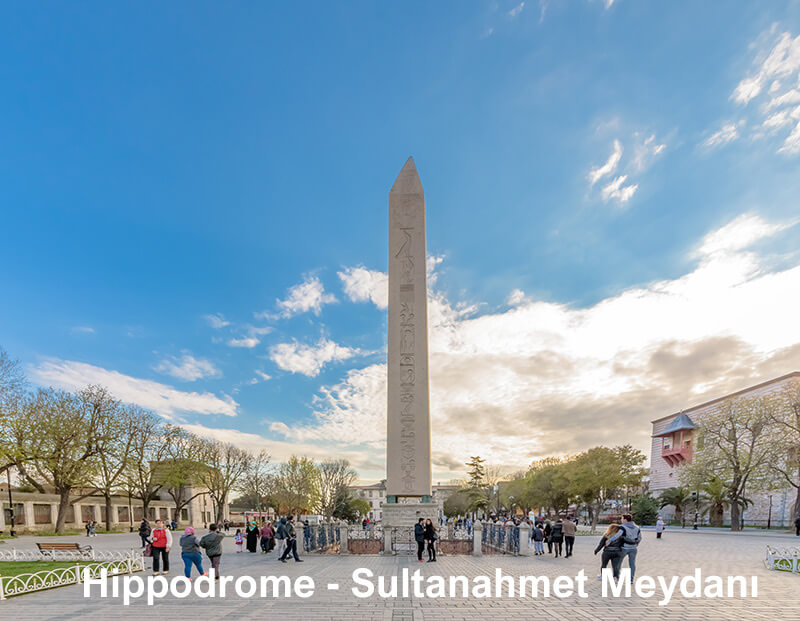 The Hippodrome of Constantinople was a Byzantine architecture and circus that was the sporting, social centre of Ancient Constantinople, which was capital of the Byzantine Empire.
Today it is a square named Sultanahmet Meydani in the Turkish city of Istanbul, with a few fragments of the original structure surviving. Hippodrome - Sultanahmet Meydani is open 24 hours.
Hippodrome's the southern end was occupied by the Sphendone, the hippodrome's curved tribune, of which the lower part still survives.
How long is the Hippodrome?
Hippodrome of Constantine was about 450 m (1,476 ft) long and 130 m (427 ft) wide. Its stands were capable of holding 100,000 spectators.
Who built the Hippodrome?
The first Hippodrome was built when the city was called Byzantium, and was a provincial town of moderate importance. In AD 203 the Emperor Septimius Severus rebuilt the city and expanded its walls, endowing it with a hippodrome, an arena for chariot races and other entertainment.
2. Hagia Sophia - Aya Sofya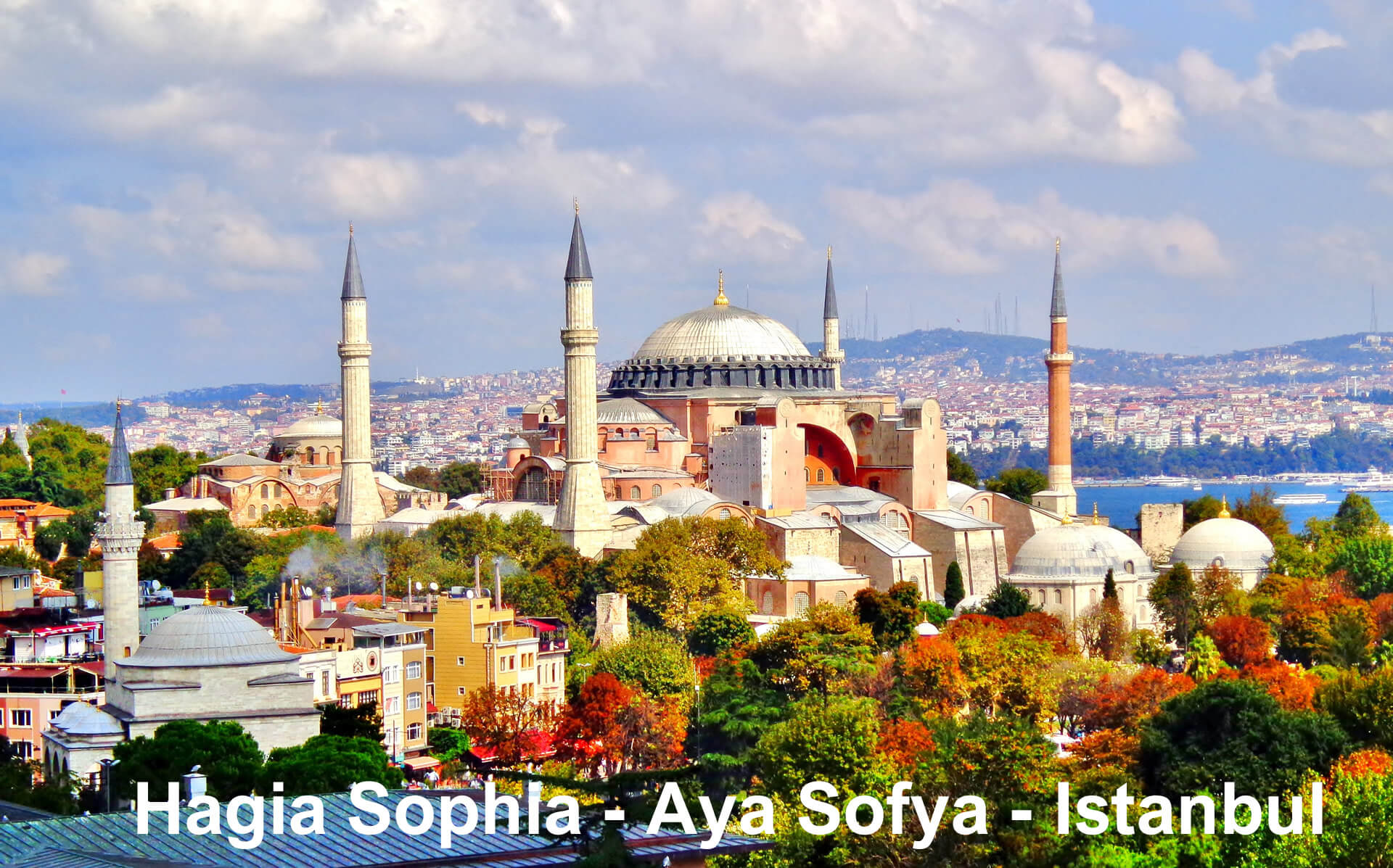 Hagia Sophia is the former Greek Orthodox Christian patriarchal cathedral, later an Ottoman imperial mosque and now a museum in Istanbul, Turkey. Built in 537 AD at the beginning of the Middle Ages, it was famous in particular for its massive dome.
Hagia Sophia was a Byzantine architecture and its architects Anthemius of Tralles, Isidore of Miletus. Hagia Sophia was turned into museum February 1, 1935. The museum open every day between 9AM and 5PM except Monday.
What does Hagia Sophia mean?
The Hagia Sophia is a domed monument built as a cathedral and is now a museum in Istanbul, Turkey. Credit: Tatiana Popova Shutterstock. The Hagia Sophia, whose name means "holy wisdom," is a domed monument originally built as a cathedral in Constantinople (now Istanbul, Turkey) in the sixth century A.D.
Who built Masjid Sophia?
The Hagia Sophia was constructed in five years, from 532 to 537, at the orders of Emperor Justinian I and designed by Isidore of Miletus. Immediately after the Turks conquered Constantinople (Istanbul) in 1453, the Hagia Sophia was converted to a mosque.
3. Blue Mosque - Sultan Ahmet Camii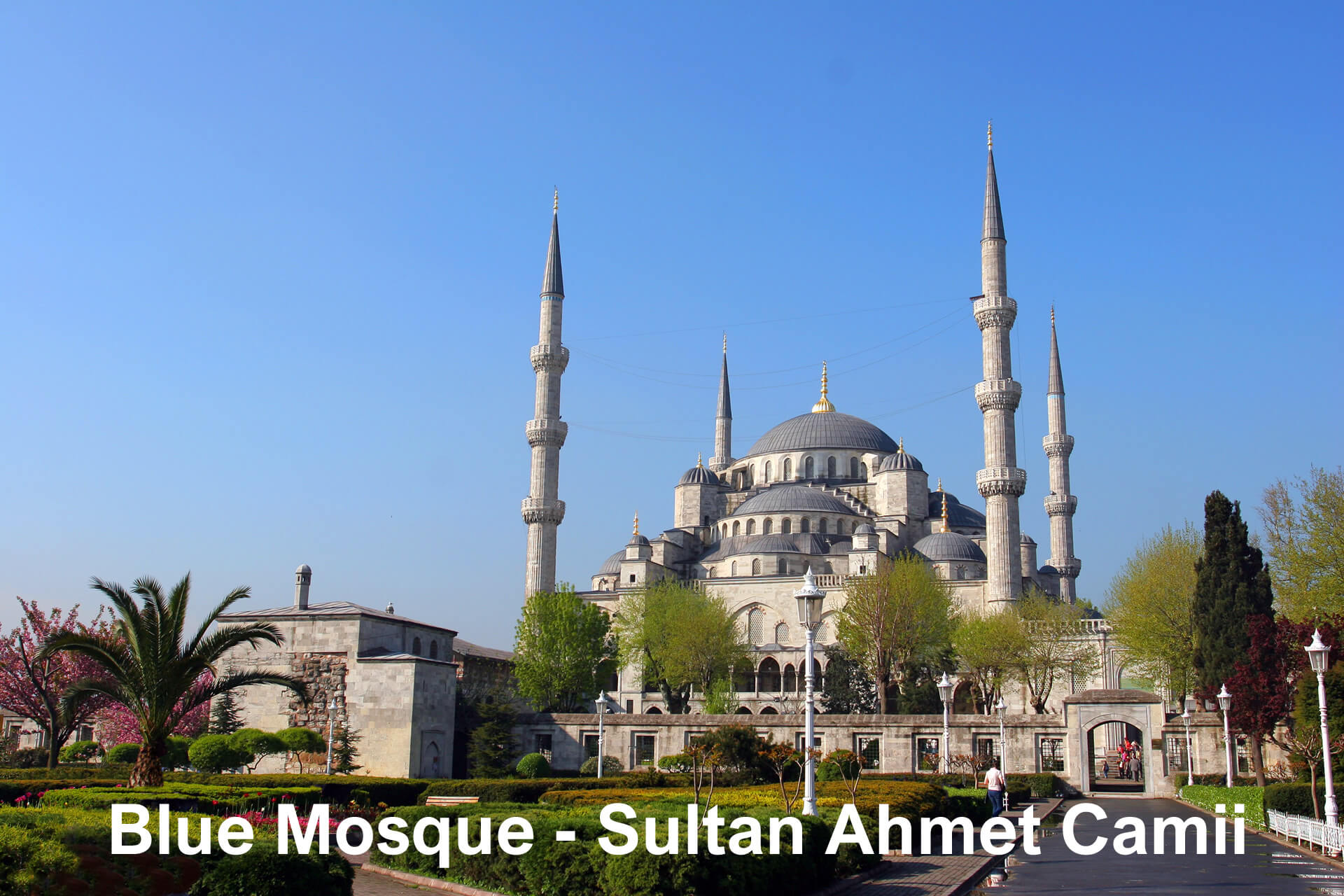 The Sultan Ahmed Mosque is a historic mosque located in Istanbul, Turkey. A popular tourist site, the Sultan Ahmed Mosque continues to function as a mosque today; men still kneel in prayer on the mosque's lush red carpet after the call to prayer.
Sultan Ahmed Mosque was built between 1609 and 1616 by the Ottoman Empire Ahmed and opened in 1616. Its dome height (outer): 43 m (141 ft) and its architect is Sedefkar Mehmed Agha.
Why is the Blue Mosque so famous?
Blue Mosque. Sultan Ahmed Mosque, known as the Blue Mosque by many tourists because of its bluish interior decoration, is the most important mosque of Istanbul standing next to the Byzantine Hippodrome in the old city center.
What should I wear to the Blue Mosque?
Wear a long dress or long pants – Legs must be covered in order to enter the Blue Mosque. Cover your shoulders – No itty-bitty spaghetti straps, tube tops, or tank tops.
4. Topkapi Palace - Topkapi Sarayi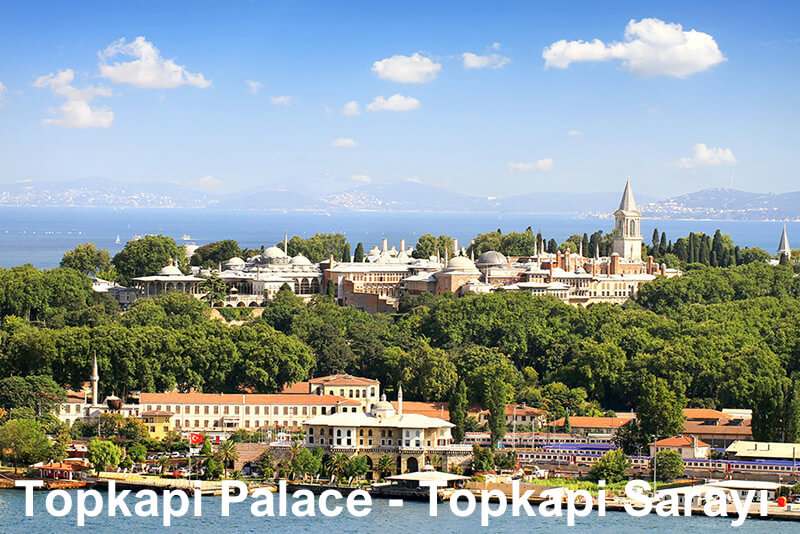 The Topkapi Palace, or the Seraglio, is a large museum in Istanbul, Turkey. In the 15th century, it served as the main residence and administrative headquarters of the Ottoman sultans. Construction began in 1459, ordered by Mehmed the Conqueror, six years after the conquest of Constantinople.
Topkapi Palace museum open every day between 9AM and 5PM except Tuesday. Its size 592,600 to 700,000 m2 (6,379,000 to 7,535,000 sq ft).
Its architect are Mimar Sinan, Sarkis Balyan, Davud Aga, Acem Ali.
What is Harem in Topkapi Palace?
The Topkapi Palace with its Harem in Istanbul was definitely one of the highlights of my trip. This palace used to be the residence of the Ottoman sultans between the 15th and 19th century. They shared the palace with their family, servants, concubines and black eunuchs who were the guards of the Harem.
5. Dolmabahce Palace - Dolmabahçe Sarayi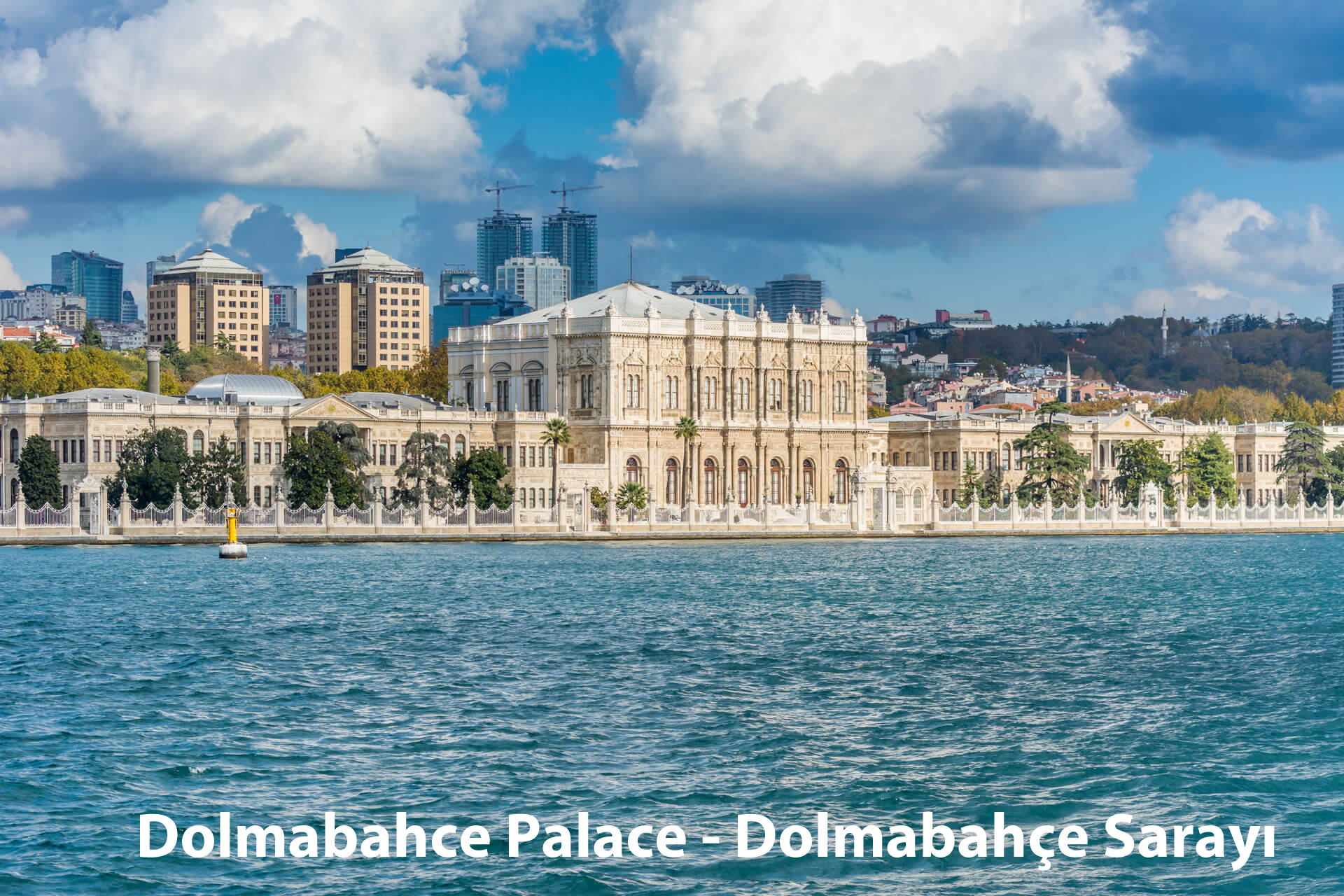 Dolmabahçe Palace located in the Besiktas district of Istanbul, Turkey, on the European coast of the Bosphorus, served as the main administrative center of the Ottoman Empire from 1856 to 1887 and 1909 to 1922.
Dolmabahce Palace Architectural styles' are Baroque architecture, Neoclassical architecture, Ottoman architecture and its architecs are Garabet Balyan, Evanis Kalfa. The museum opens every day between 9AM and 4PM except Monday.
6. Archaeological Museum Istanbul - Istanbul Arkeoloji Muzesi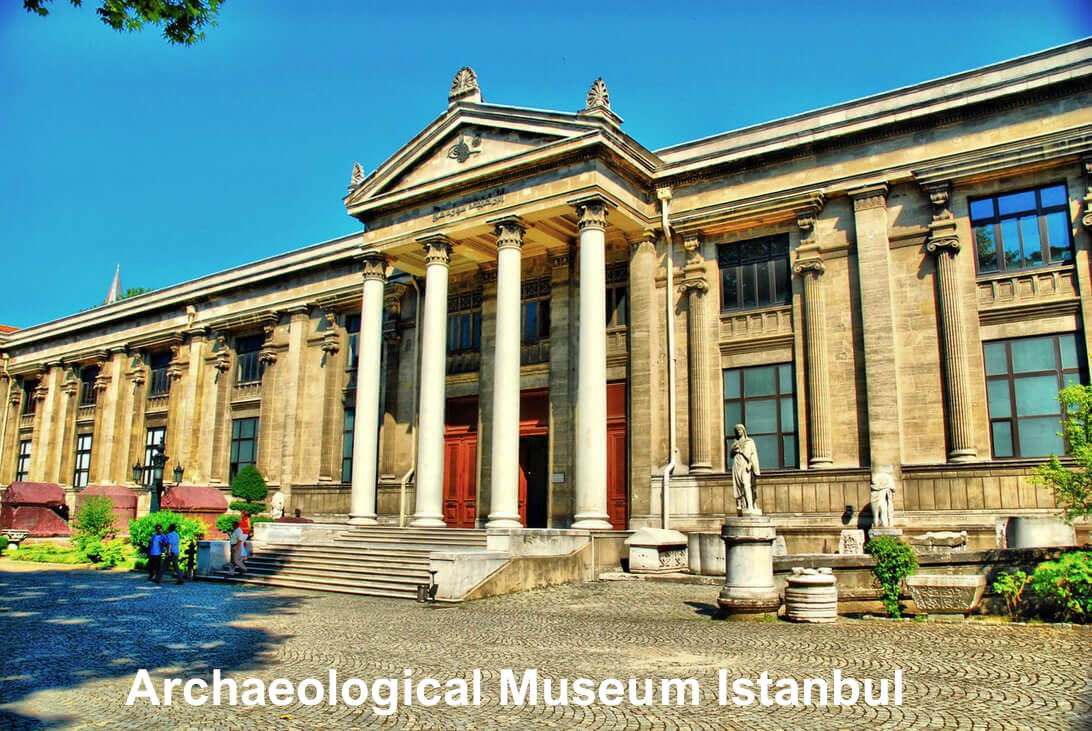 The Istanbul Archaeology Museums is a group of three archaeological museums located in the Eminönü district of Istanbul, Turkey, near Gülhane Park and Topkapi Palace. The Istanbul Archaeology Museums consists of three museums: Archaeological Museum Museum of the Ancient Orient Museum of Islamic Art.
Its architectural style is Neoclassical architecture. Osman Hamdi Bey was founded it is in June 13, 1891.
Istanbul Archaeology Museum opens every day between 9AM and 7PM.
7. Cagaloglu Hamami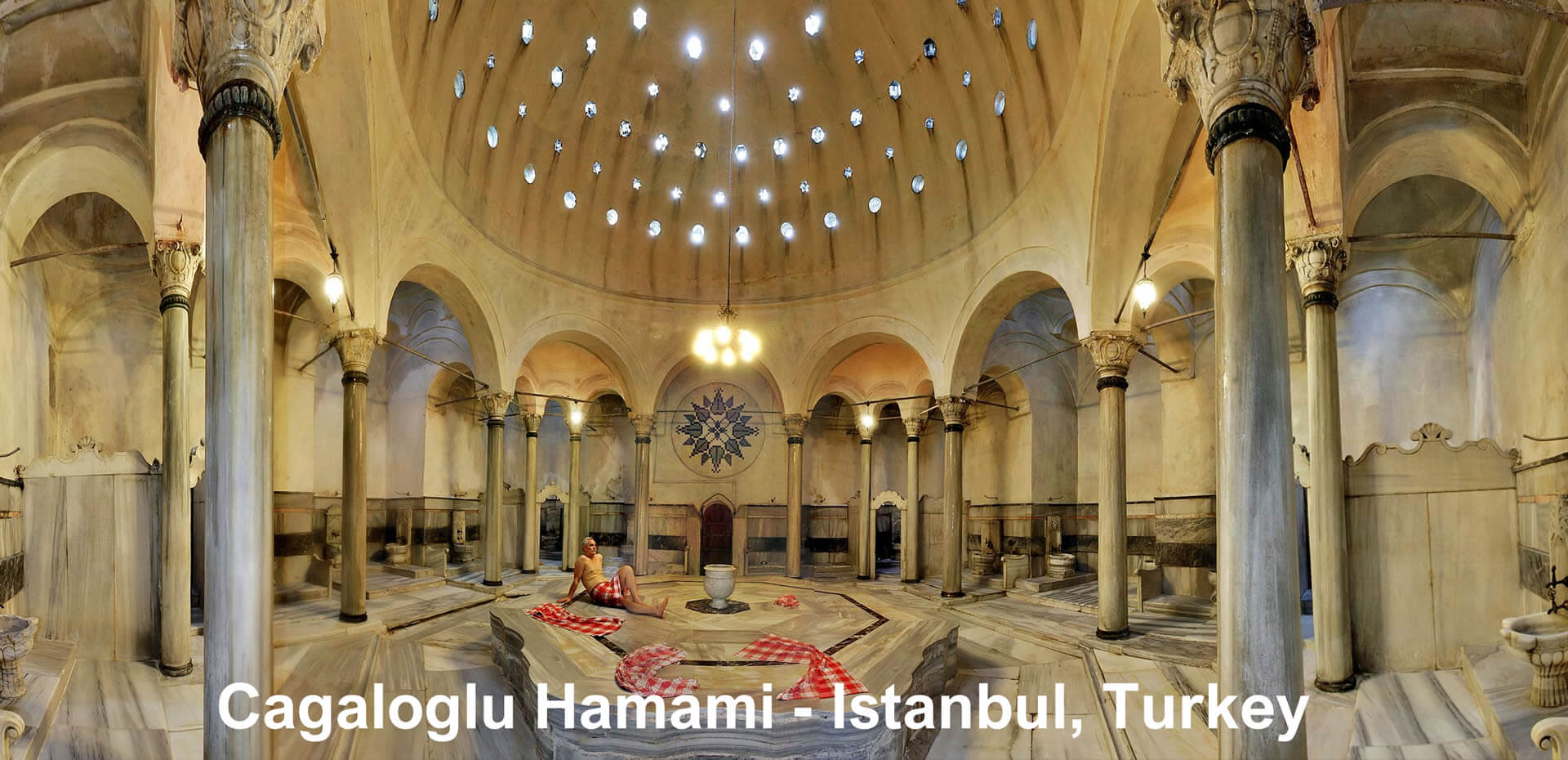 8. Grand Bazaar - Kapali Çarsi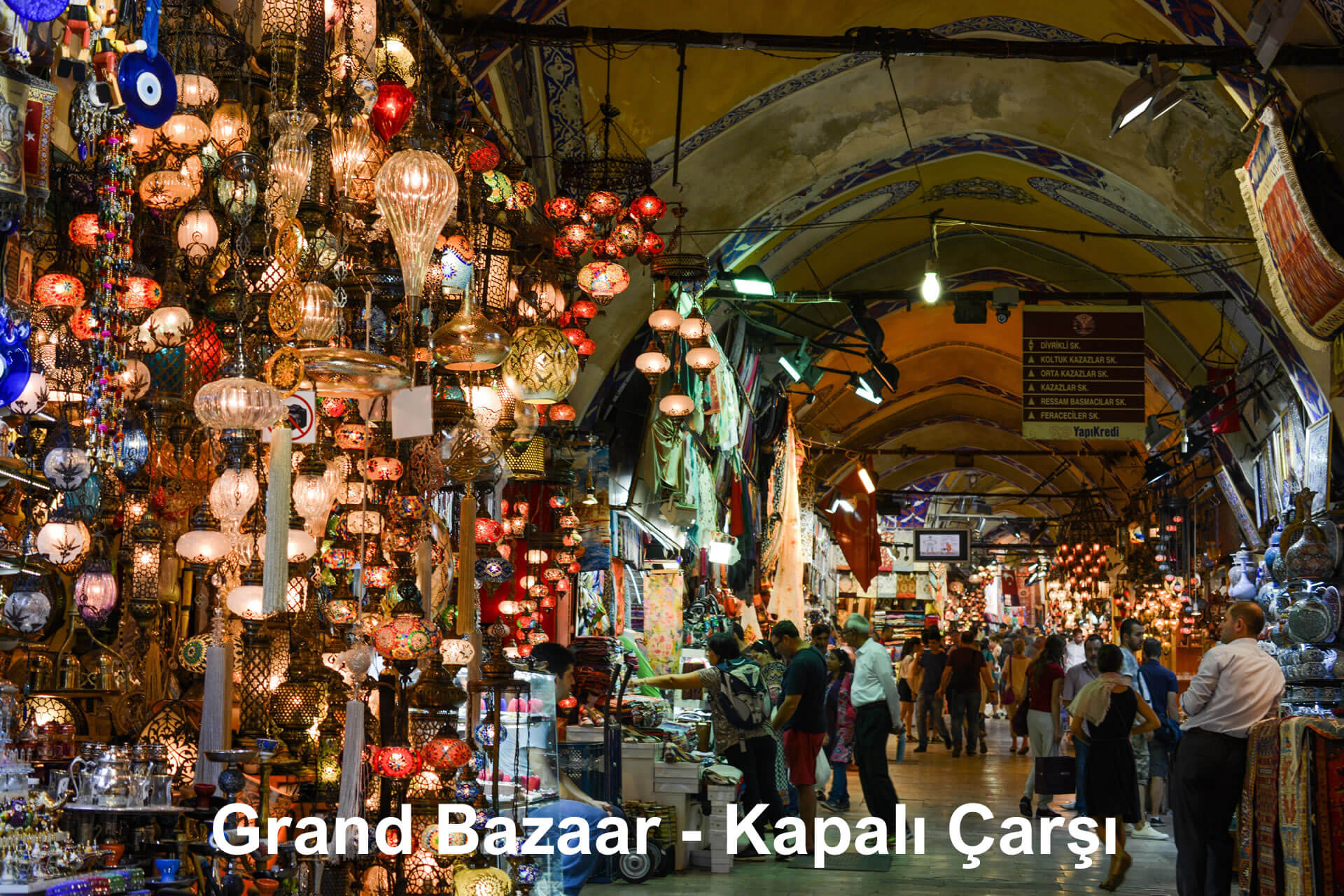 The Grand Bazaar in Istanbul is one of the largest and oldest covered markets in the world, with 61 covered streets and over 4,000 shops which attract between 250,000 and 400,000 visitors daily. In 2014, it was listed No.1 among the world's most-visited tourist attractions with 91,250,000 annual visitors.
It is open everyday and it was dedicated to Sultan Mehmed II who is the Conqueror of Istanbul.
9. Spice Bazaar - Misir Çarsisi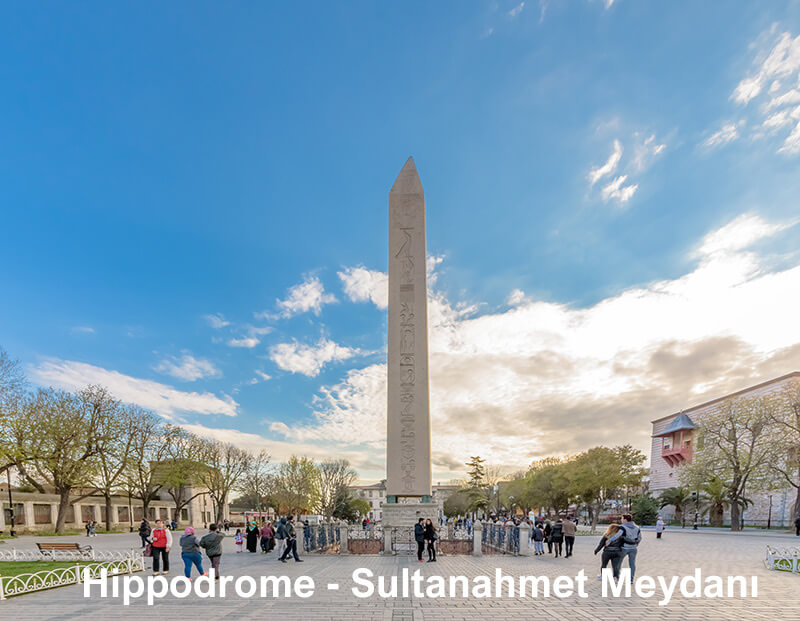 The Spice Bazaar in Istanbul, Turkey is one of the largest bazaars in the city. Located in the Eminönü quarter of the Fatih district, it is the most famous covered shopping complex after the Grand Bazaar.
It is opened every between 8AM and 7PM, only sunday opens between 09:30AM and 7PM.
10. Bosphorus Tour - Bogaz Turu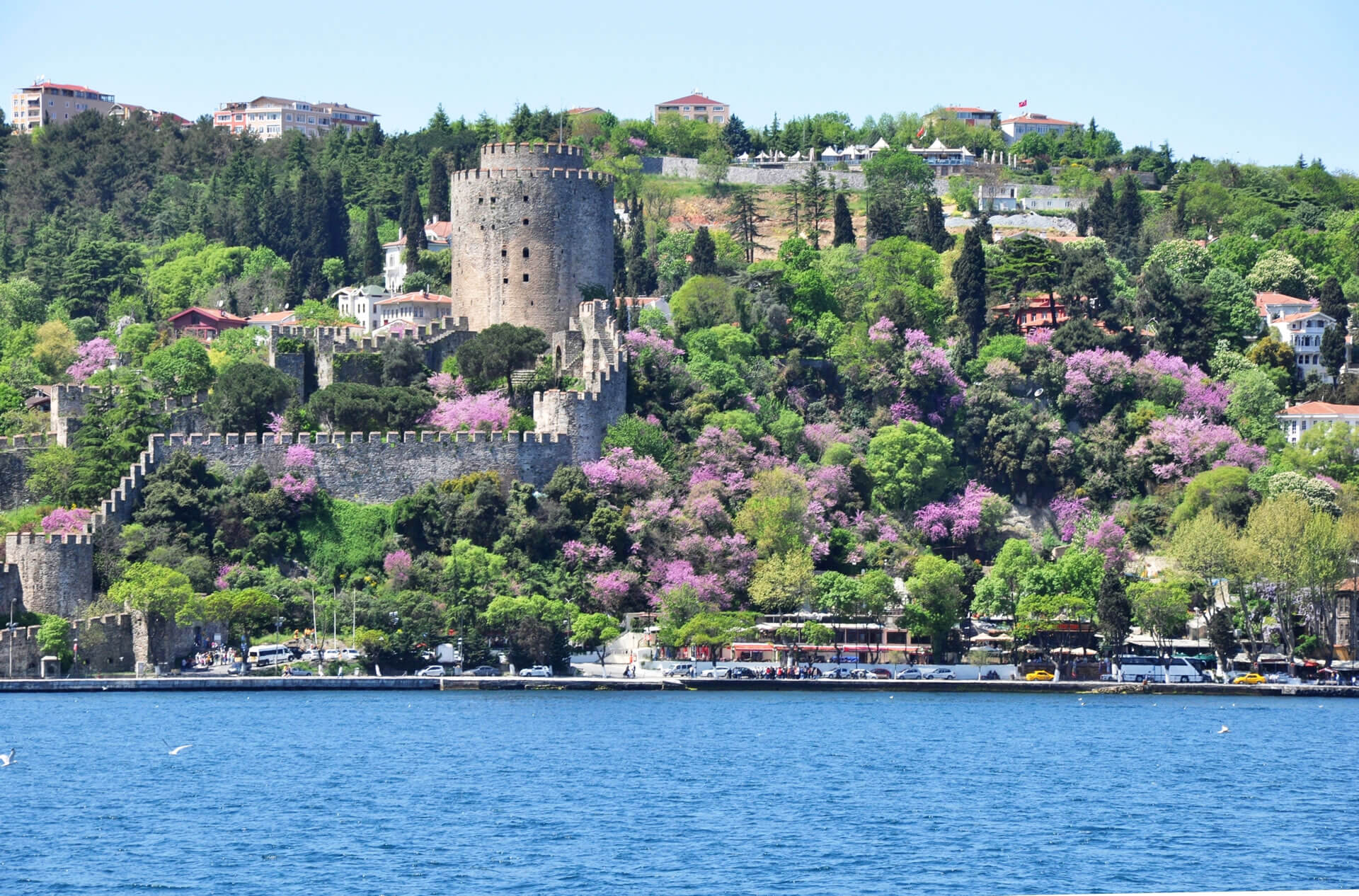 How long is the Bosphorus Cruise?
The Full Bosphorus Tour offers a great Bosphorus experience and will take several hours in total. For a mere 25 TL this cruise will take you from Eminönü all the way to the Black Sea, and back. Each way takes about 90 minutes since the ferry makes 5 short stops to let people on and off.
11. Taksim Square & Istiklal Avenue - Taksim Meydani & Istiklal Caddesi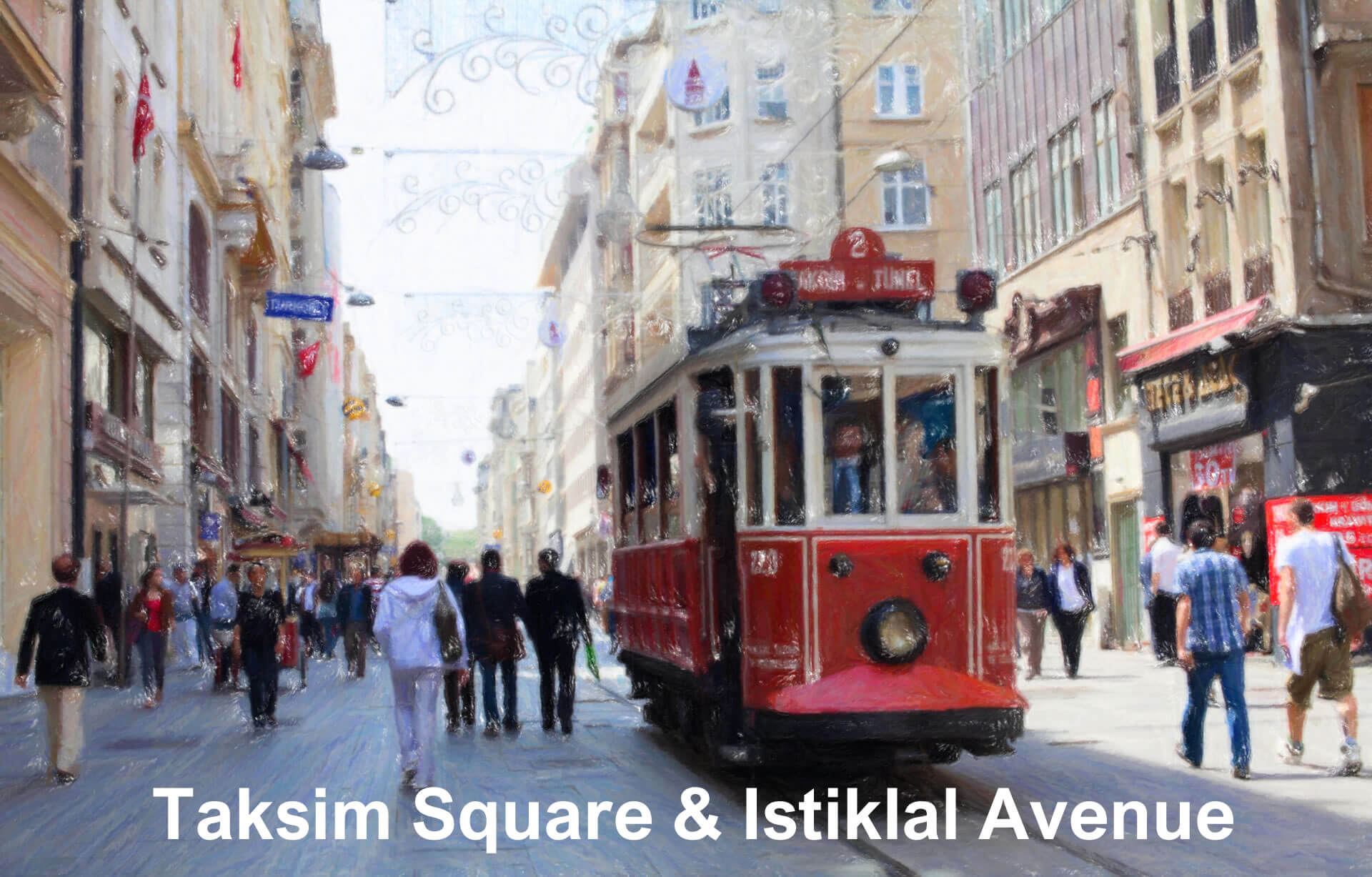 Fanning out from Taksim Square with its Republic Monument, Taksim is a busy nightlife, shopping and dining district. Vintage trams trundle along Istiklal Caddesi, the city's main pedestrian boulevard, which is lined with 19th-century buildings housing international shopping chains, movie theaters and cafes. A dense web of side streets contains bars, antiques shops, and rooftop eateries with Bosphorus views.
12. Galata Mevlevi Whirling Dervish - Galata Mevlevihanesi Müzesi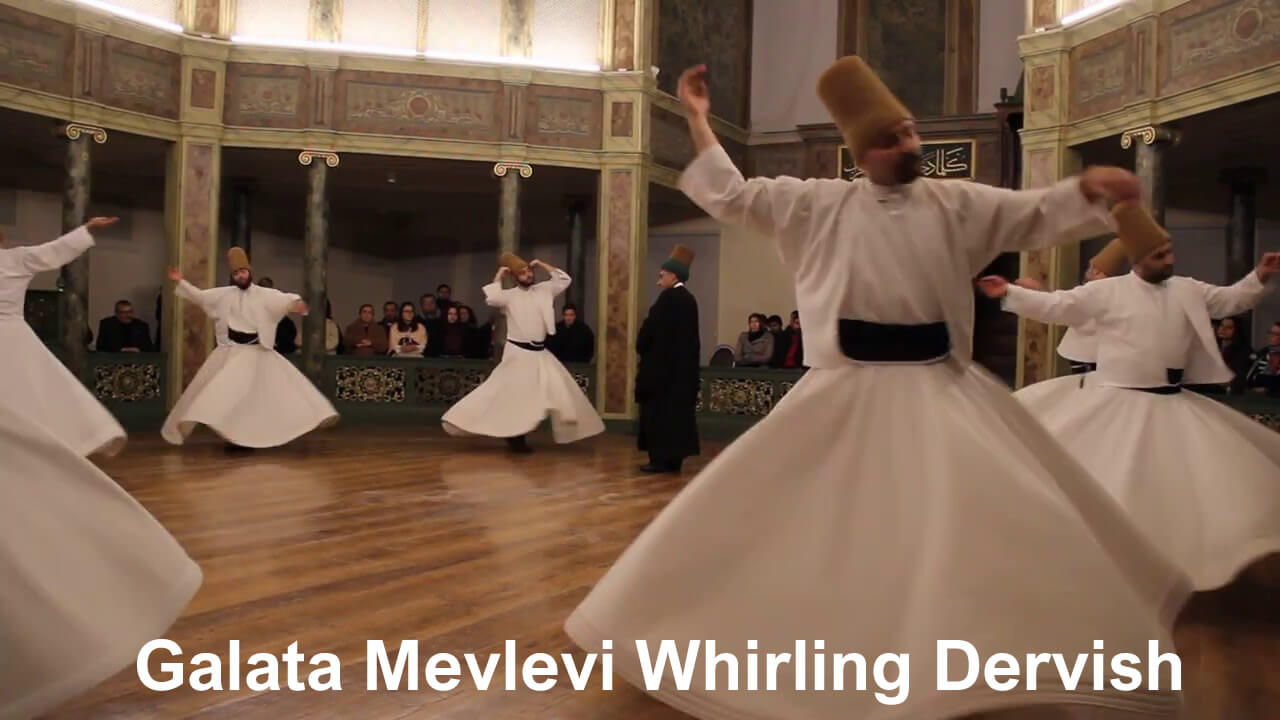 This historic lodge of a religious order features culture exhibits & whirling dance ceremonies. The museum open every day between 9AM and 6PM except Monday.
13. Galata Tower - Galata Kulesi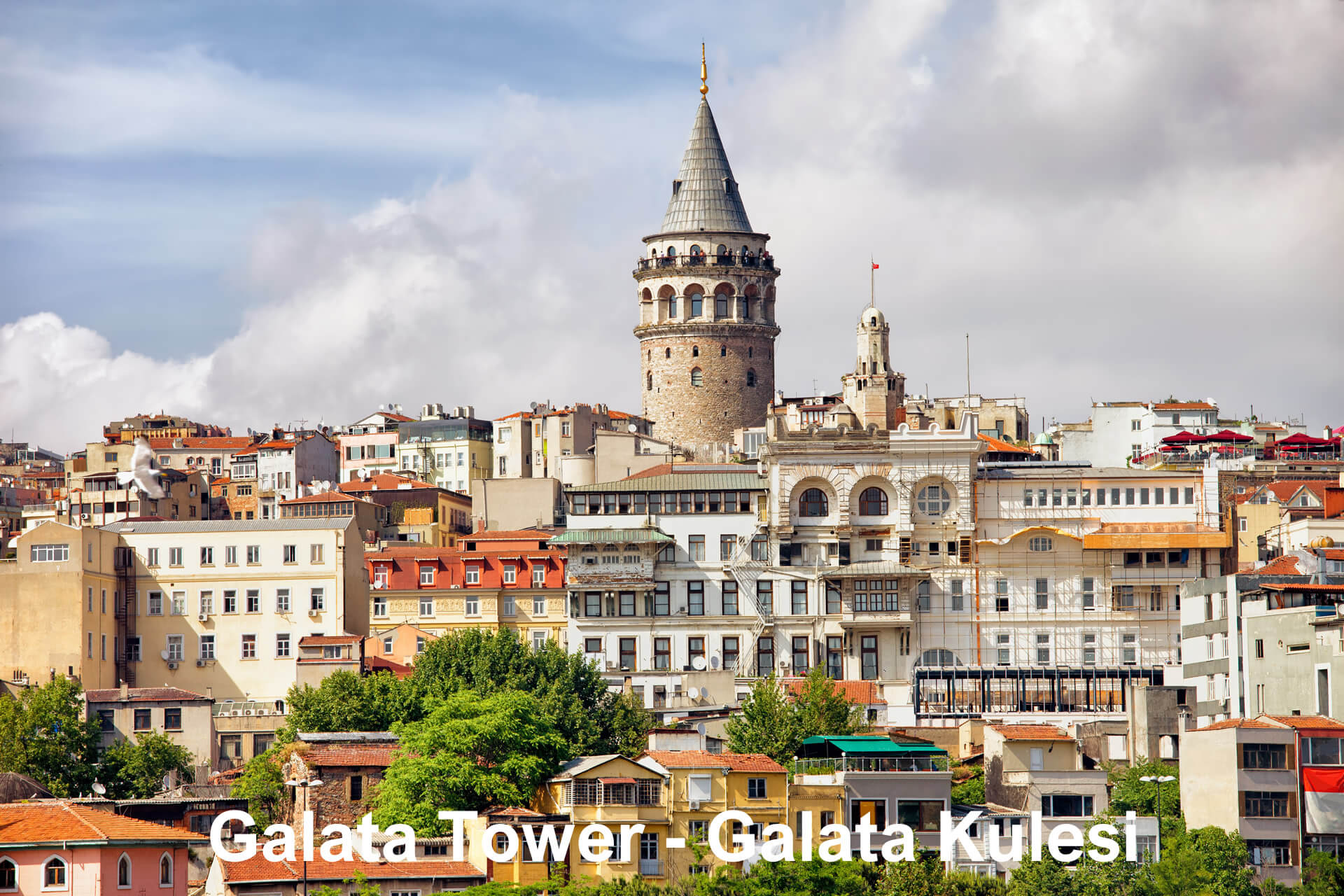 The Galata Tower — called Christea Turris by the Genoese — is a medieval stone tower in the Galata / Karaköy quarter of Istanbul, Turkey, just to the north of the Golden Horn's junction with the Bosphorus.
Galata Tower was built in 1348 by Genoese colony in Istanbul.
Its Architectural style is Romanesque architecture and architecture is Köksal Anadol.
14. Galata Bridge - Galata Köprüsü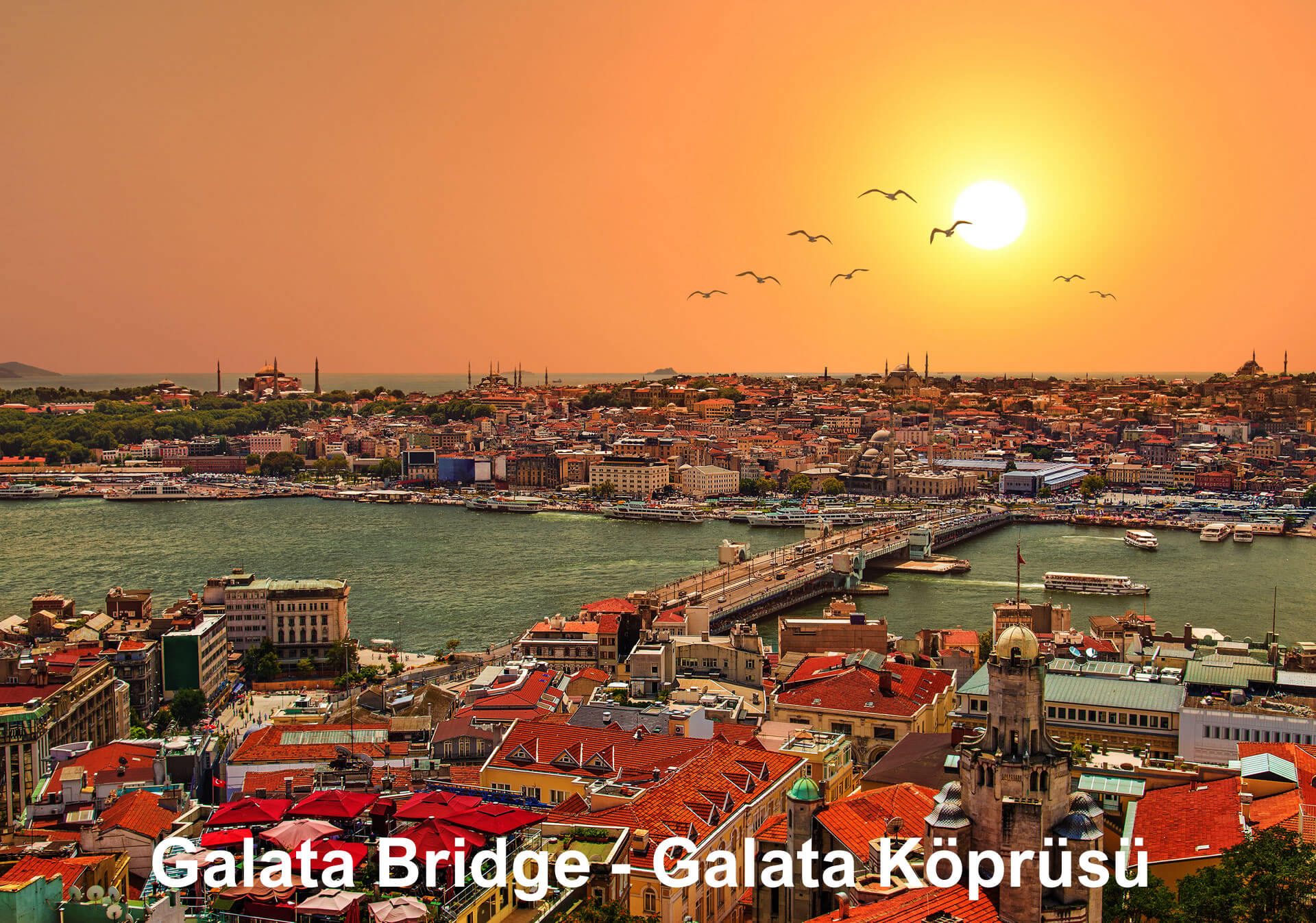 The Galata Bridge is a bridge that spans the Golden Horn in Istanbul, Turkey. From the end of the 19th century in particular, the bridge has featured in Turkish literature, theater, poetry and novels.
Its E,engineering design by STFA Construction Co. and architect is Fritz Leonhardt. Its total length is 490 m.