About California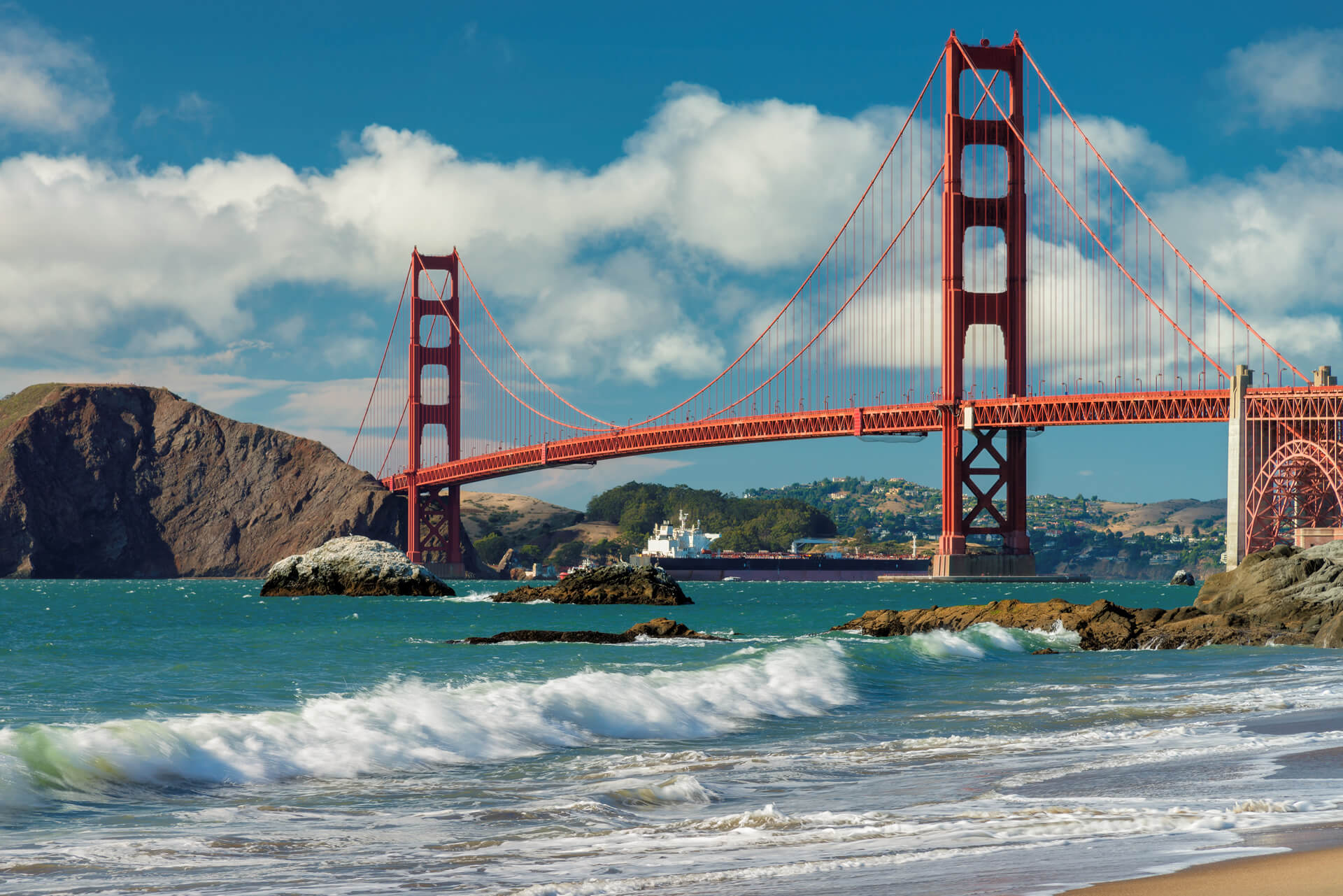 California is the most populous state in the United States, with a population of over 38 million. Four out of five people who live in California live along its coast!
California History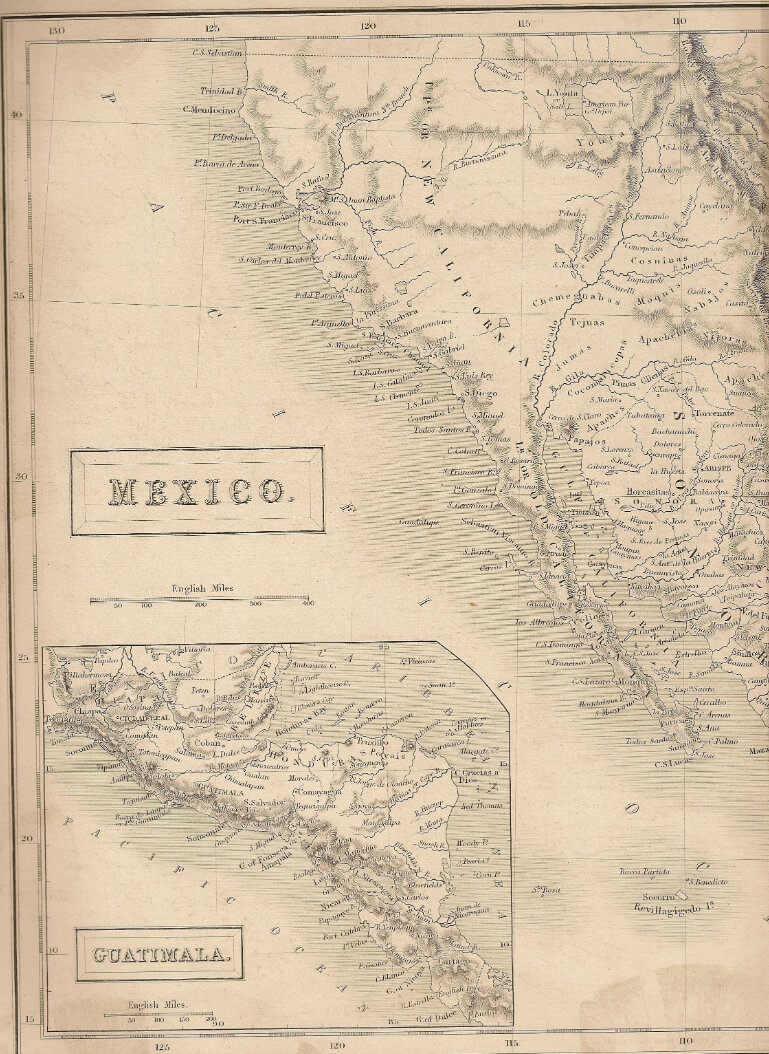 California has an interesting history. From the time it was first discovered by Europeans to the present day, many changes have been made regarding its borders and status. This article will tell you all about these events in brief detail.
The Spanish had claimed the area since 1542, but they didn't have much success colonizing it. The first permanent European settlement was established by the Spanish missionaries at Mission San Diego de Alcalá in 1769. The U.S. purchased California from Mexico after the Mexican-American War ended in 1848; California became an official territory on September 9th of 1850 with its capital at Monterey.
California is divided into 4 separate territories, including Utah Territory, Nevada Territory and New Mexico Territory.
Utah Territory was created in 1850 and included present-day Utah, Nevada and part of Arizona and Wyoming.
California becomes known for its Gold Rush and for its crops like oranges, olives, and almonds.
In the history of California, there are many different events that have helped shape the state we know today. Some of these events occurred long before the formation of the United States, while others have taken place more recently. From early explorers and settlers to modern day celebrities and tech companies, this list covers some of the most significant moments in California history.
California Location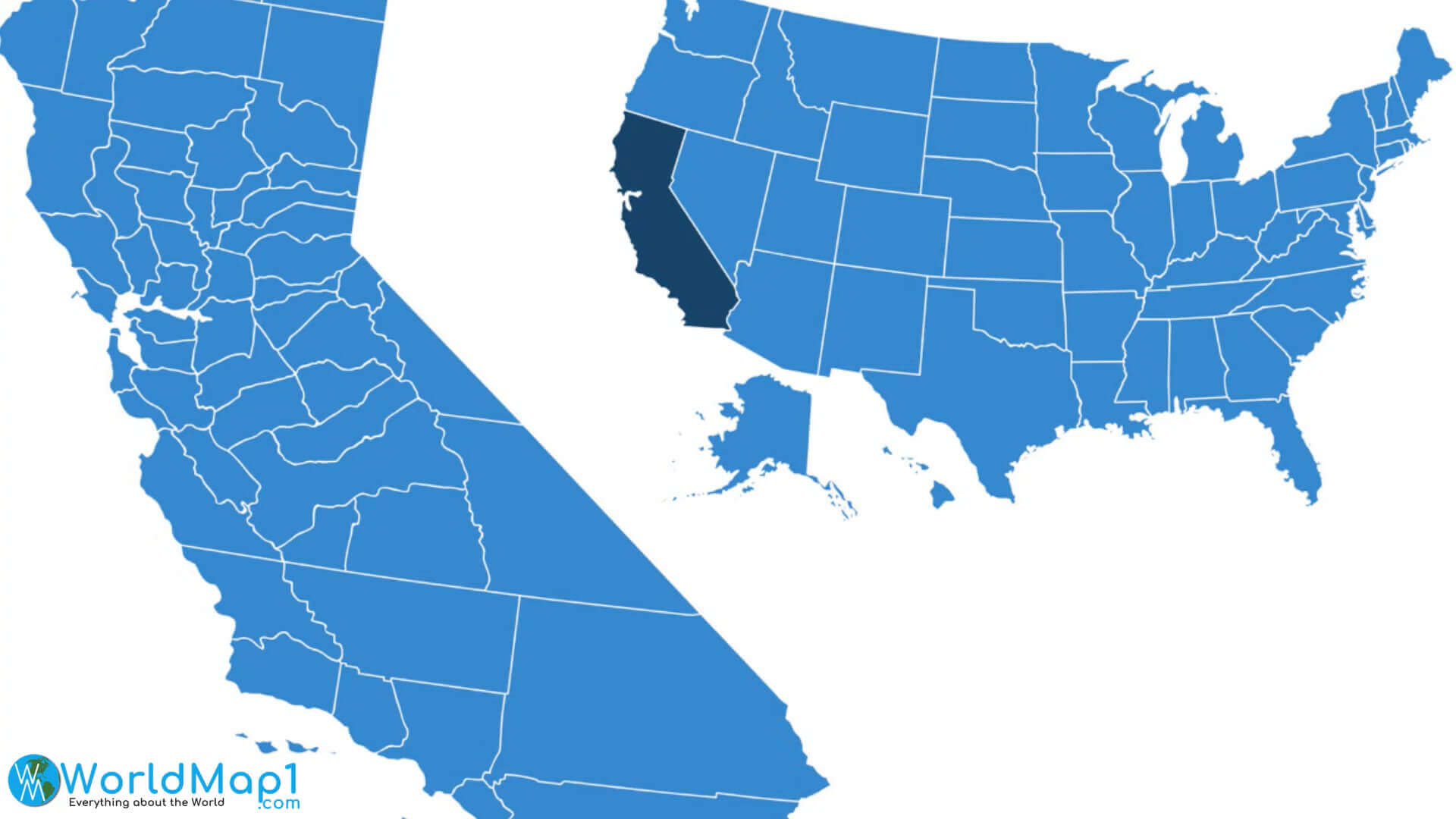 The state of California is bordered by Oregon and Nevada to the north, Arizona to the east, and Mexico to the south (and Baja California).
California Geography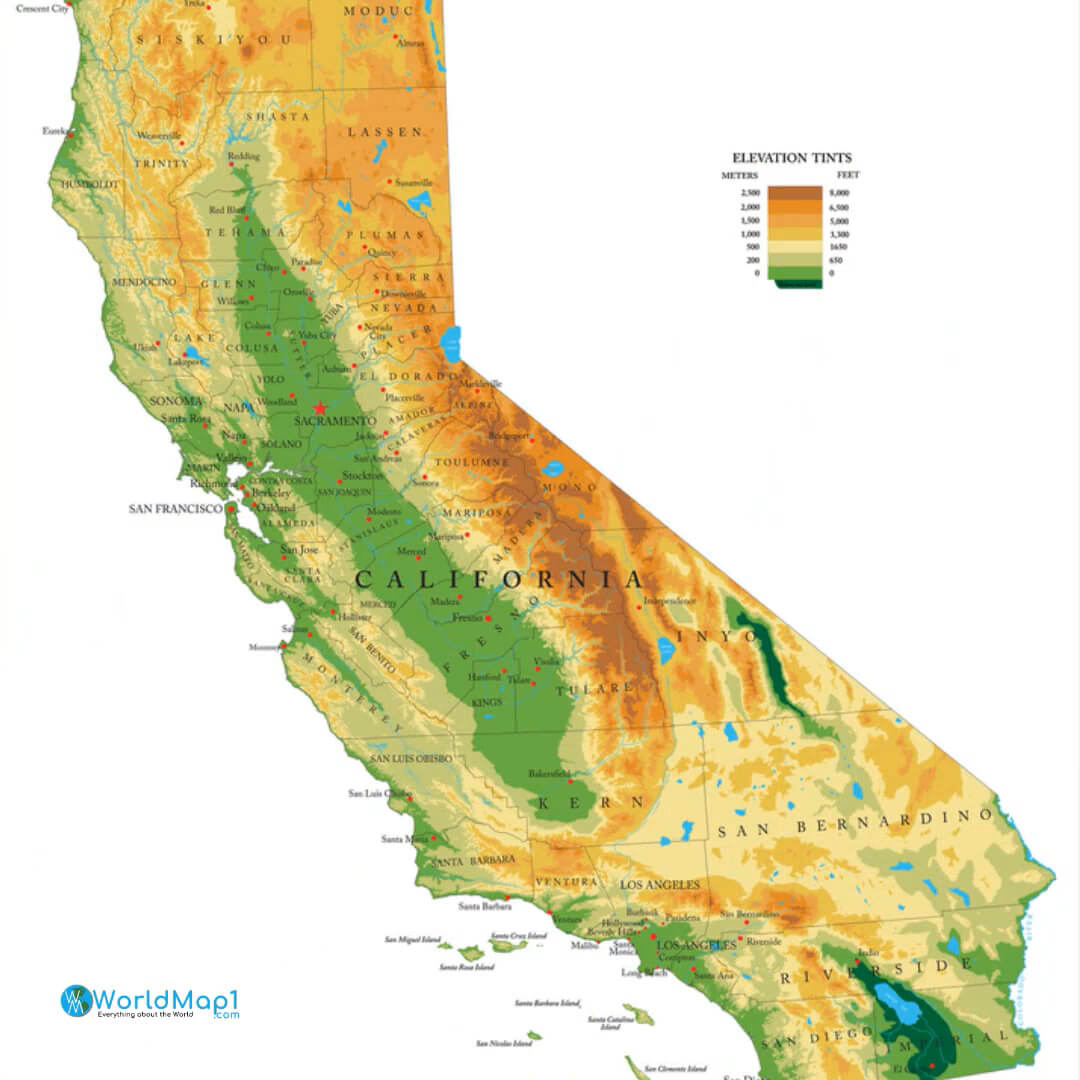 California covers an area of 163,696 sq mi (423,970 km2), making it larger than France and Italy combined!
Where is California in the US and Cities Map of California
Please subscribe on "World Guide" channnel on Youtube at
youtube.com/c/WorldGuide
Please view more California Cities Aerial Views, Maps and Photos
List of Largest Airports in California
Los Angeles International Airport (IATA code: LAX)
San Francisco International Airport (IATA code: SFO)
San Diego International Airport (Lindbergh Field) (IATA code: SAN)
Norman Y. Mineta San José International Airport (IATA code: SJC)
Oakland International Airport (IATA code: OAK)
Sacramento International Airport (IATA code: SMF)
California National Park and Trails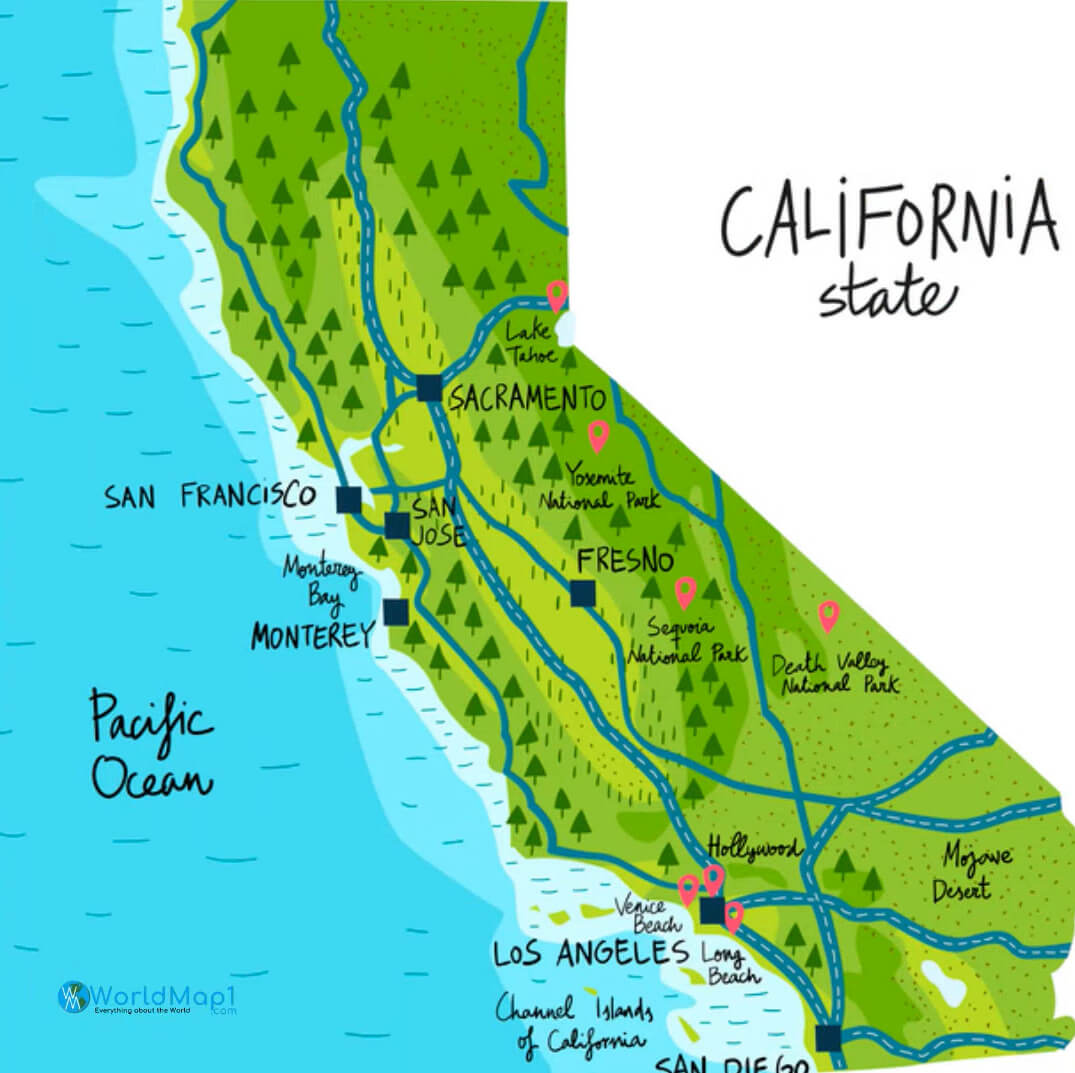 California is also home to some of America's most visited National Parks, including The Redwood National, Yosemite National Park and Death Valley National Park.
California Climate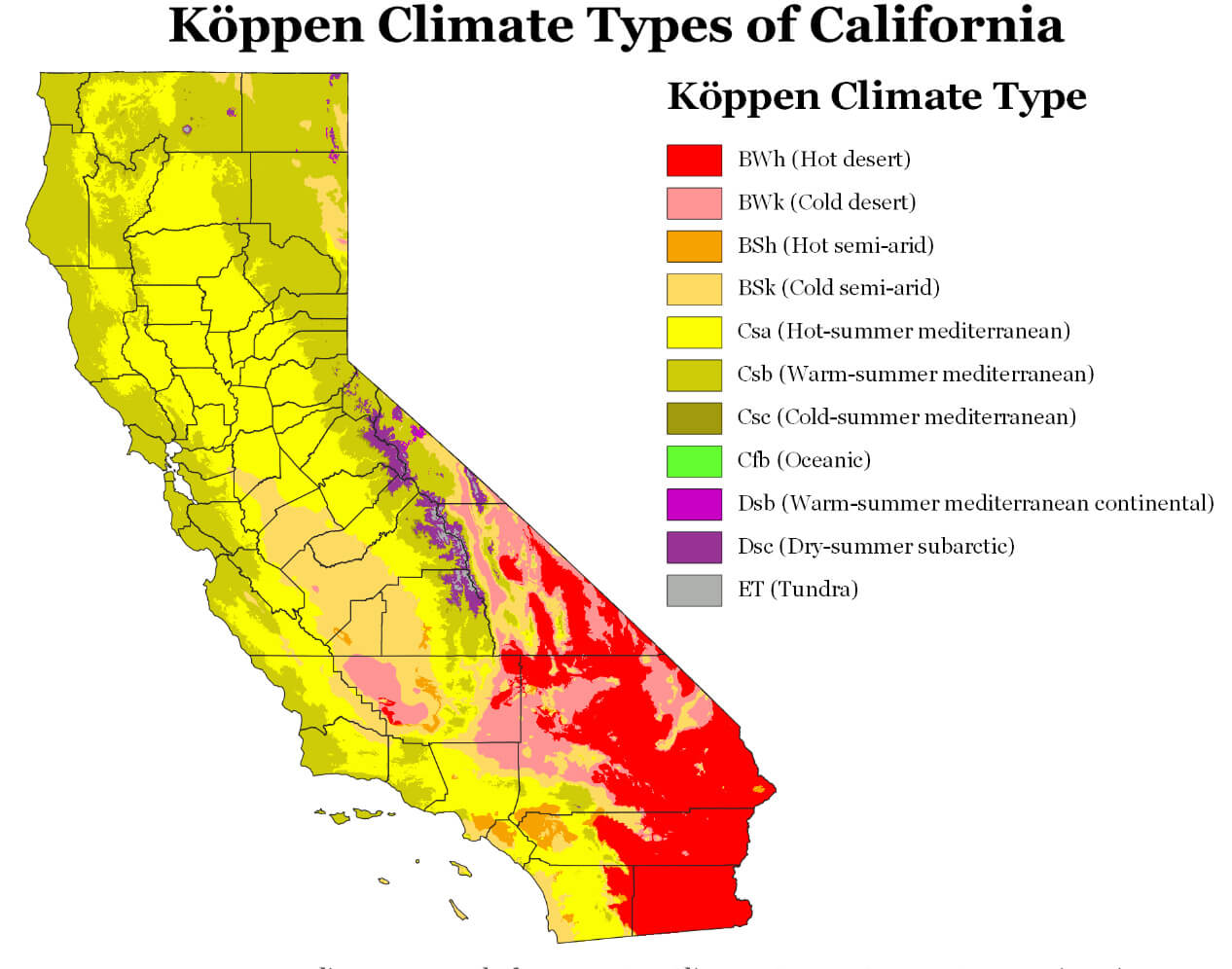 California has a Mediterranean climate and is known for its four seasons. Unlike other states with four distinct seasons, California's transition from one season to another is gradual, resulting in a milder climate overall.
California's summer weather typically runs from April through October, during which time temperatures can reach as high as 110 degrees Fahrenheit (43 Celsius). The rest of the year is generally more moderate, with temperatures rarely falling below freezing during winter months (November through March).
Rainfall varies wildly throughout California. The northern portion of the state gets about 3-4 times more rainfall than the southern portion. Rainfall tends to be highest between October and May, with some areas getting up to 50 inches in that period! Fall is also known for being a rainy season, but not as much as winter or spring. Winter is when most of California's precipitation falls—and especially in San Francisco (which gets about 47 inches each year). Summer is drier overall with average temperatures ranging from 70 degrees F (21 C) in July to 55 F (13 C) in August.
California Time Zones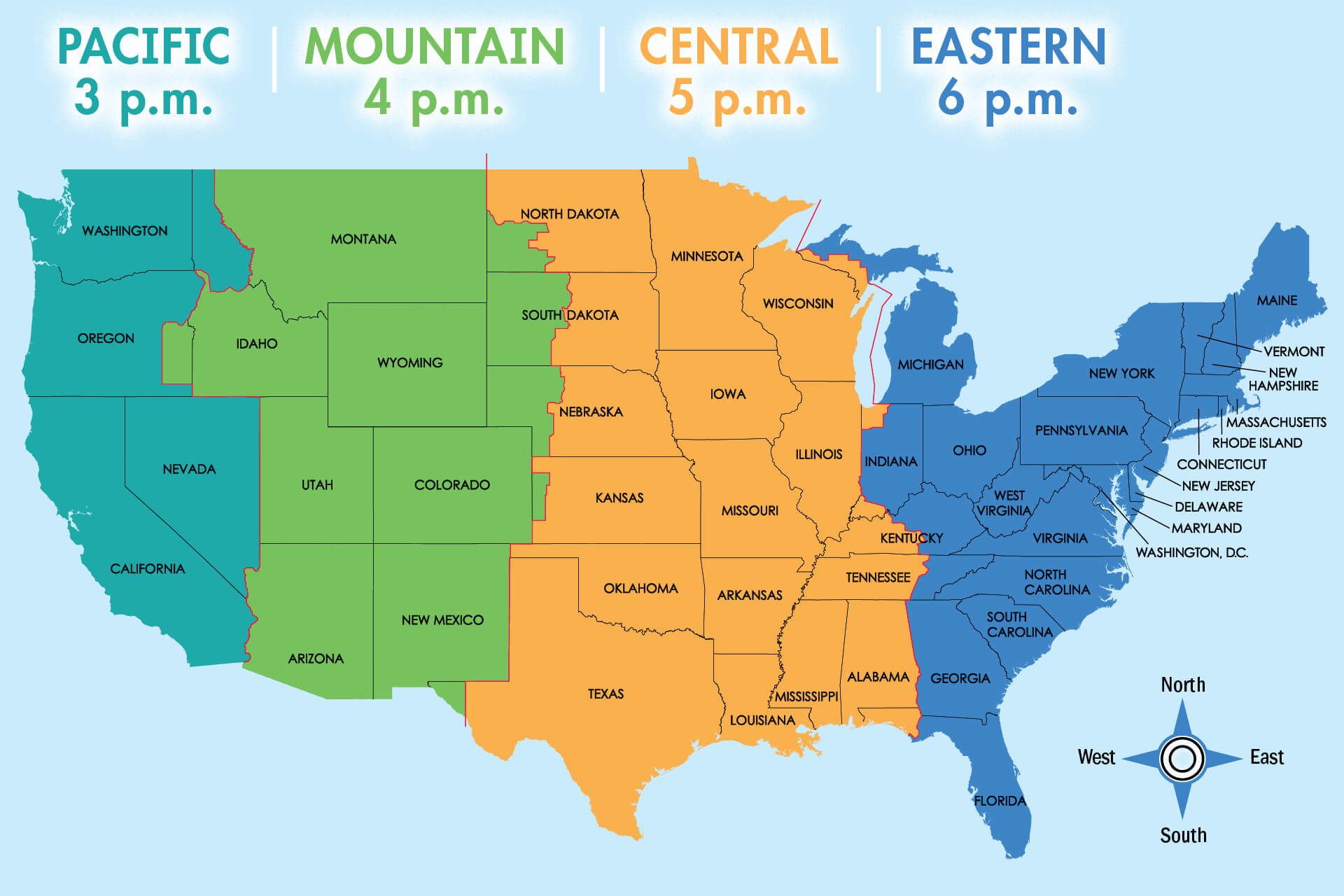 UTC-08:00 (PST) Latitude 32°32' N to 42° N Longitude 114°8' W to 124°26' W
FAQs on California
What is the Capital of California?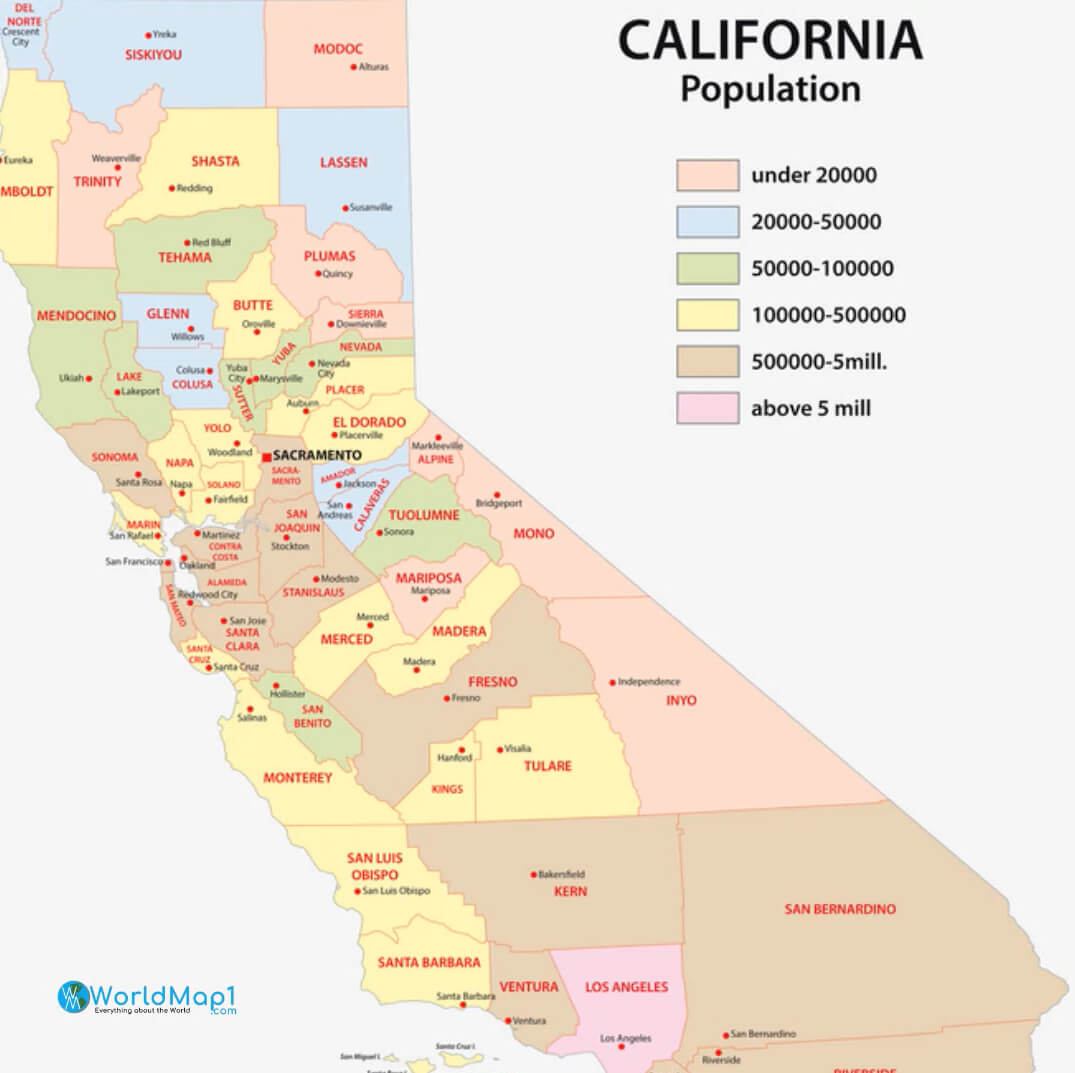 The capital city of California is Sacramento, which lies near its center with a population of 503,482 (2020).
What is the Largest city of California?
Los Angeles lies in a basin in Southern California with a metro population of 13,200,998 (Metropolitan statistical area).
What is the highest elevation of California?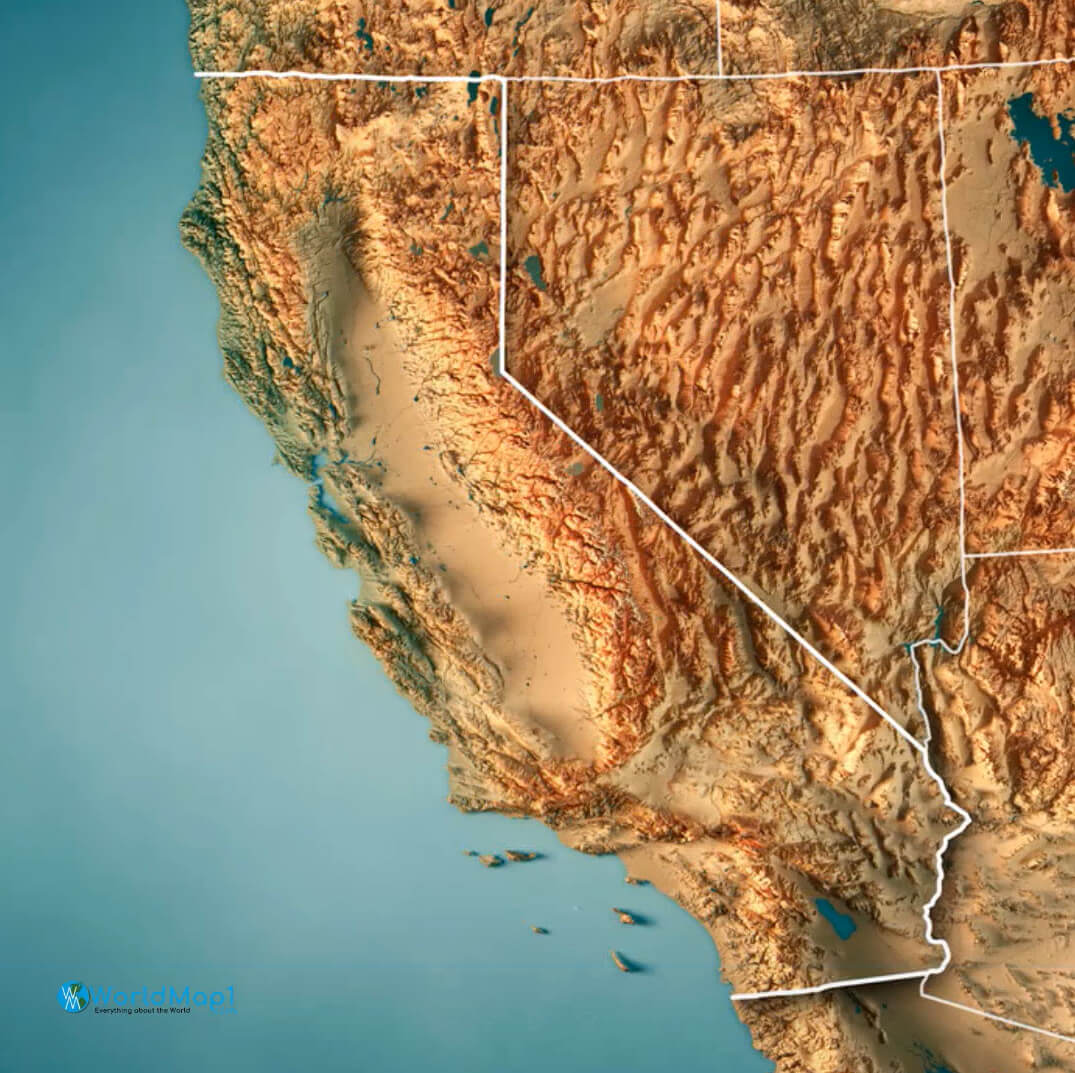 Sierra Nevada is the highest mountain in the US, Mount Whitney with an altitude of 4,421 m or 14,505 ft.
How Many People Live in California?
39,185,605 (2022 Census) - 251.3/sq mi (97/km2)
How Much is household income In California?
The average annual household income in California is $78,700
How Much is Tax In California?
Tax rate in California is 7.25%. Depending on the region, the tax rate varies from 0.10% to 1.00%.
Who is The Governor Of California?
Gavin Newsom was elected as Governor of California on January 7, 2019 from Democratic Party.
What are famous place in California?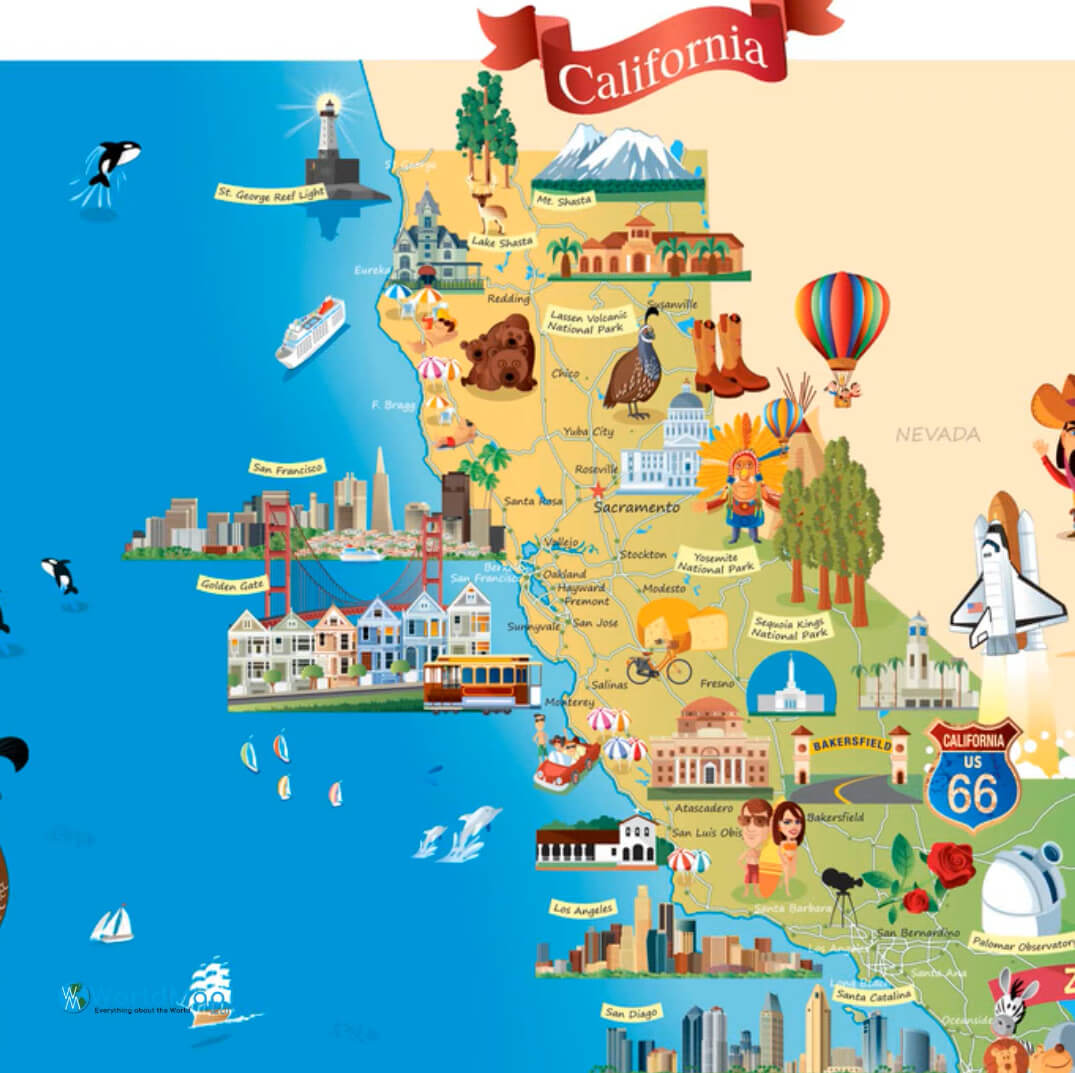 California is known for Hollywood, Disneyland, Golden Gate Bridge, Silicon Valley, California beaches.
What is the California's Official Website Address?
California Website: www.ca.gov
What are 8 interesting facts about California?
Nickname: The Golden State.
Statehood: 1850; 31st state.
Population (as of July 2015): 39,144,818.
Capital: Sacramento.
Biggest City: Los Angeles.
Abbreviation: CA.
State bird: California valley quail.
State flower: California poppy.
What are the major interstate highways in California?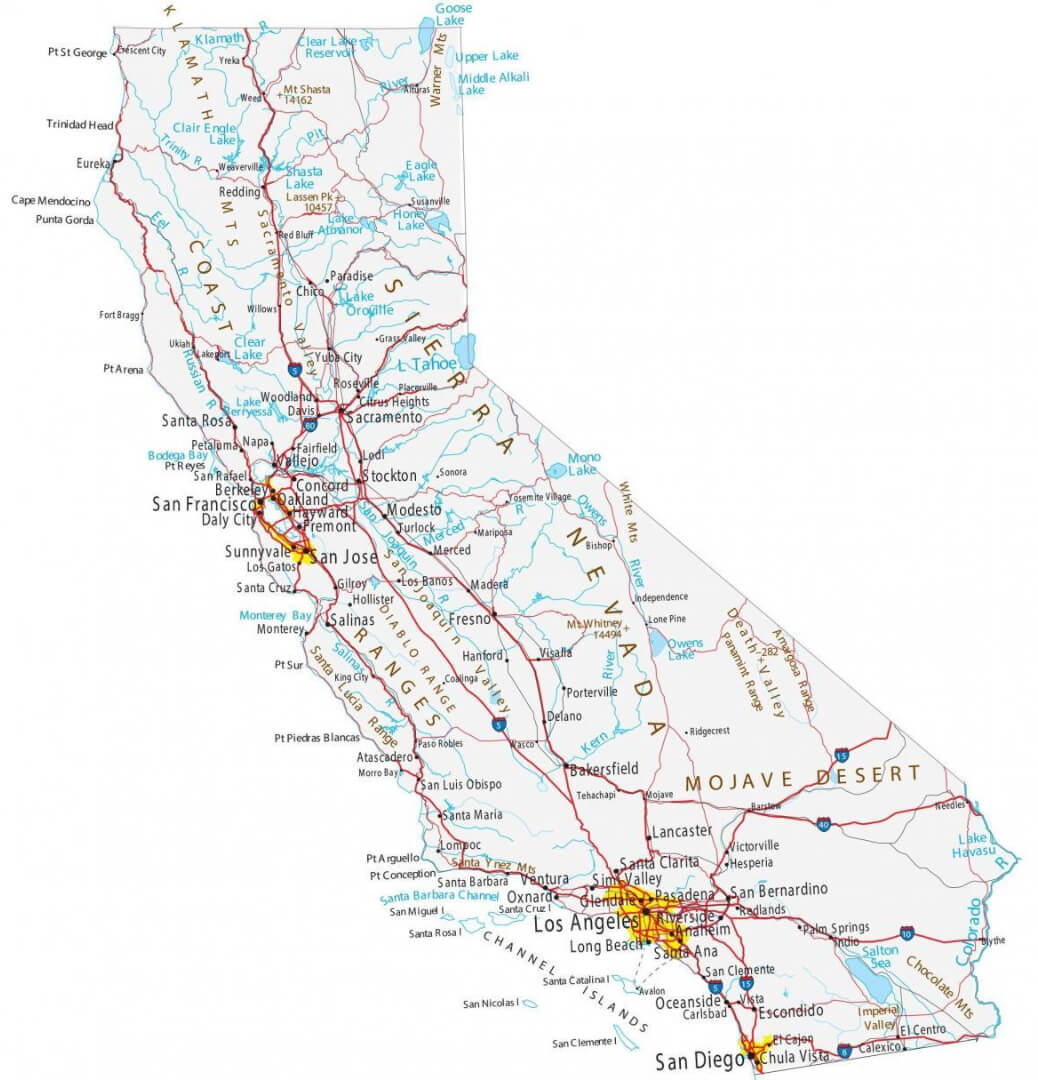 US Highways and State Routes include: Route 6, Route 50, Route 101, Route 199 and Route 395.
Mountains, Lakes and Deserts in California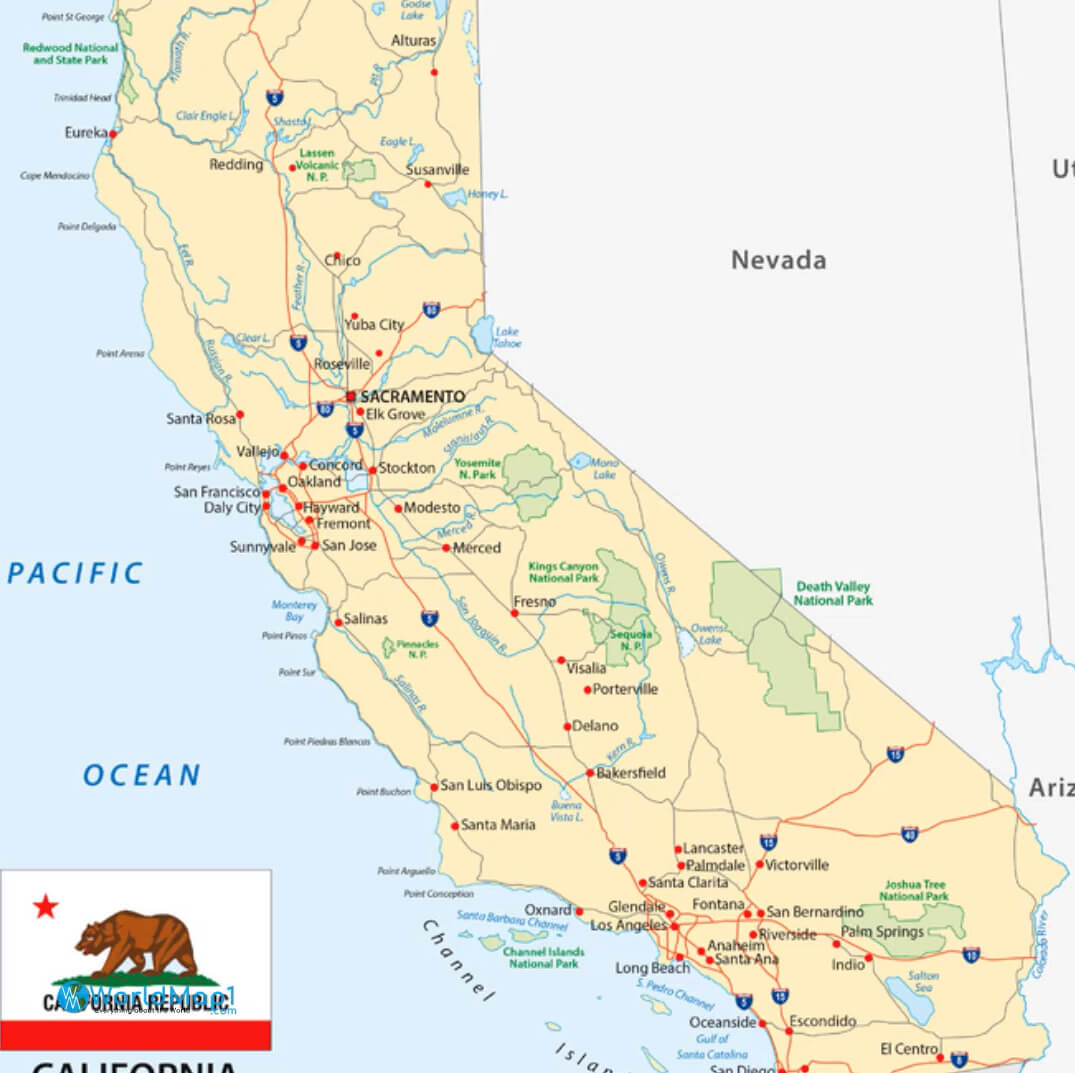 The Sierra Nevada, a 640 km (400 mi) long mountain range running north to south, within there is Lake Tahoe, the large freshwater lake is the second deepest lake in the United States and the largest alpine lake in North America at an elevation of 1,900 m (above sea level)
The Mojave Desert, a vast arid region in southeastern California, is the driest desert in all of North America.
Death Valley holds the record for the highest recorded air temperature on Earth (56.7°C (134°F)).
California Location Map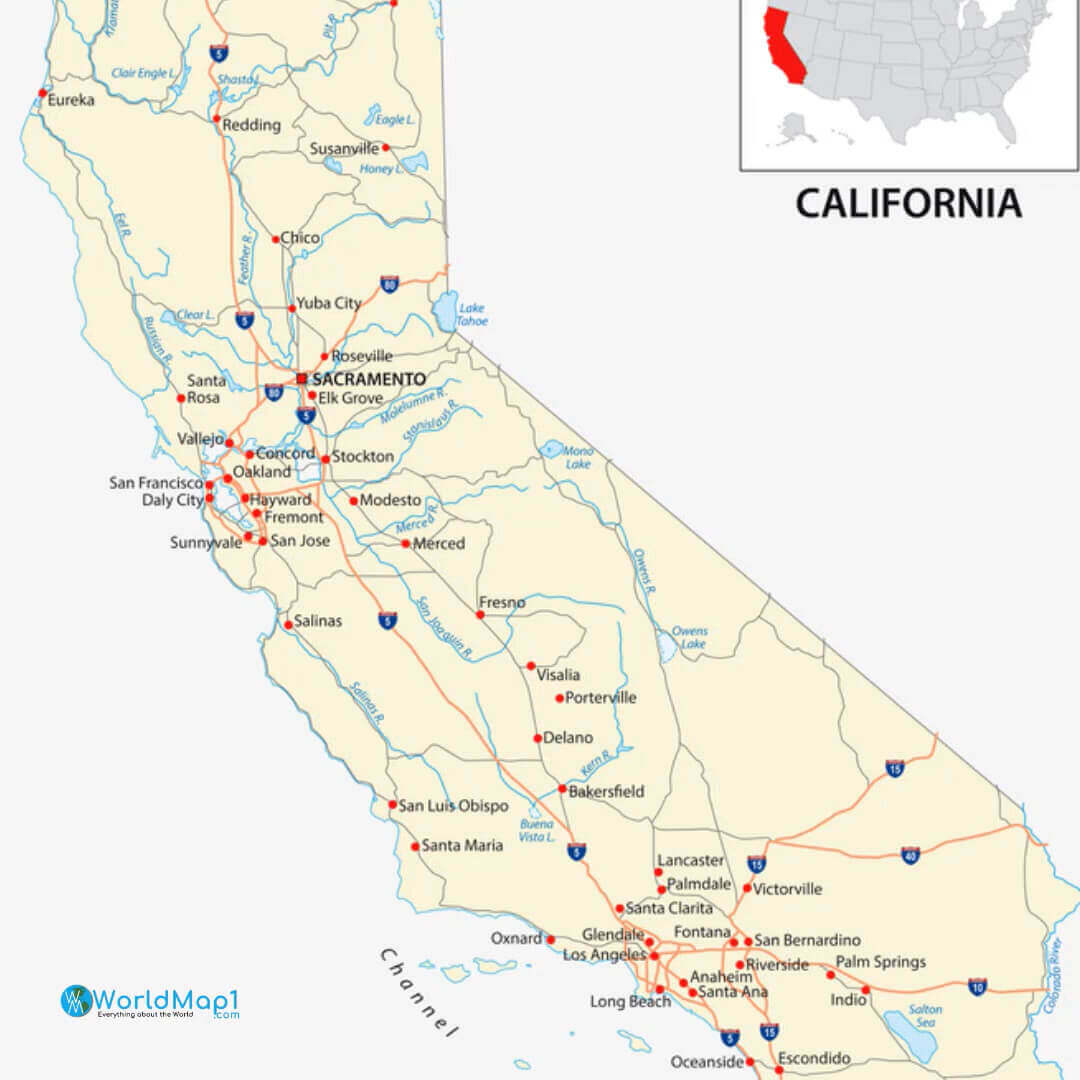 Airports in California Map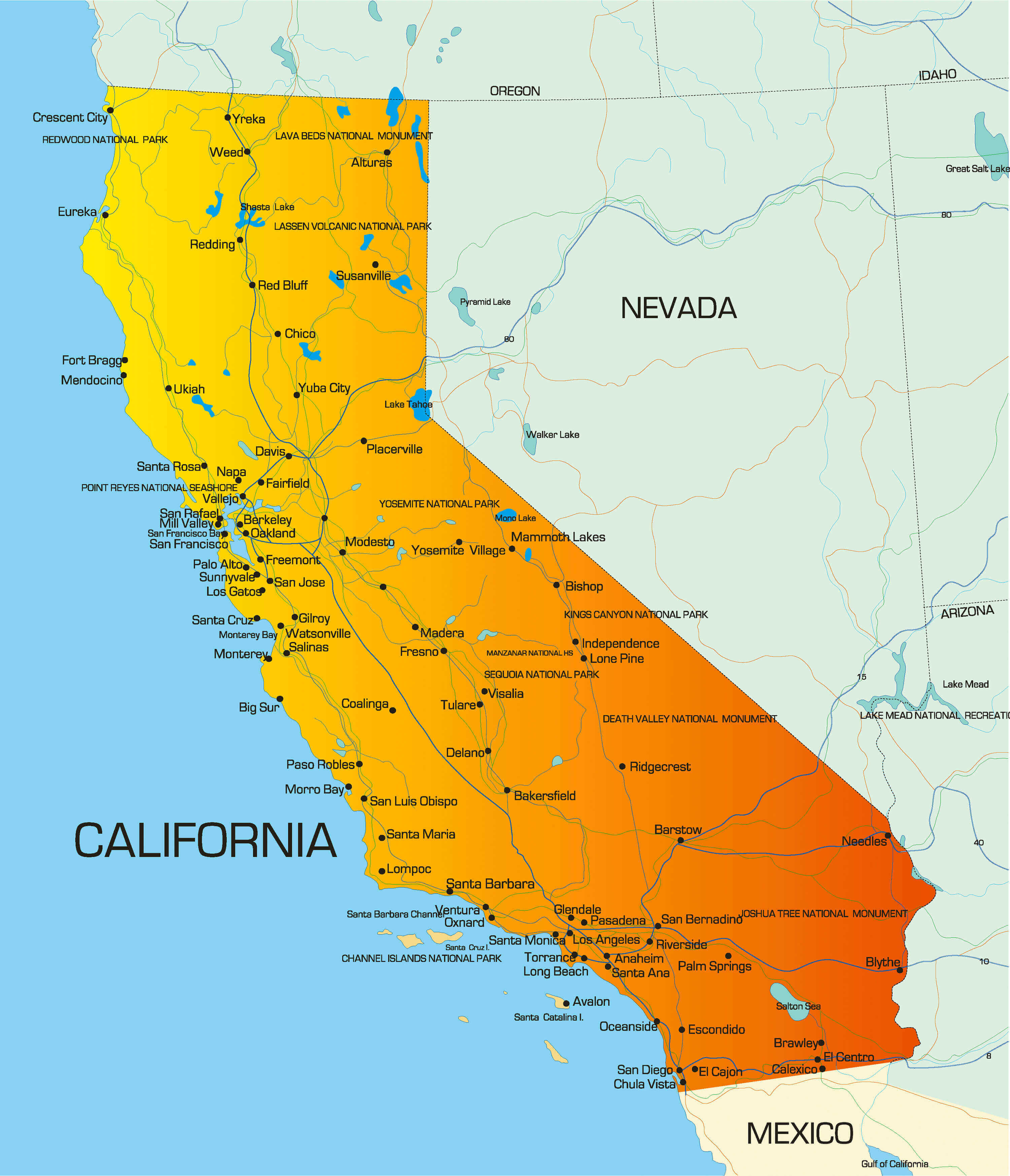 California County Map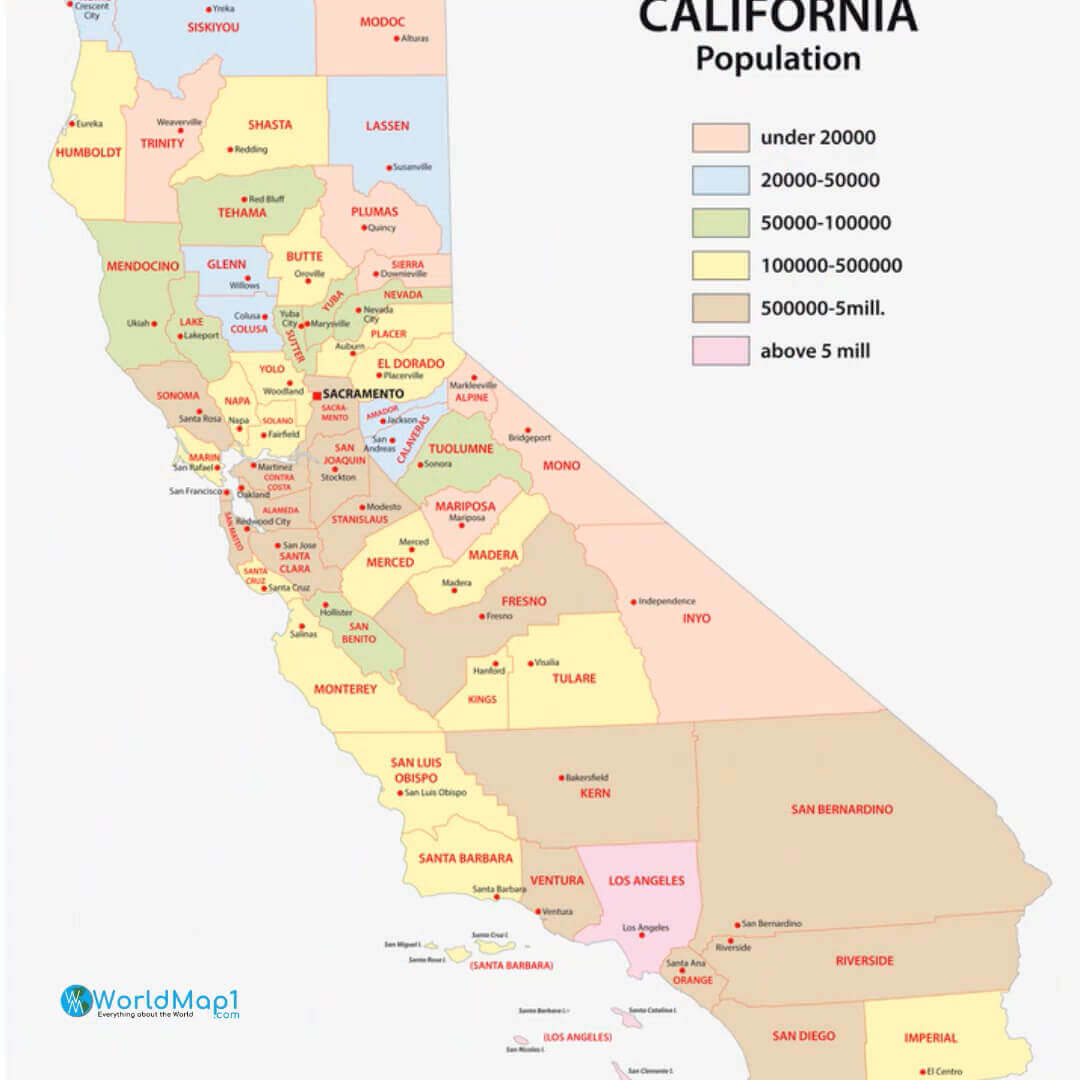 California Climate Zone Map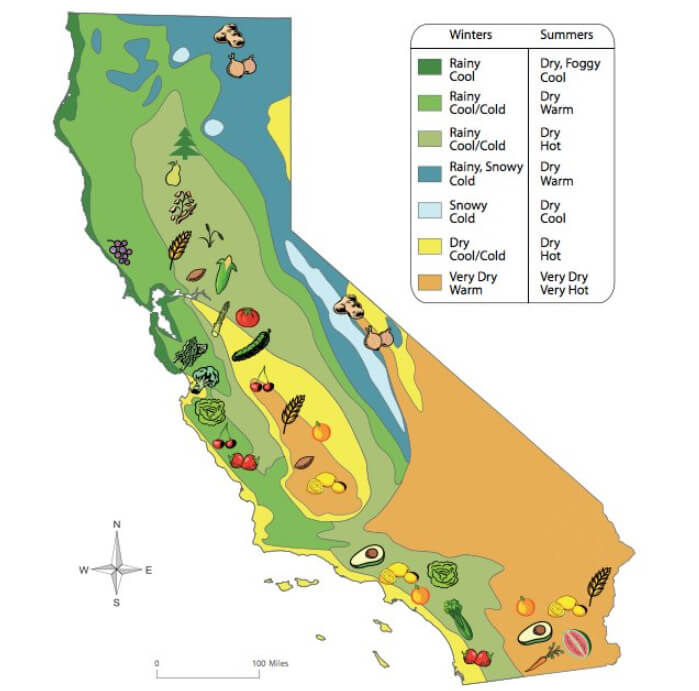 Map of California Cities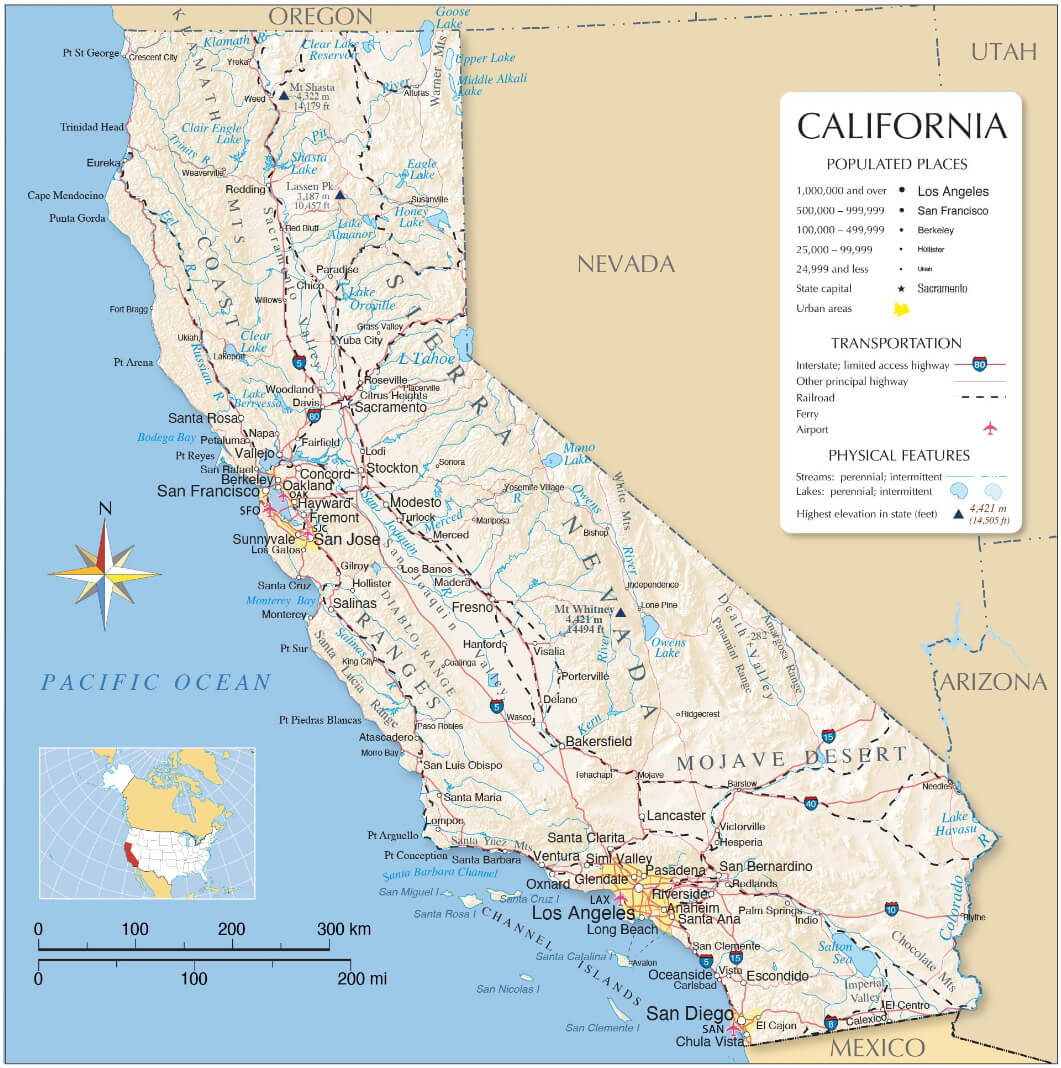 Blank Map of California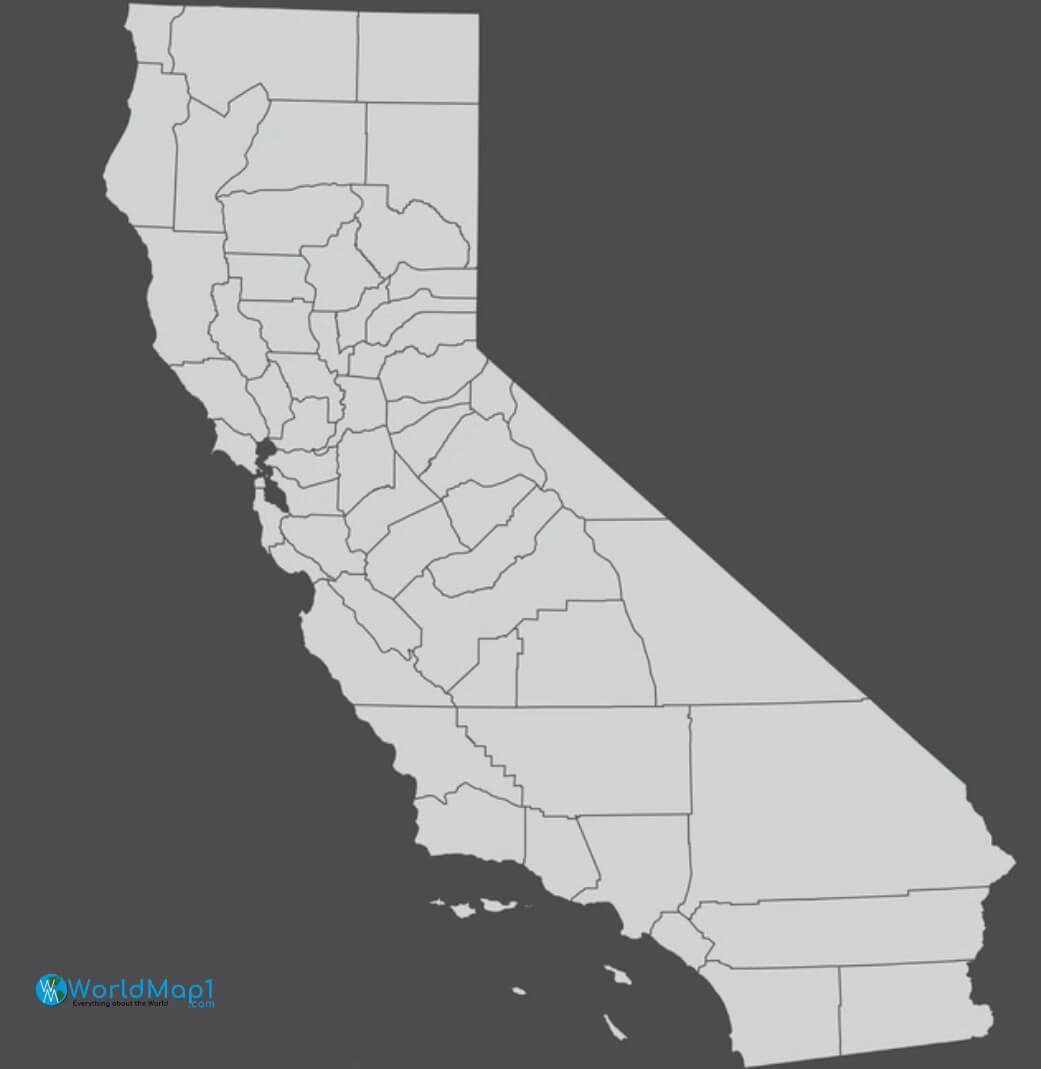 Detailed Map California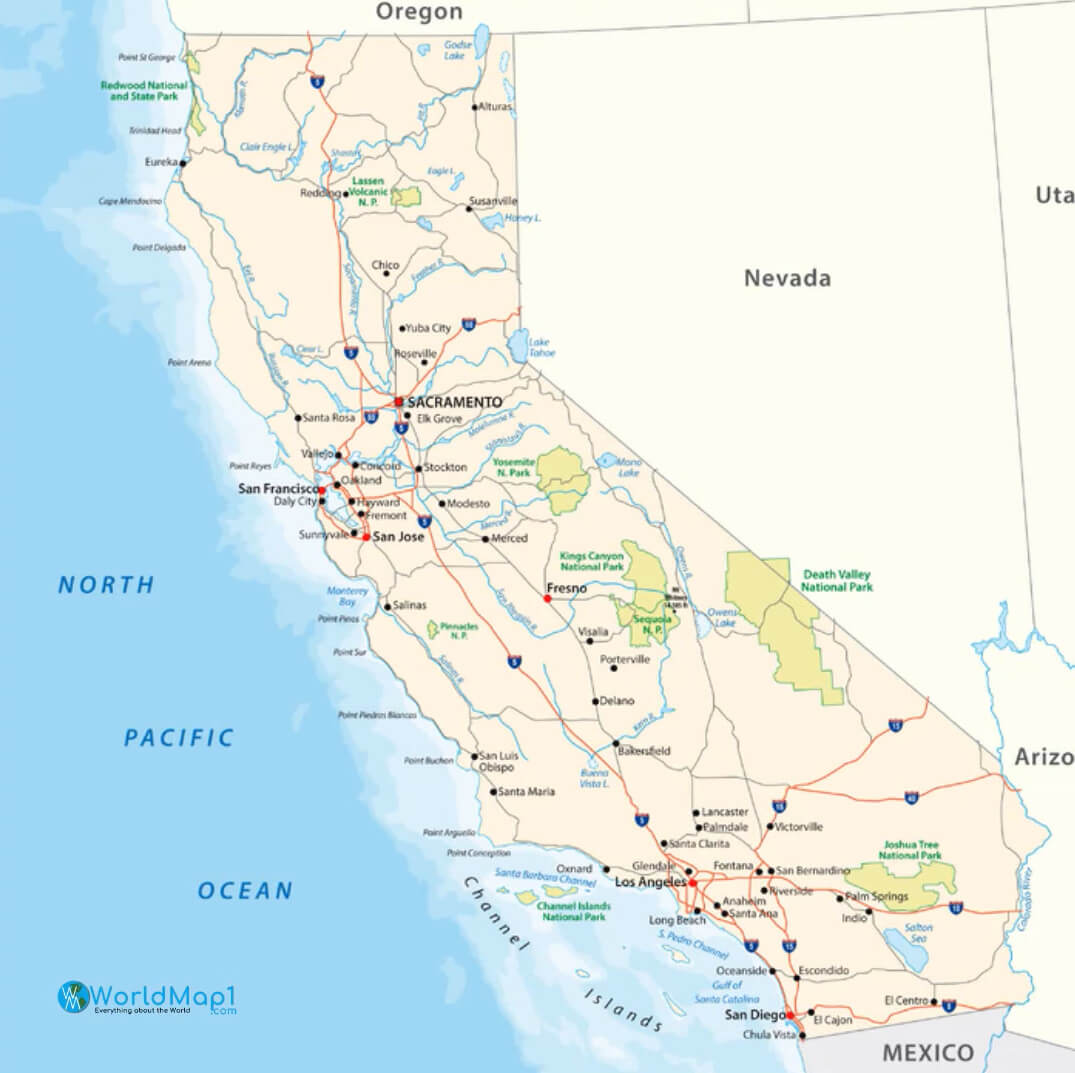 California Counties and Cities Map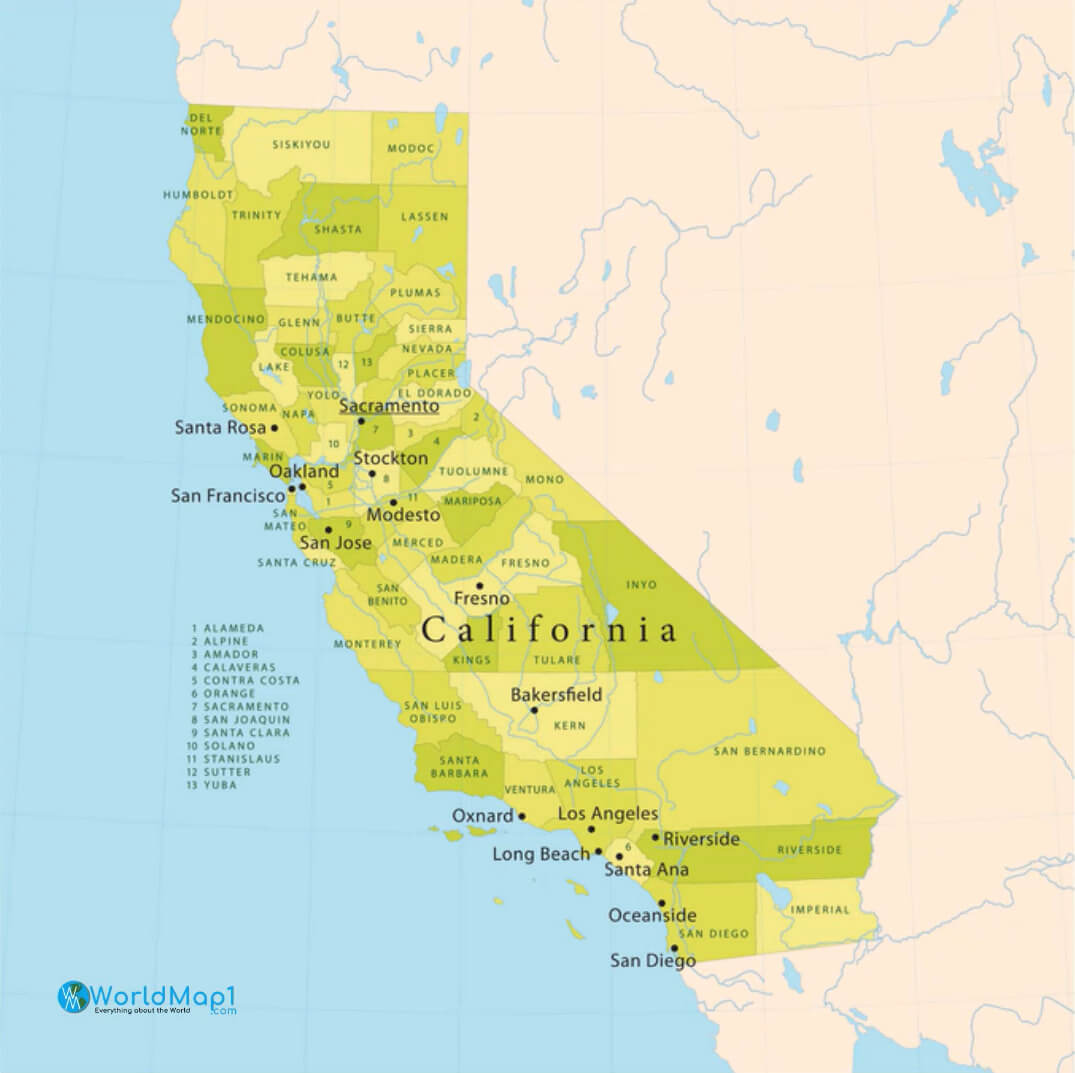 Physical Map of California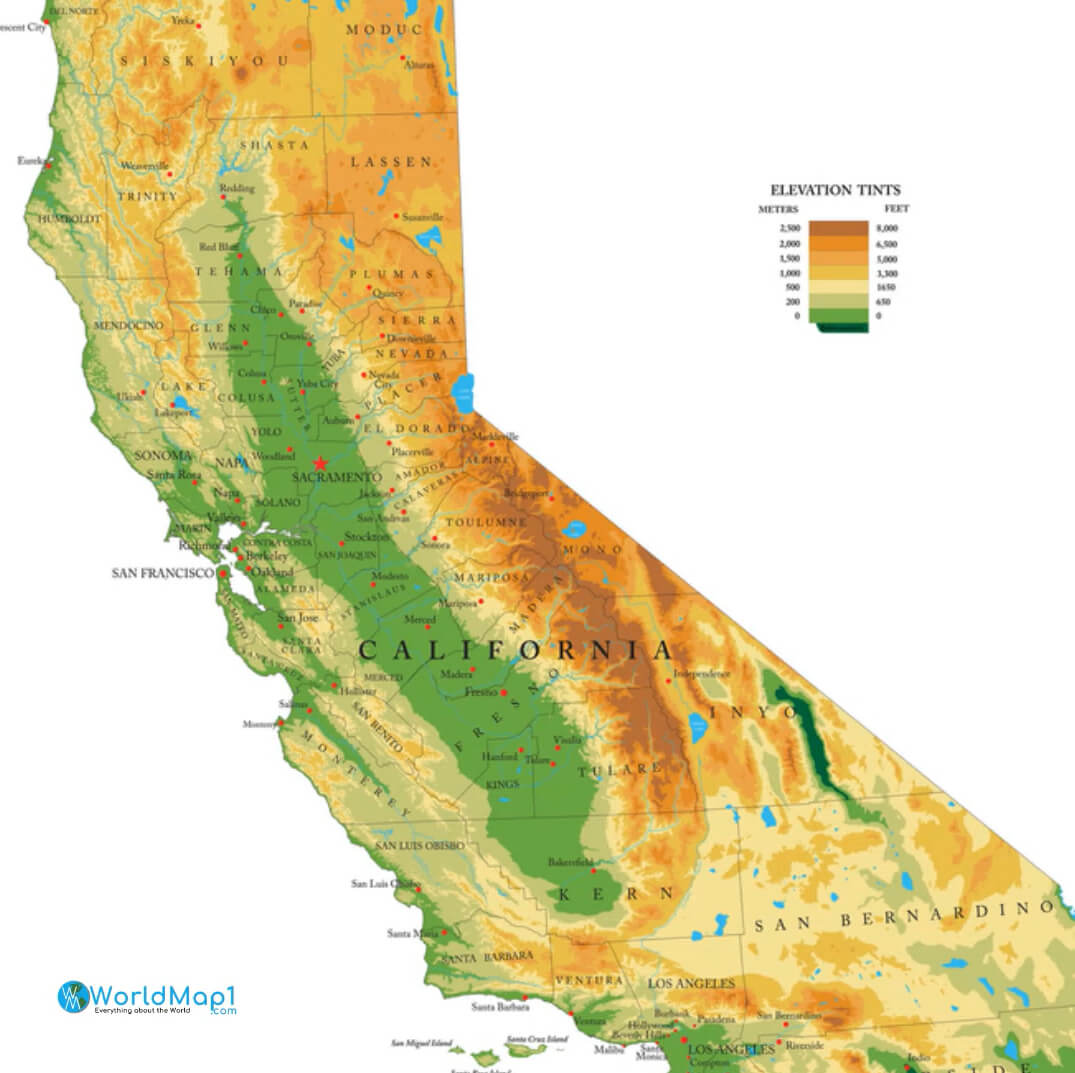 California's Cities Map and Counties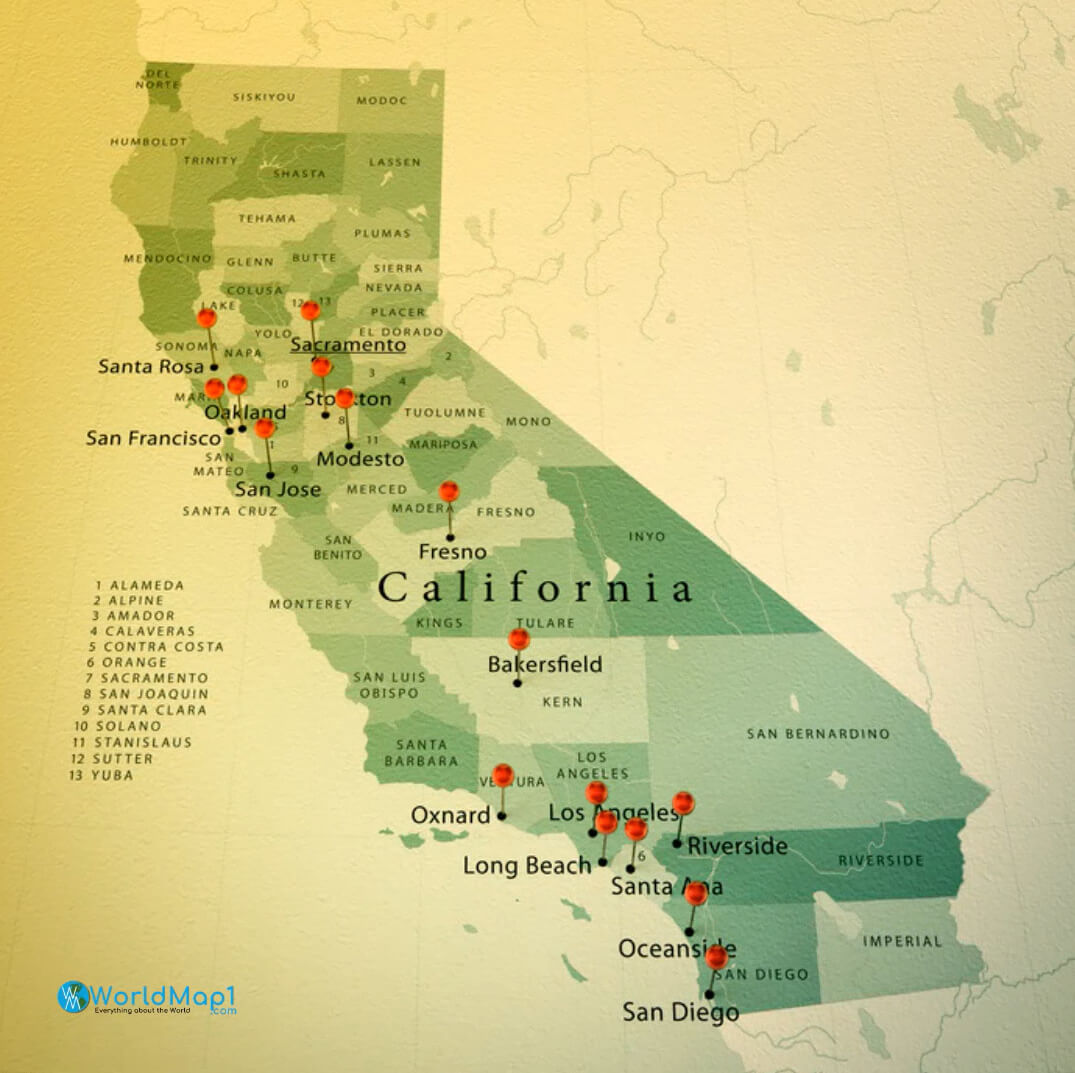 California State Map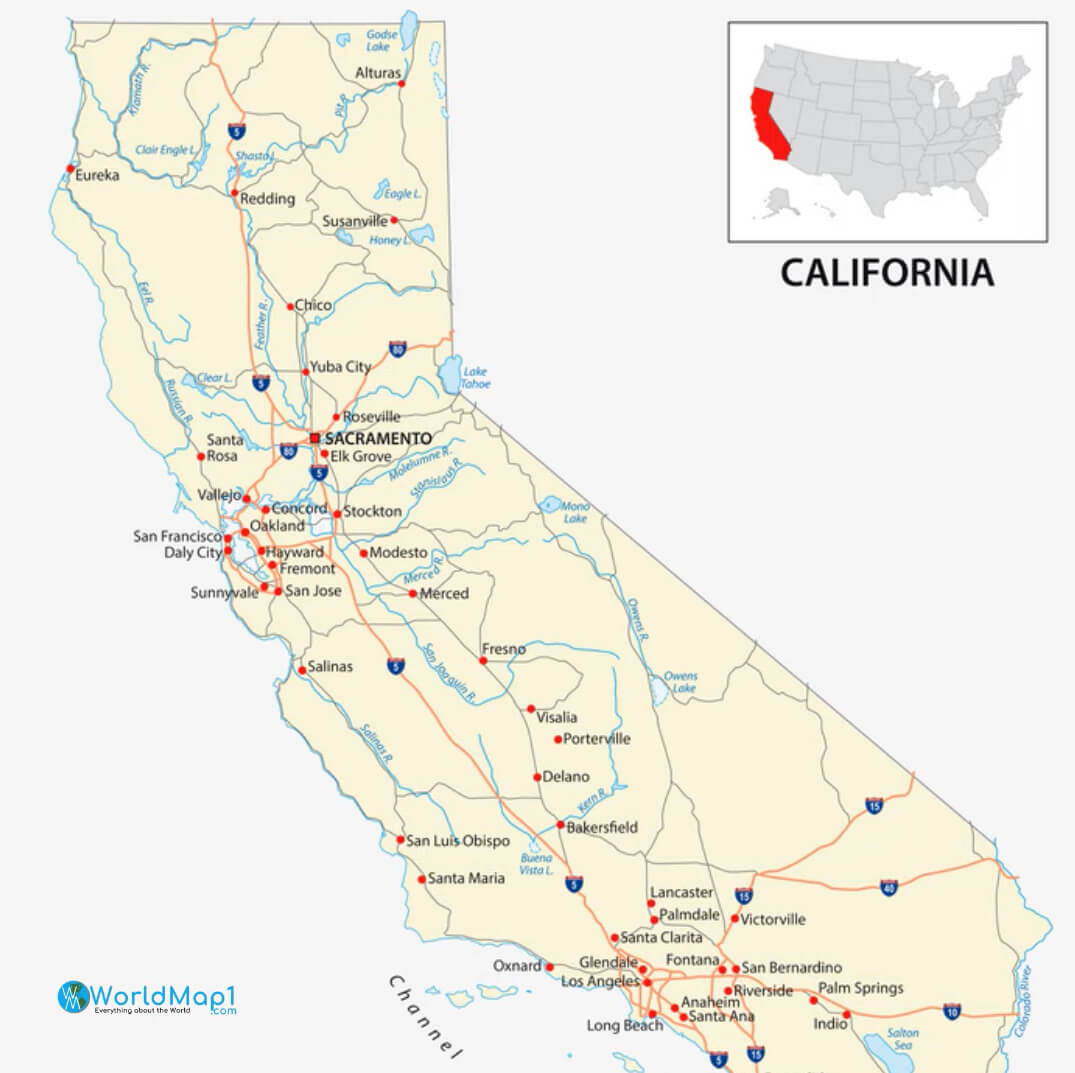 Cities and Towns Map in California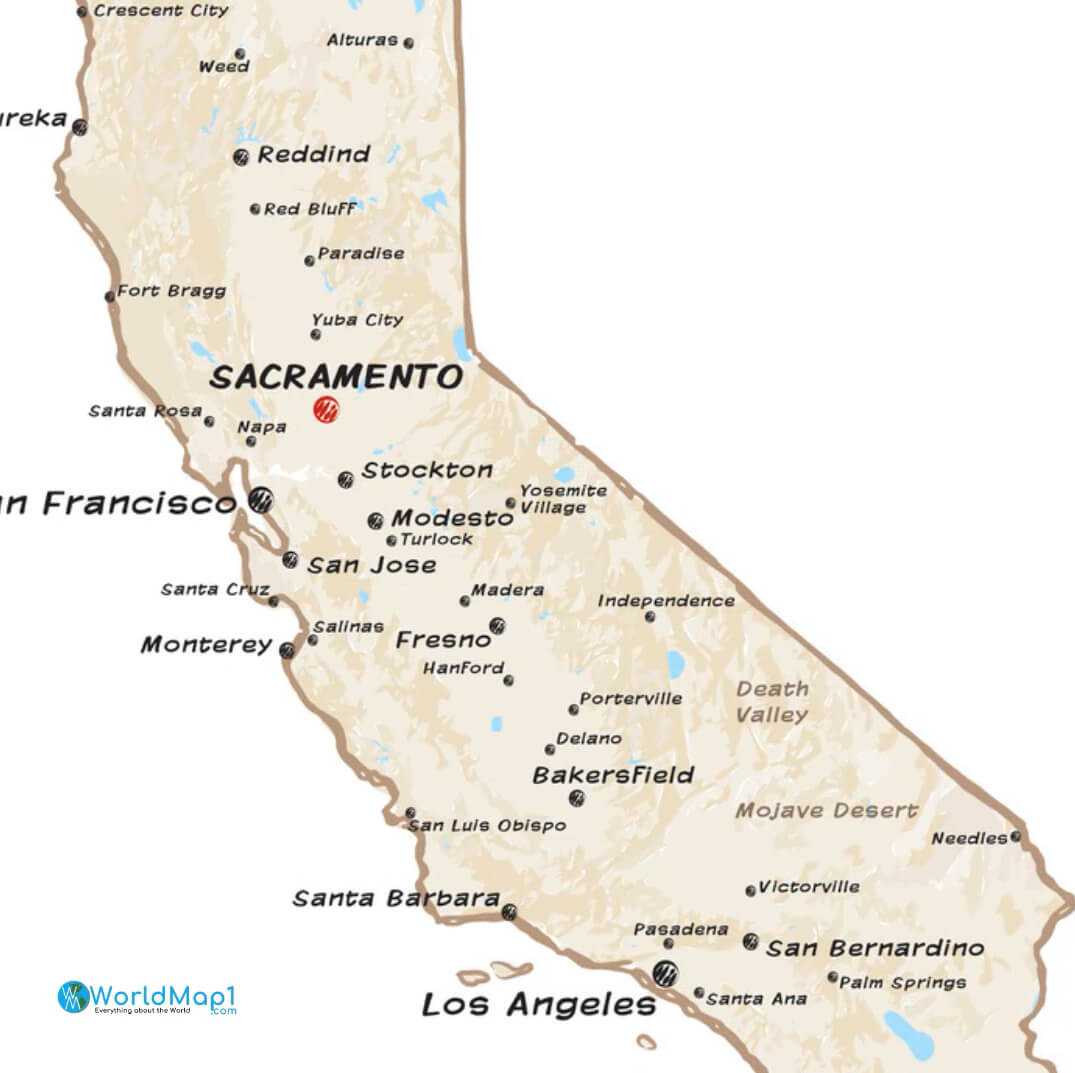 Map of California and Mexico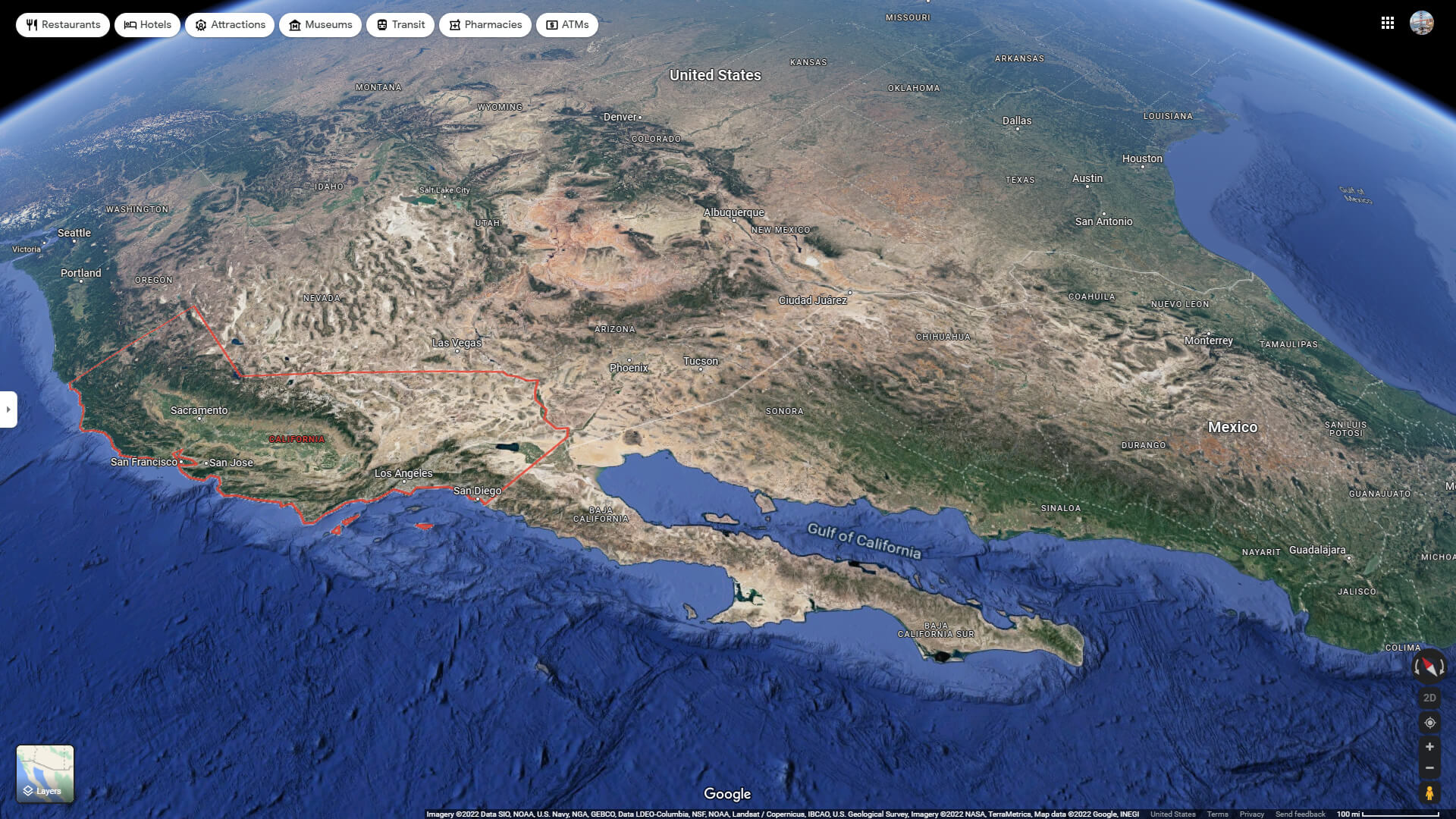 California Places To Visit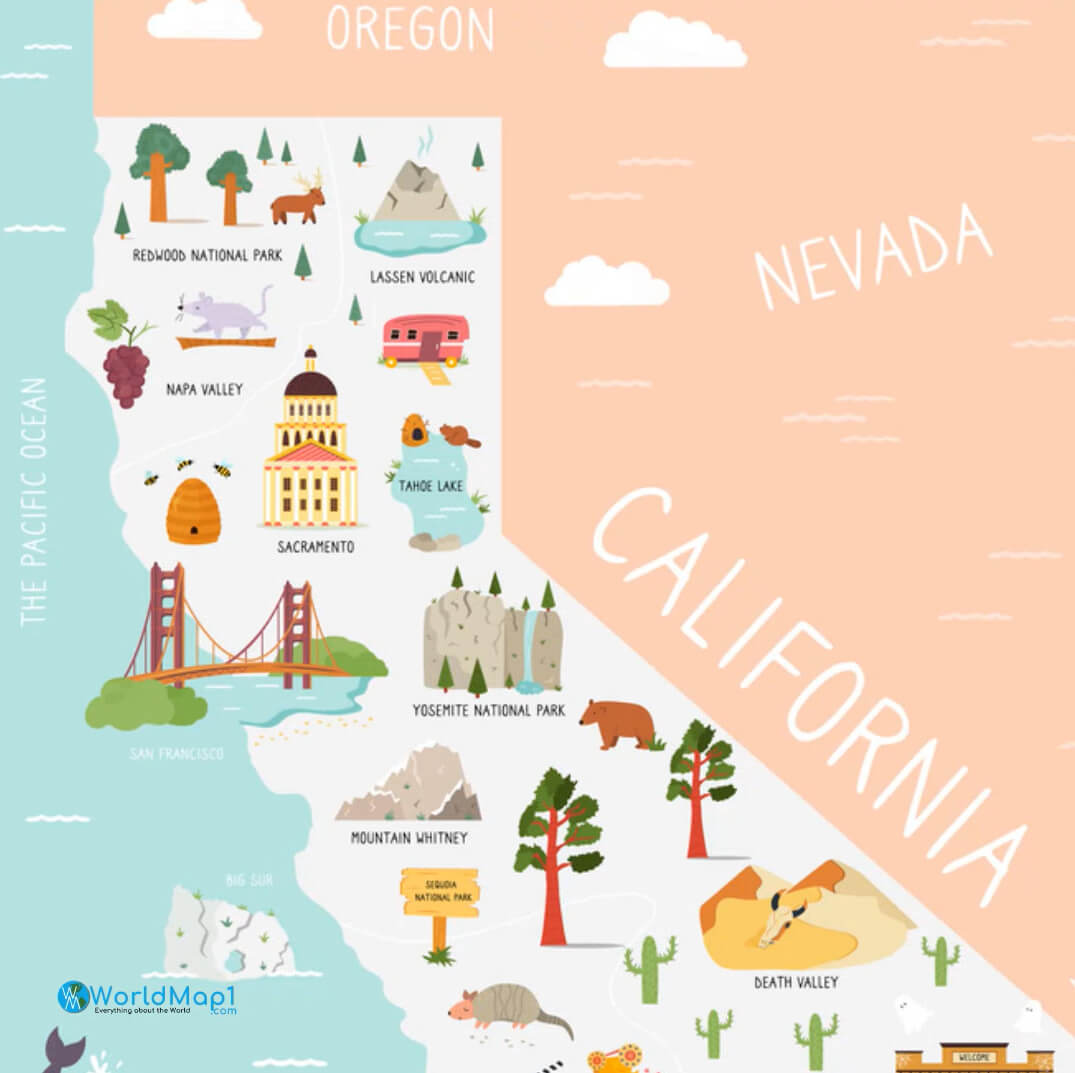 California History Map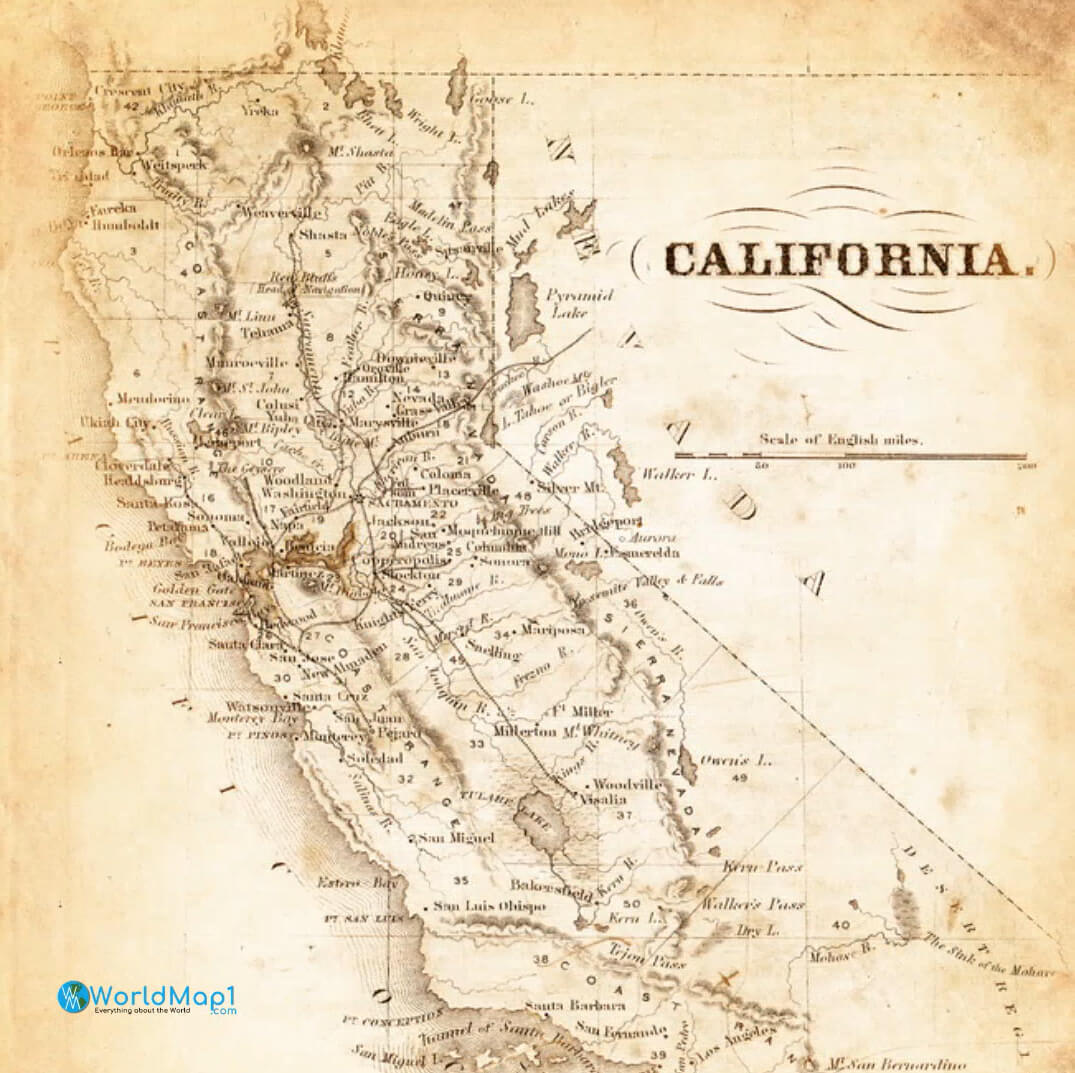 California Latitude and Longitude Map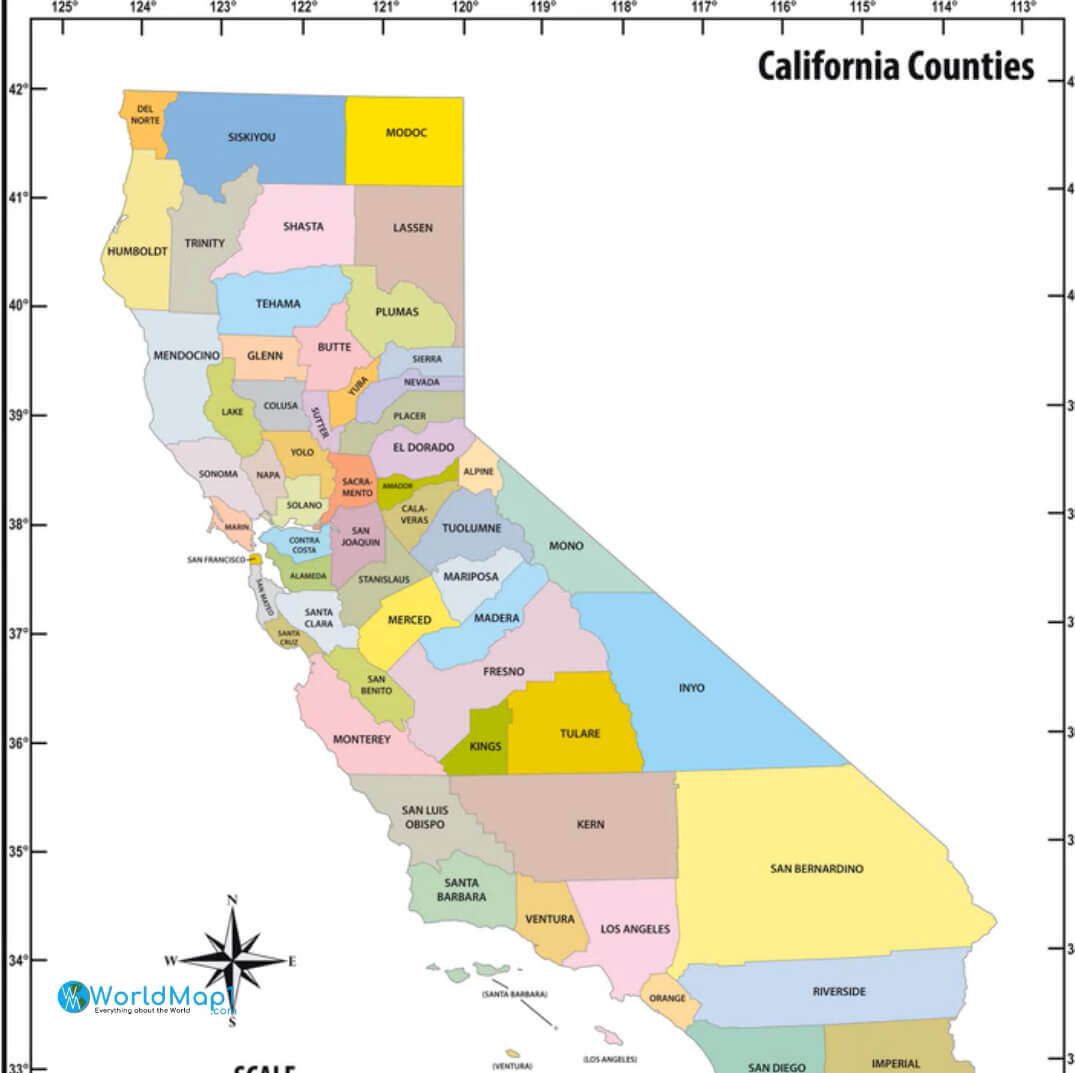 California High Speed Rail Map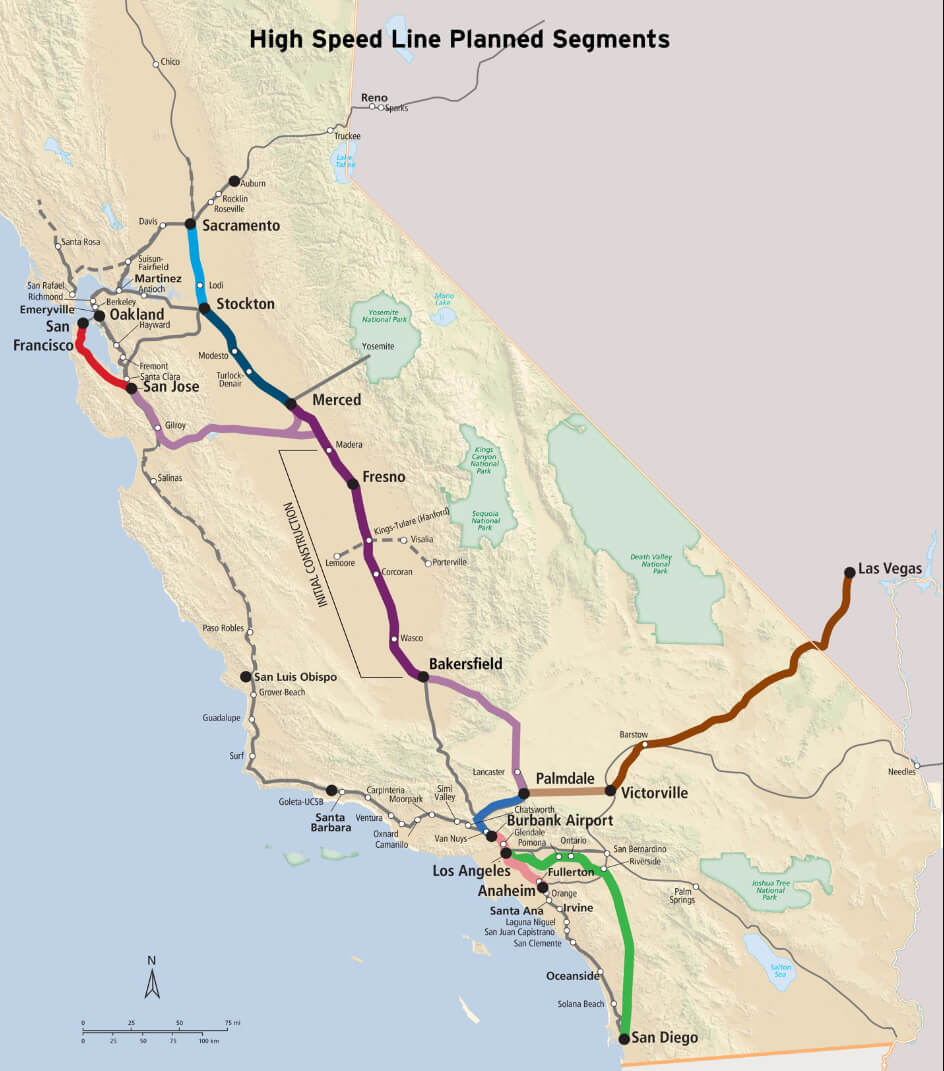 Map of California Cities and Roads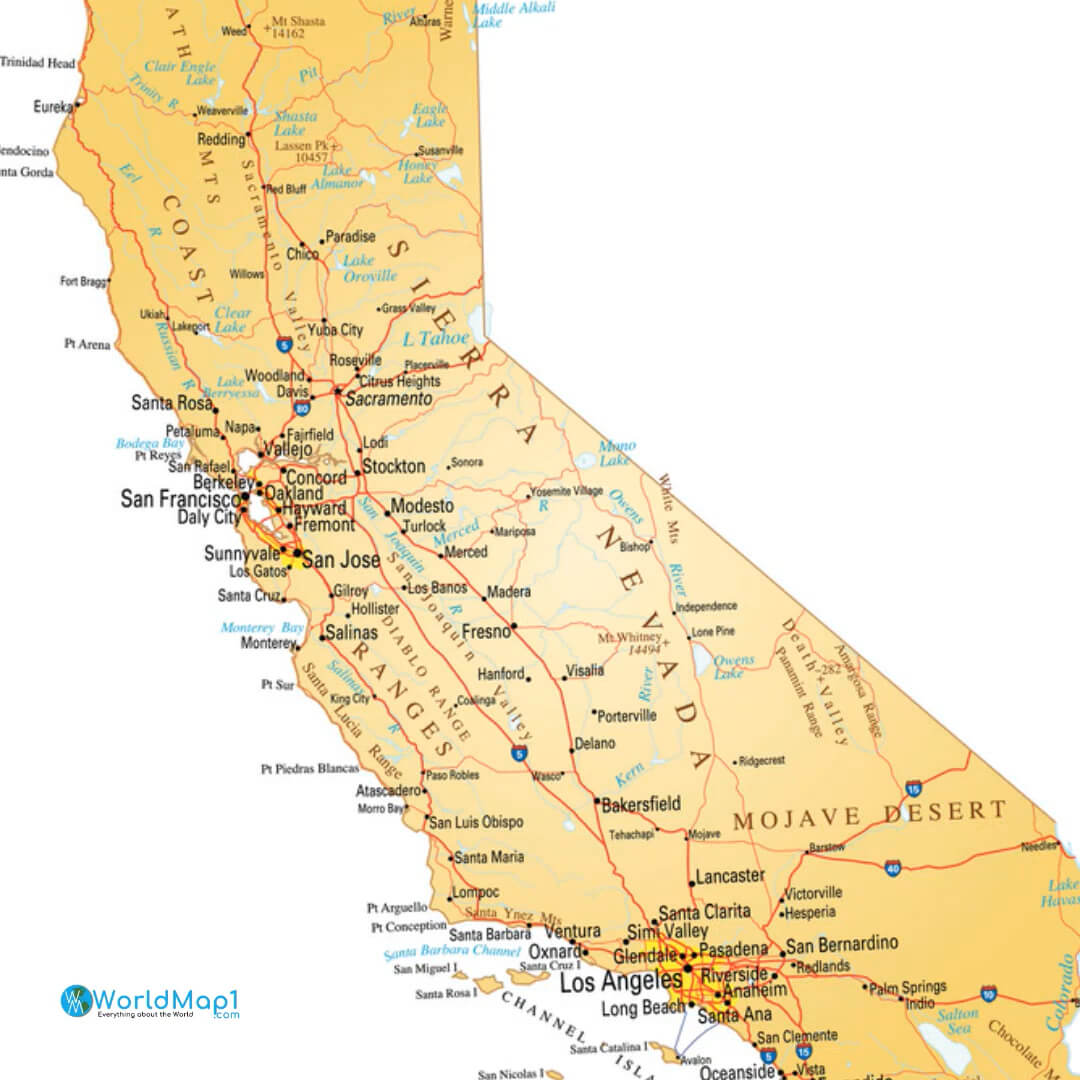 California Rivers Map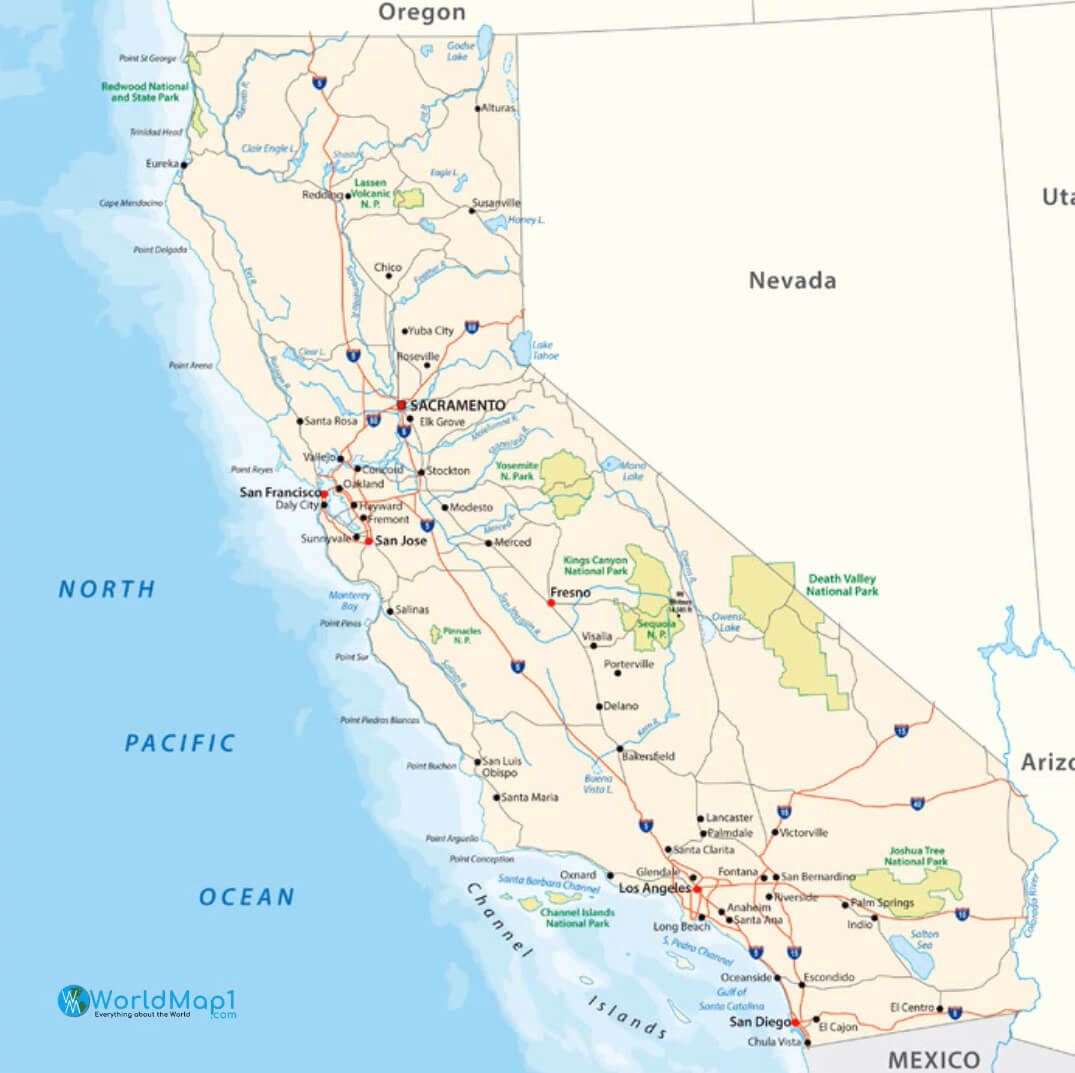 California Fault Lines Map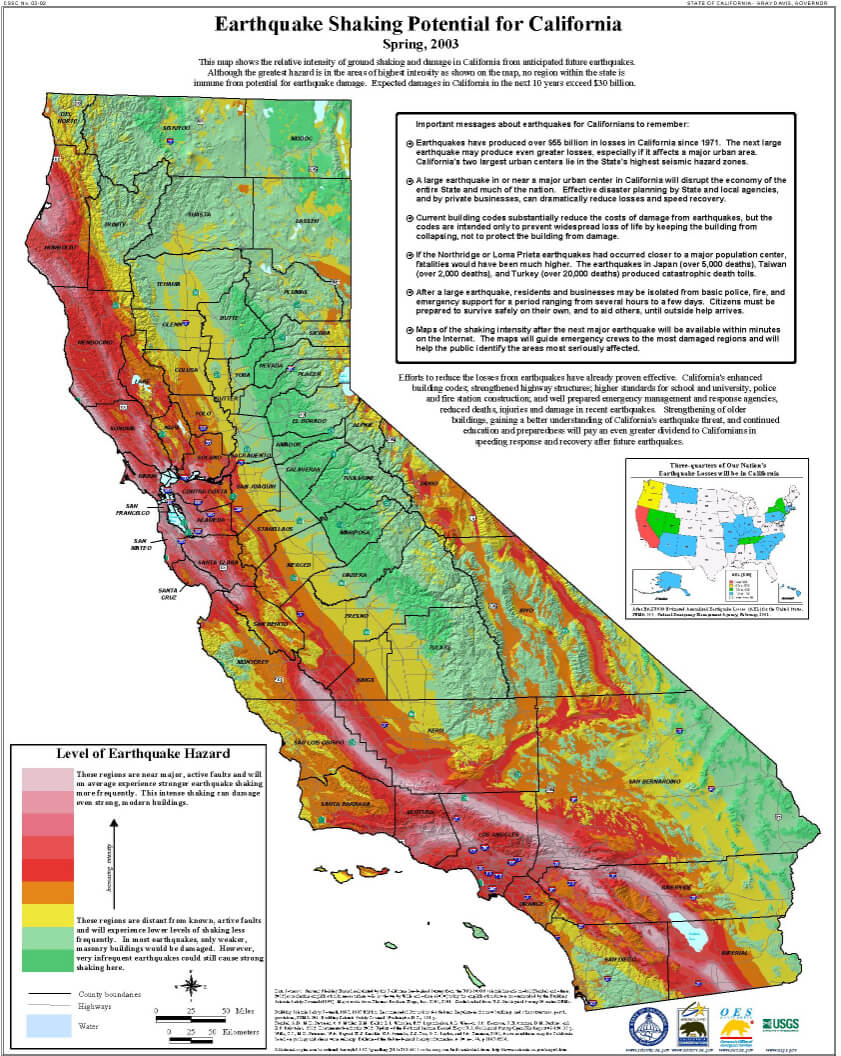 California Mountain Ranges Map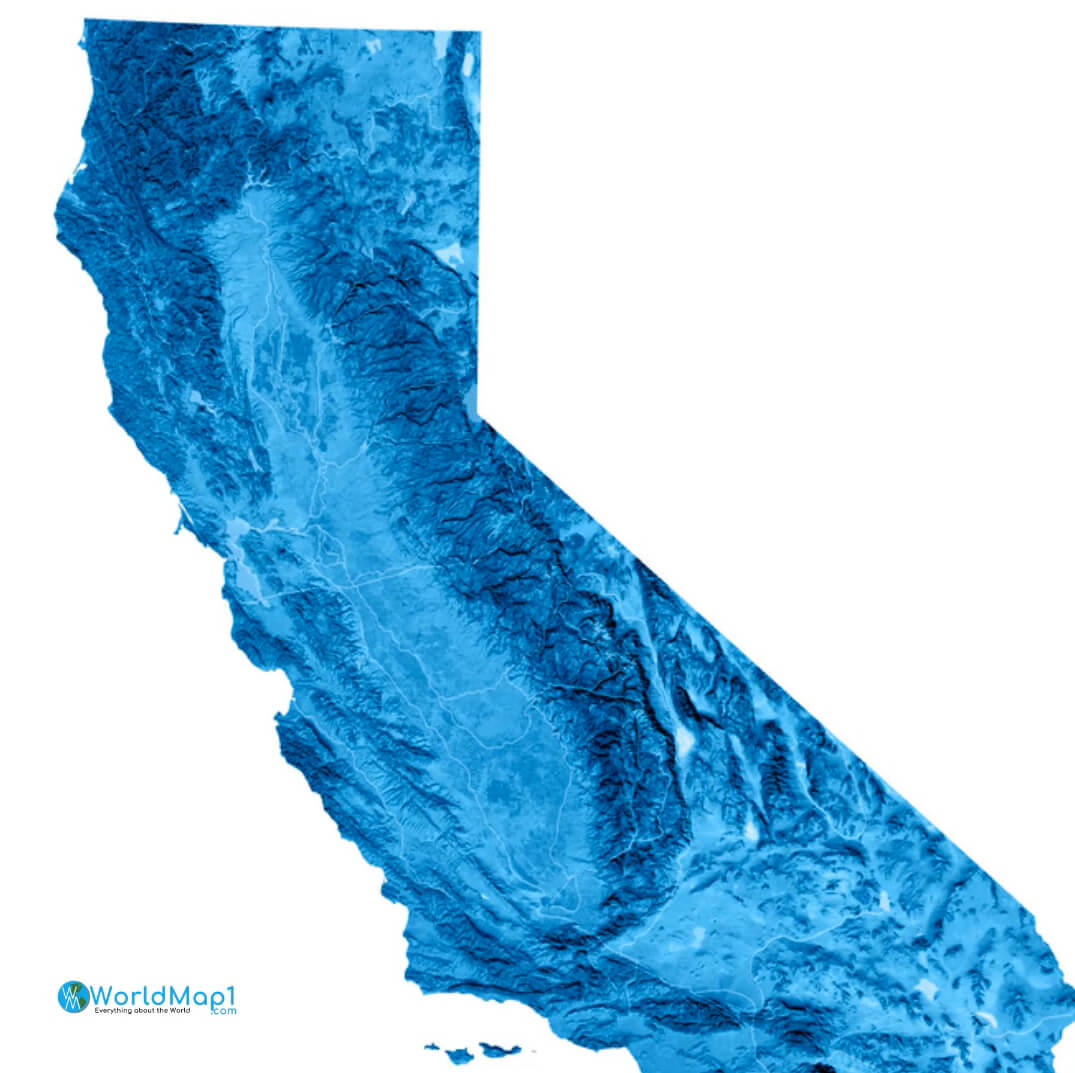 Map of Northern California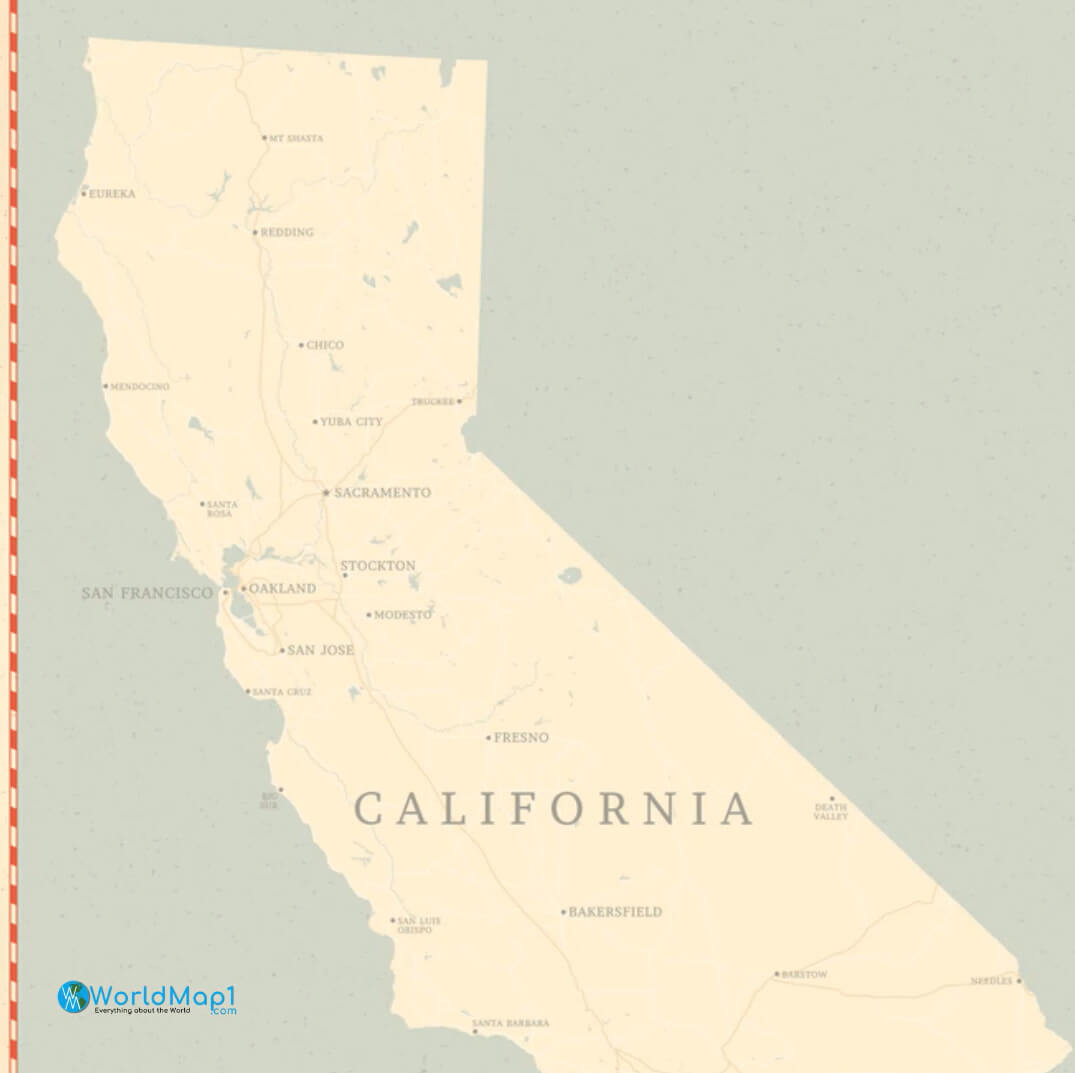 Map of Southern California Cities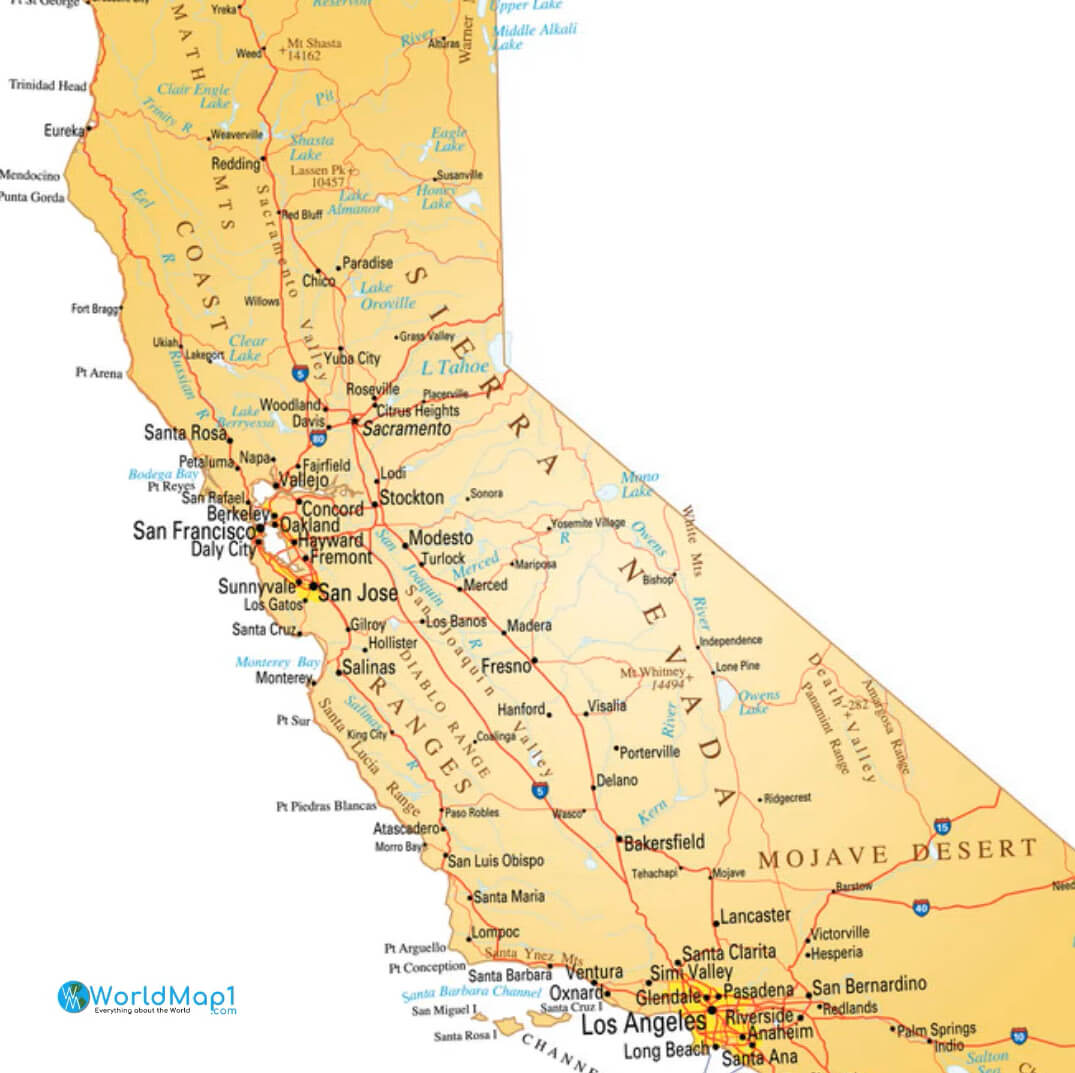 Map of Southern California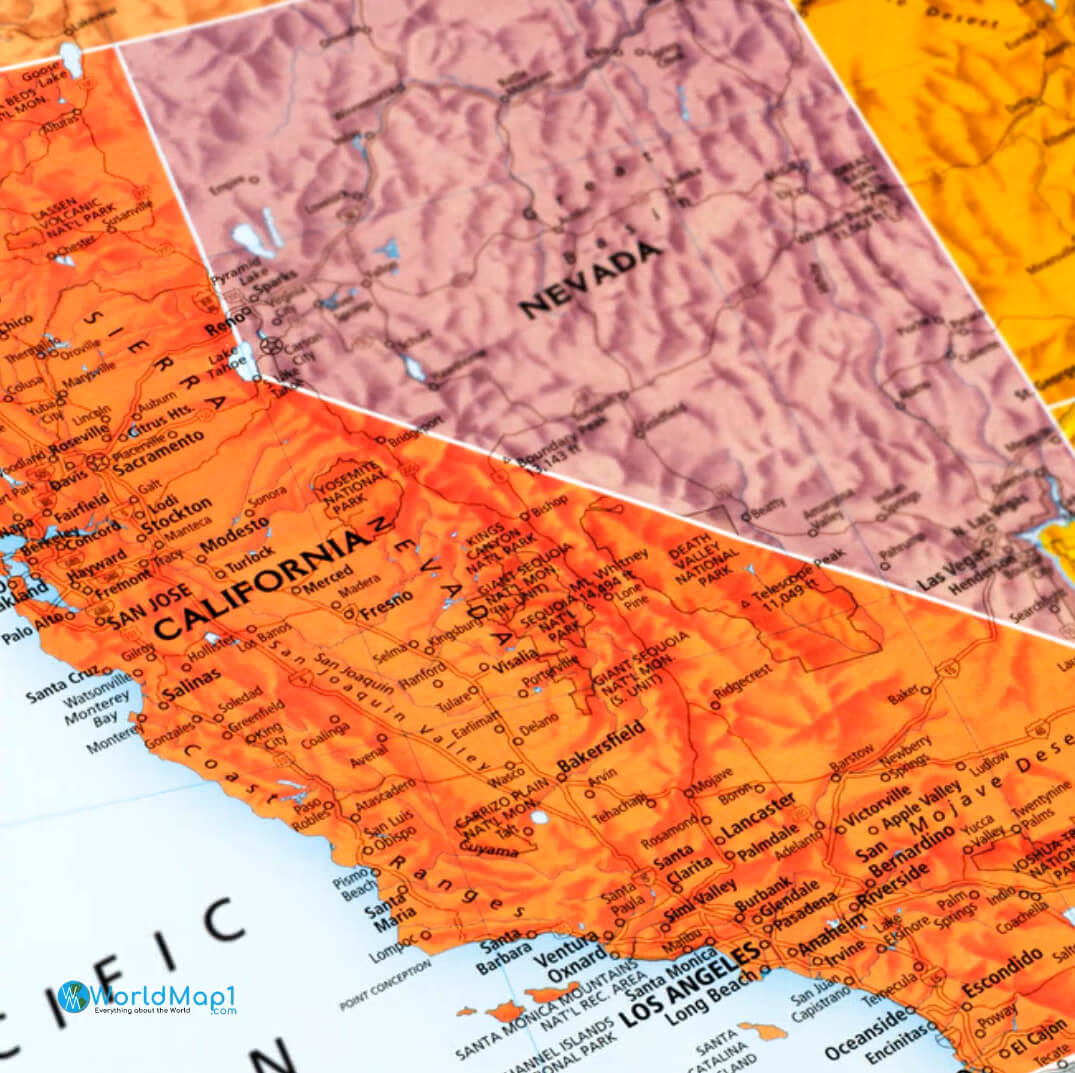 California Map with Nevada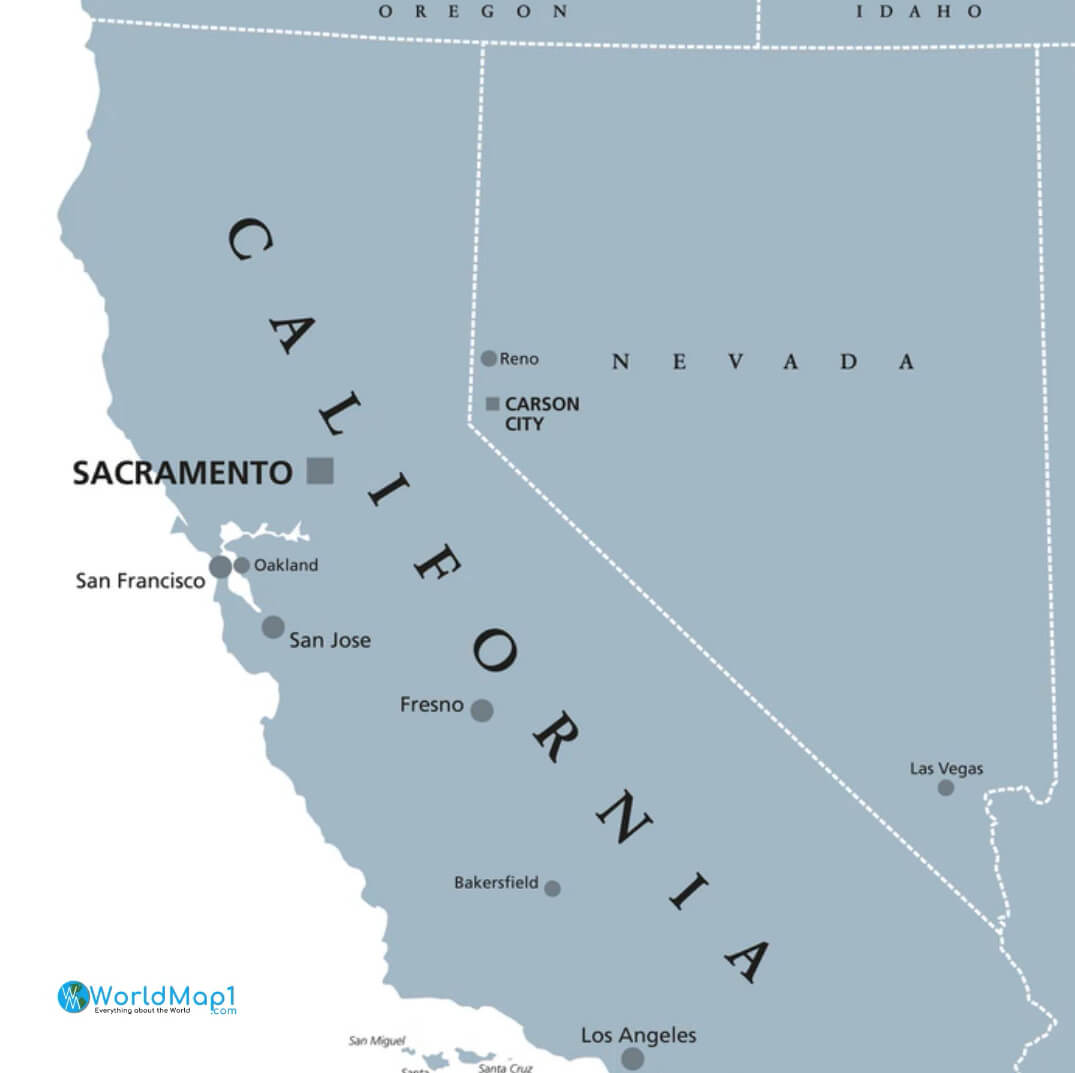 California Area Code Maps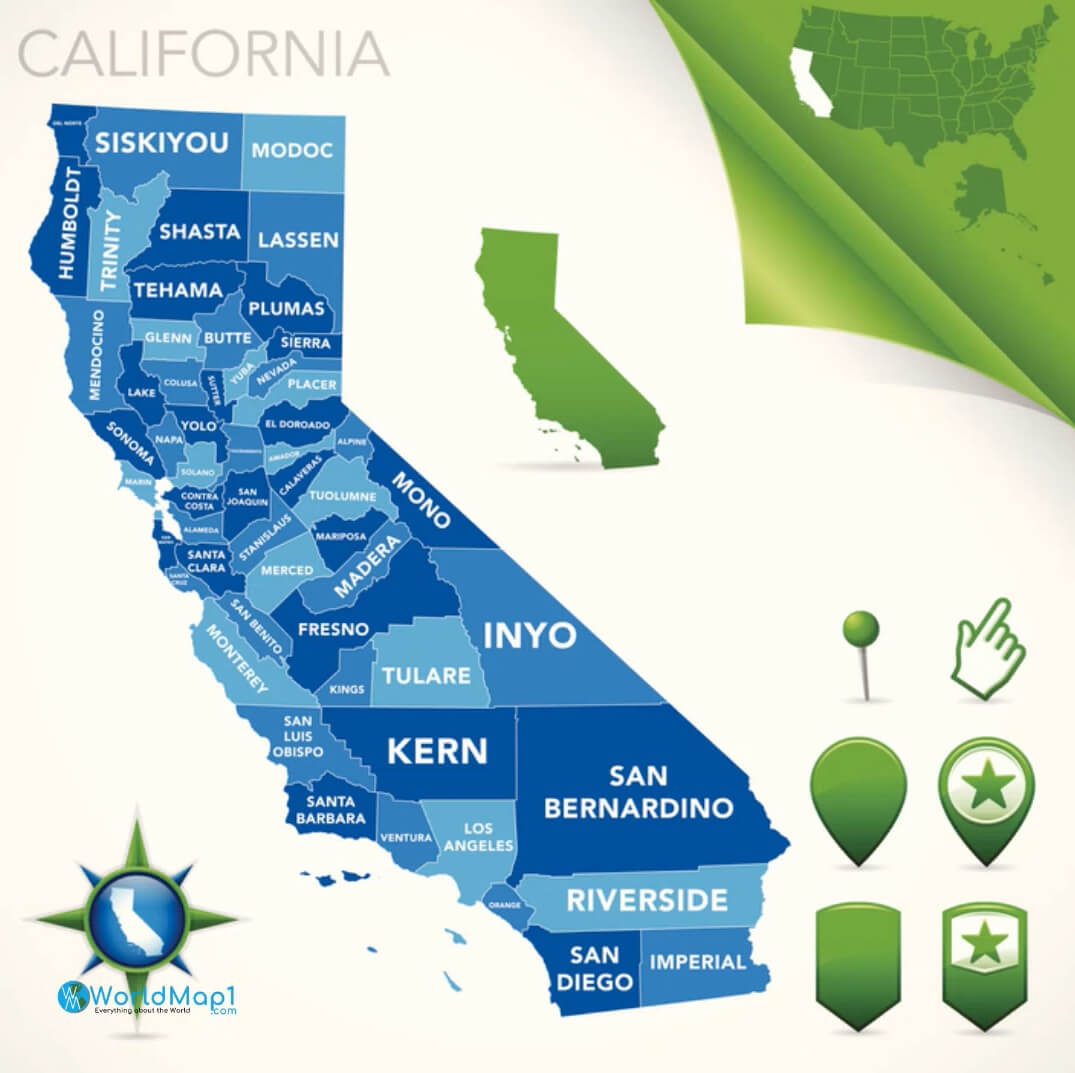 California City Maps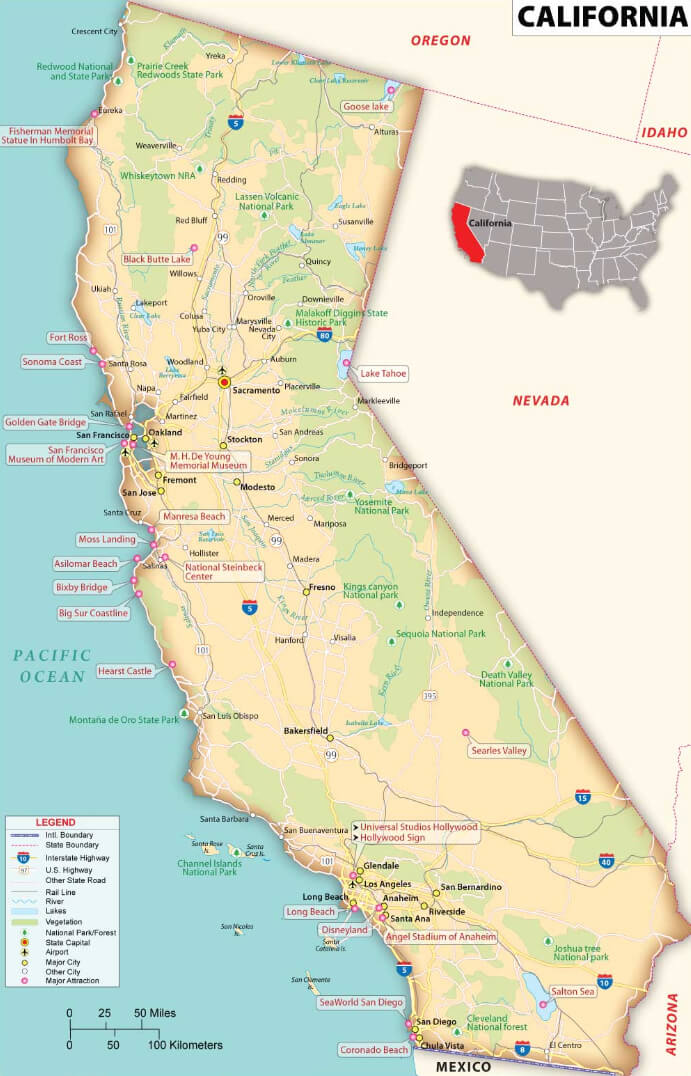 California Rivers and Lakes Map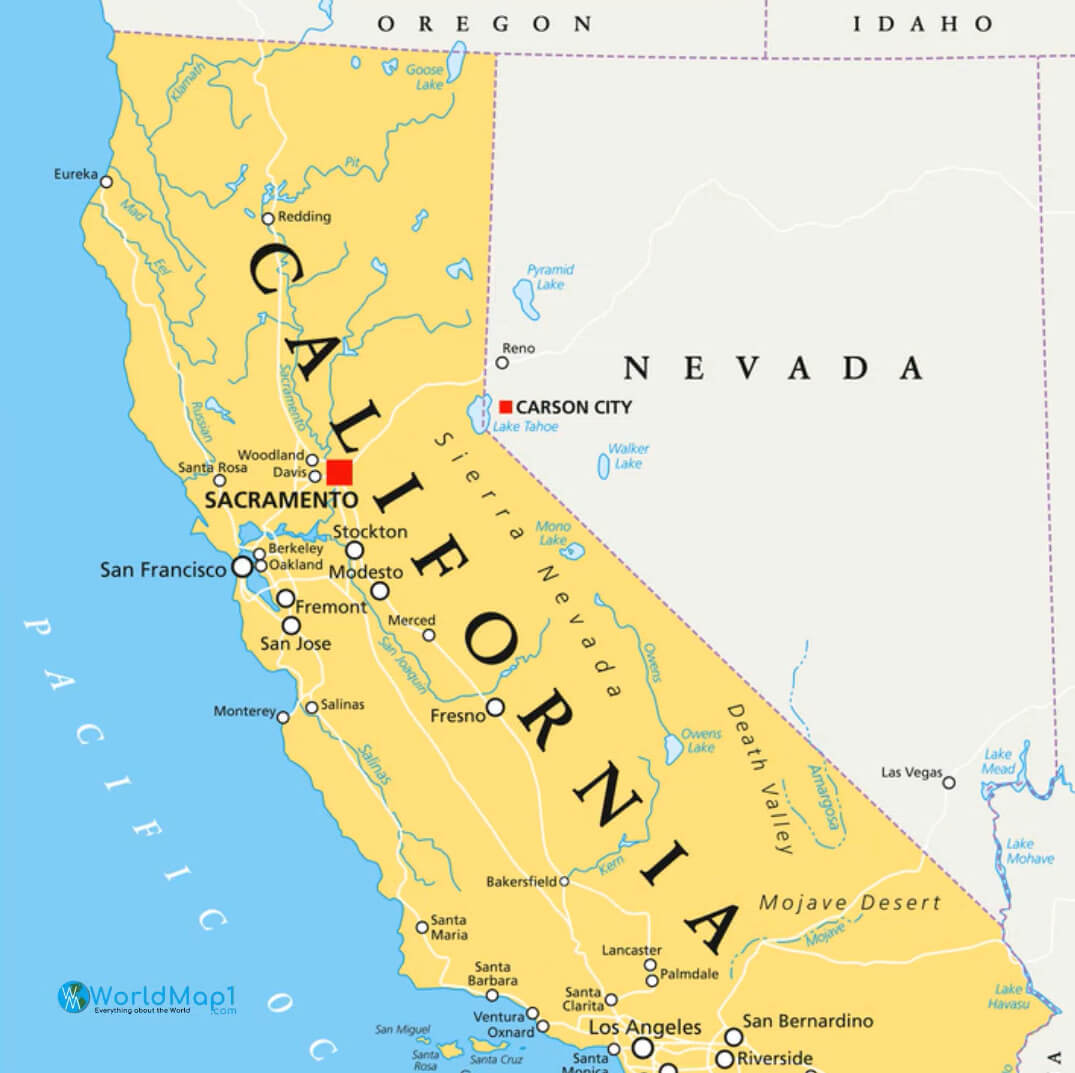 California Zip Code Maps
California Counties Map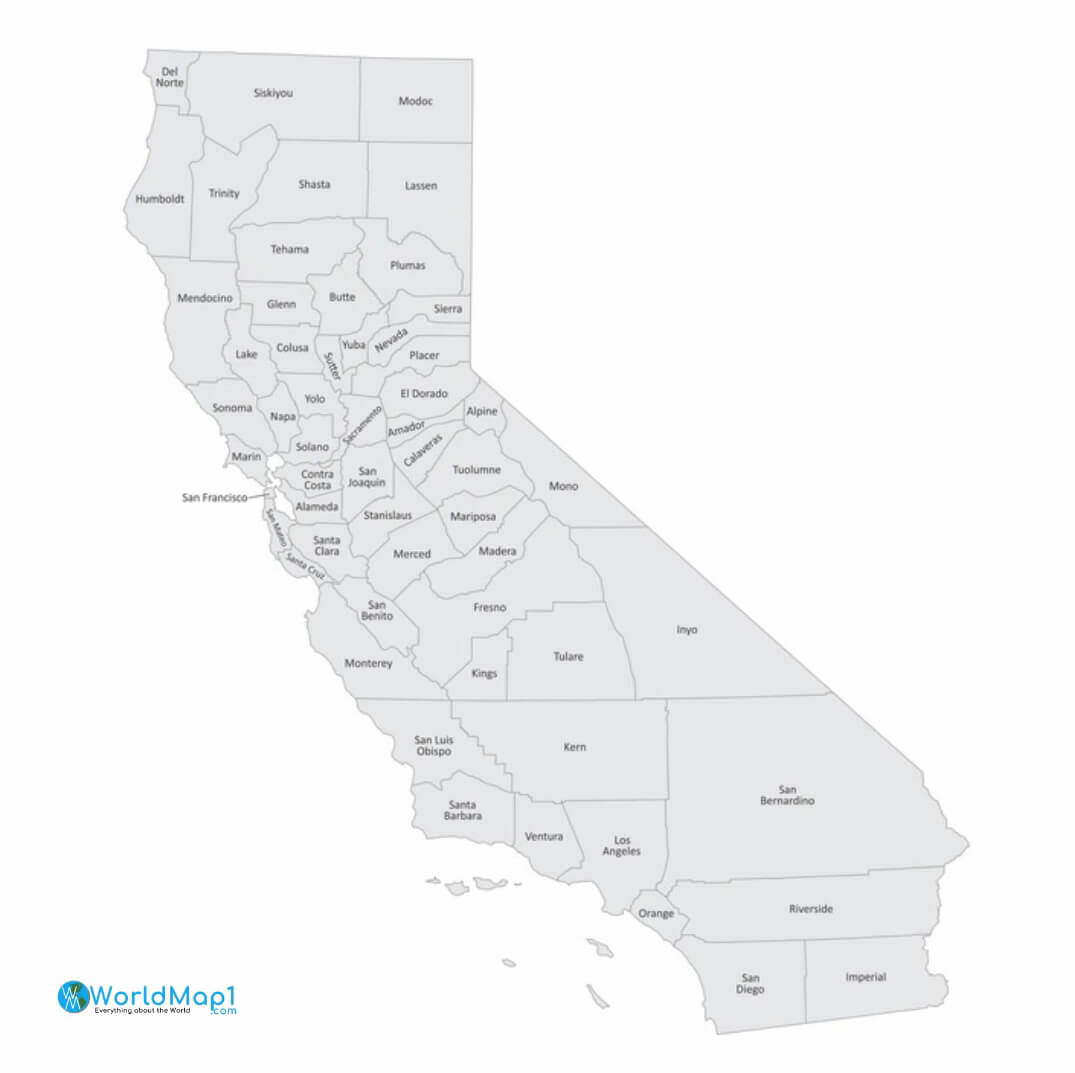 California Territory Map
California's Largest Cities Map
Los Angeles Map, CA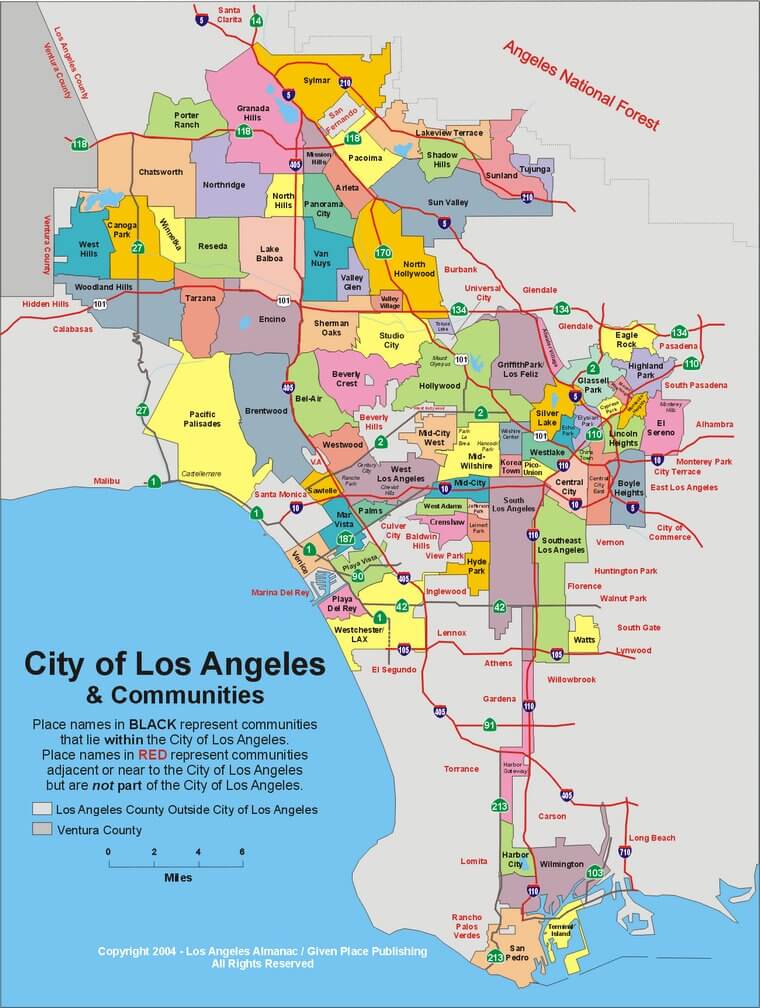 San Francisco Map, CA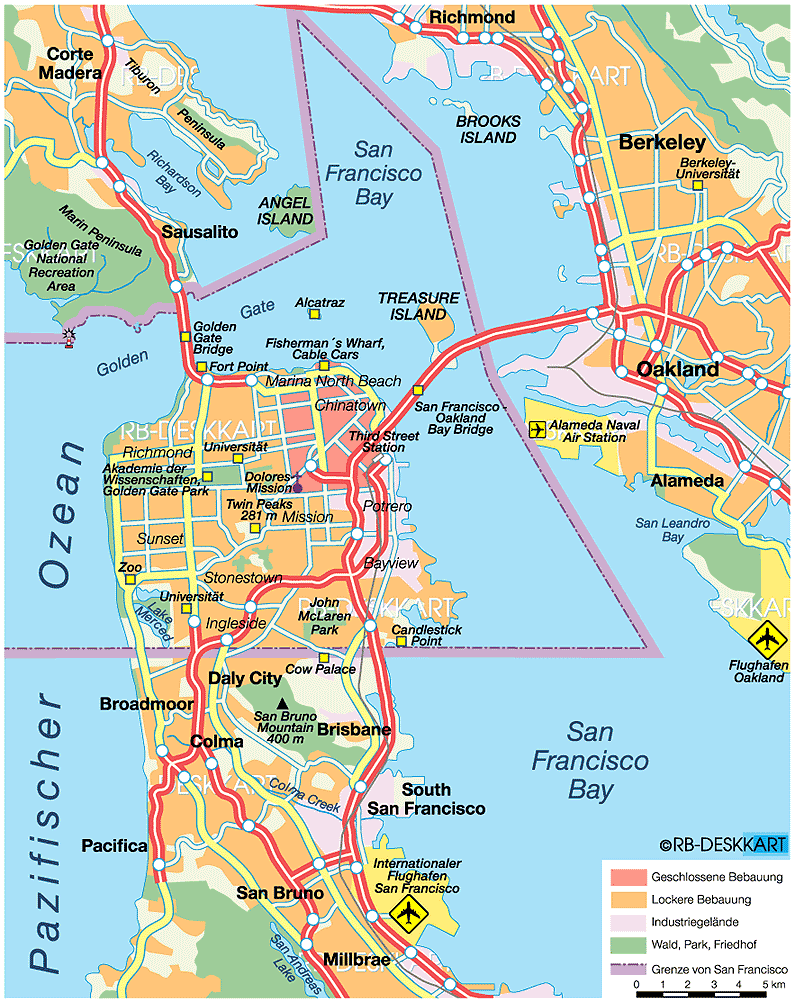 San Jose Map, CA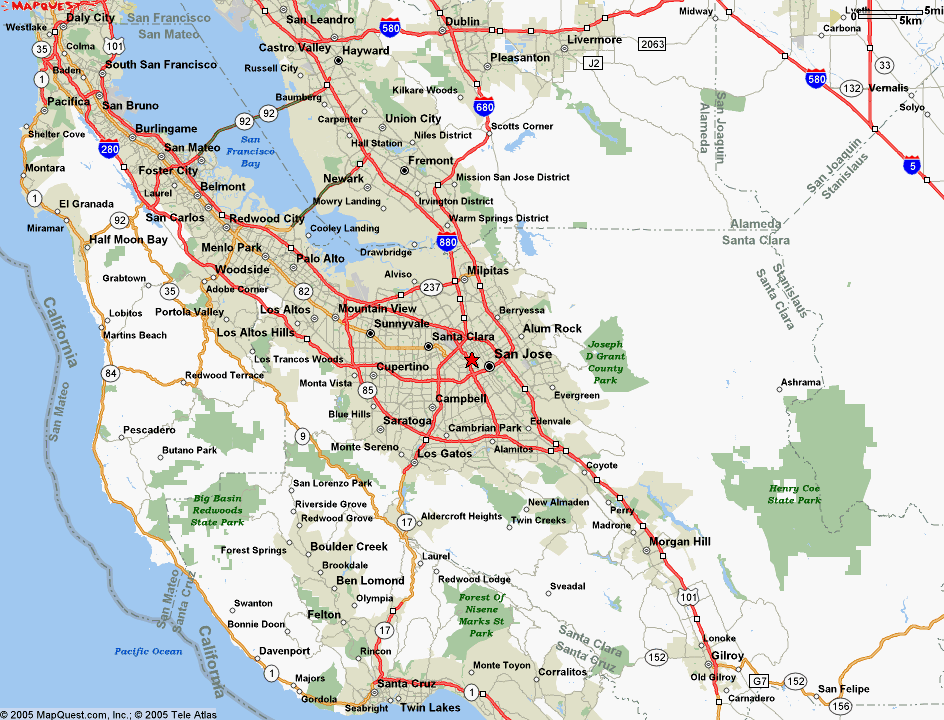 San Diego Map, CA
Sacramento Map, CA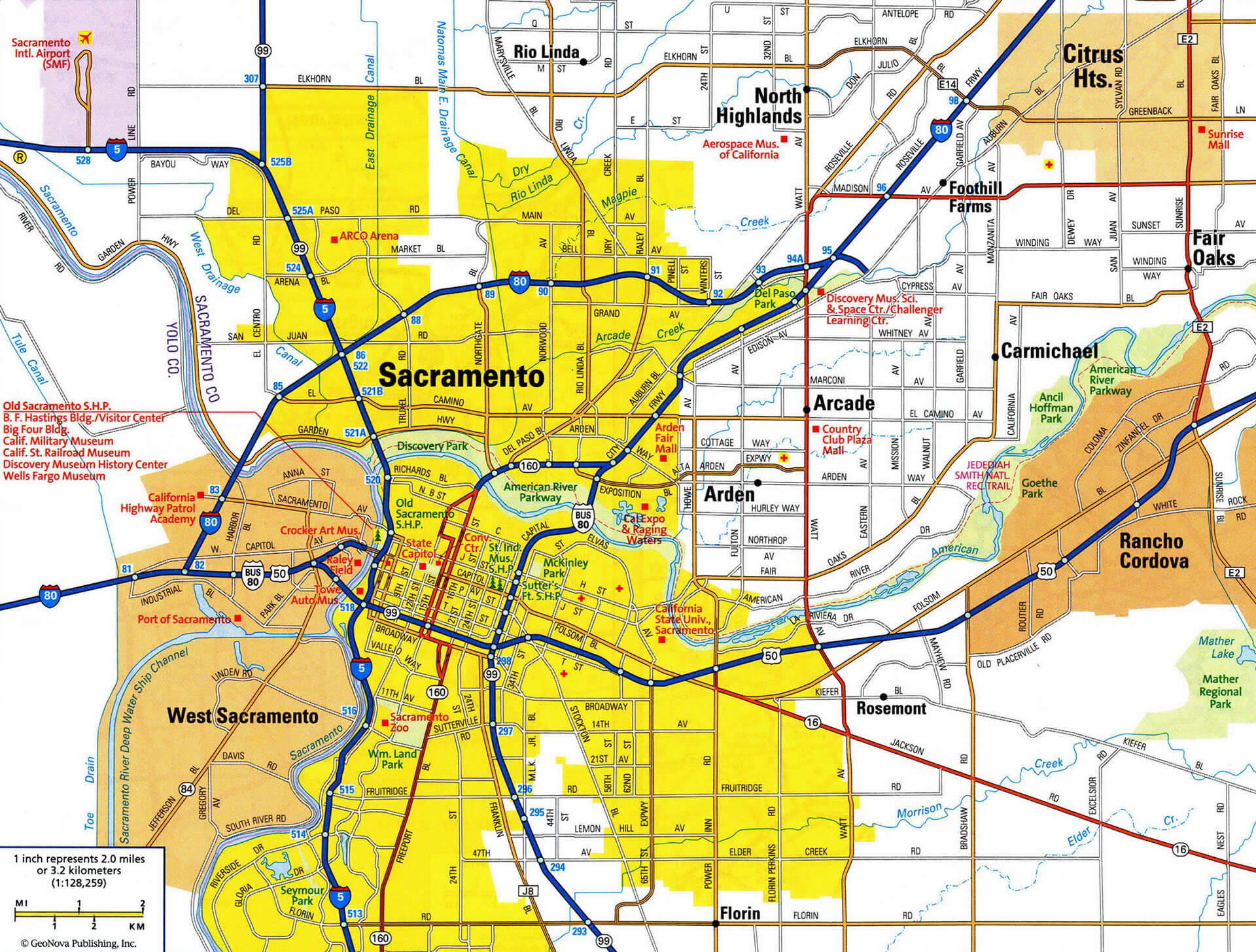 Fresno Map, CA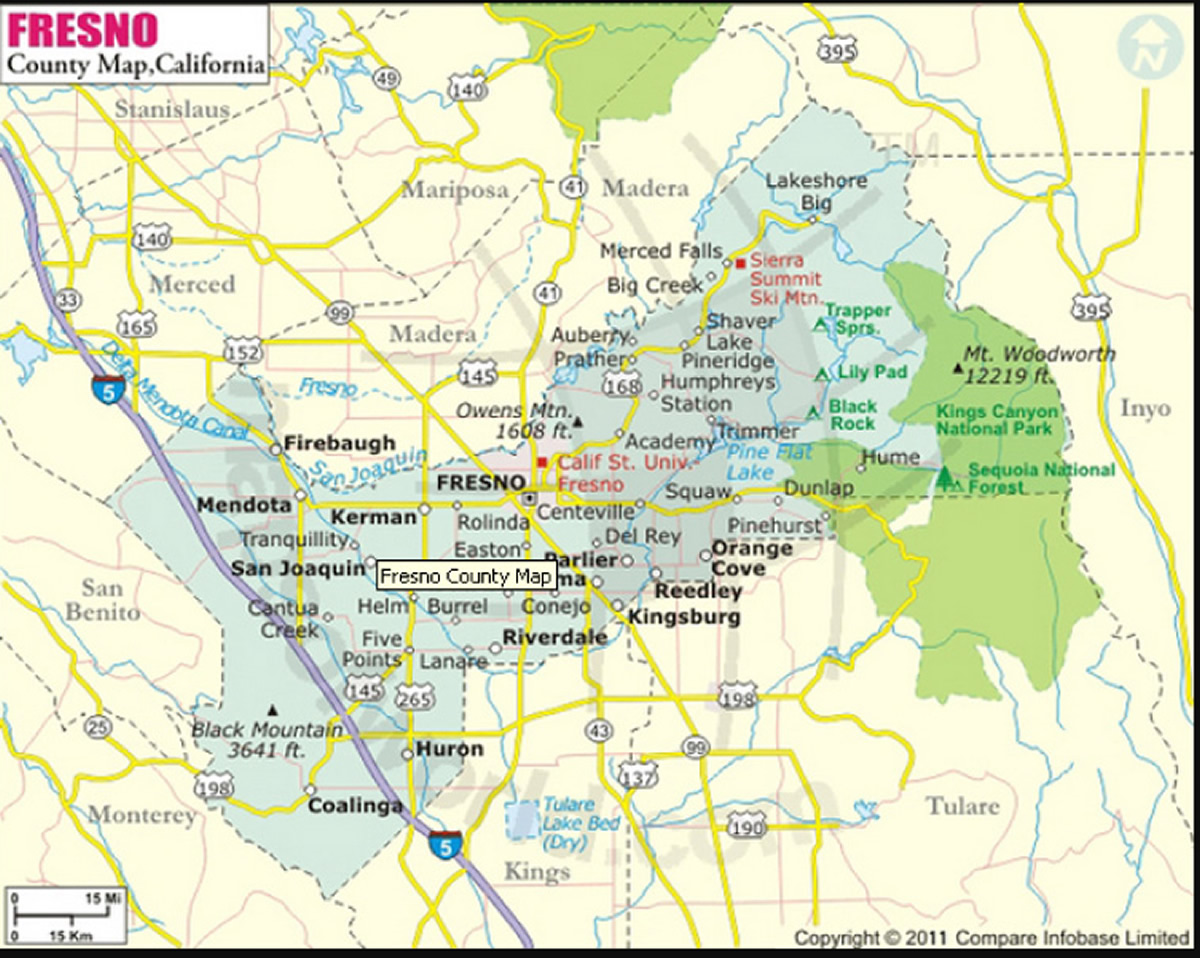 Long Beach Map, CA
Oakland Map, CA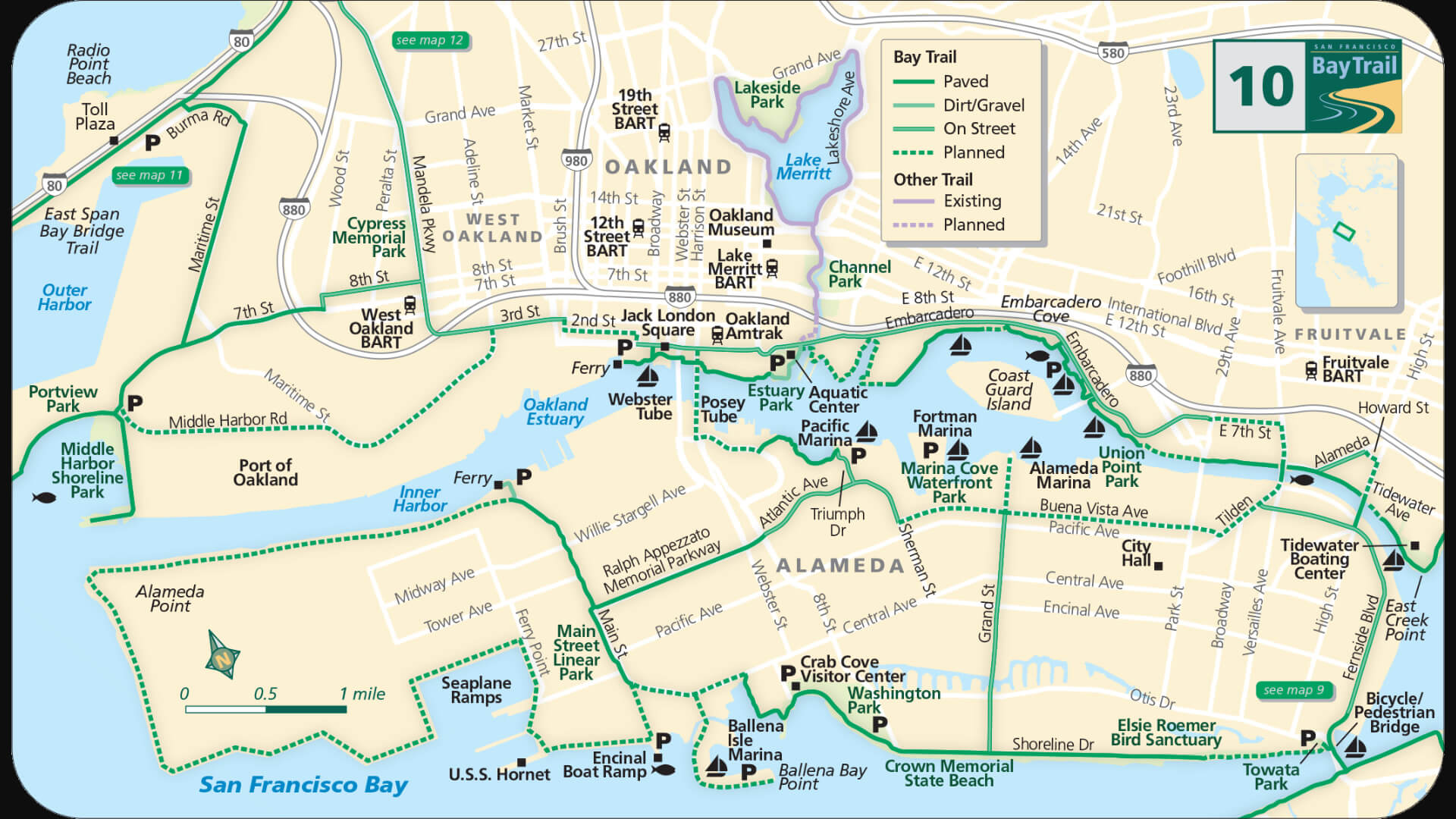 Bakersfield Map, CA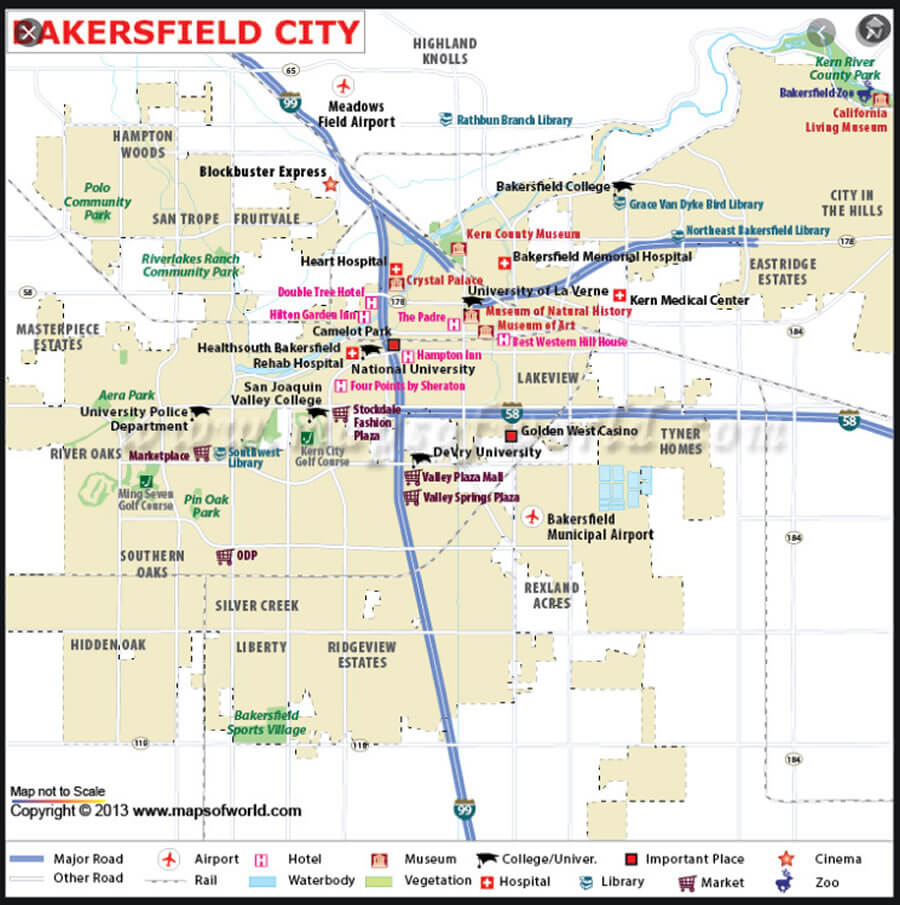 Anaheim Map, CA