Unlocking the Charms of Prague: The Ultimate Top 10 Experiences Guide
Please subscribe on "World Guide" channnel on Youtube at
youtube.com/c/WorldGuide
In the following guide, we will explore the top 10 things to do in Prague. Whether you're an avid historian, a lover of arts, a foodie, or someone seeking an immersive cultural experience, Prague has something to offer you. Get ready to uncover hidden gems, savor traditional Czech cuisine, admire awe-inspiring architecture, and experience the city's dynamic nightlife. Let's embark on this unforgettable journey to explore the wonders that Prague has in store for you!
Here are the 10 best places to visit in Prague:
1. Prague Zoo
"An Adventure in the Wild Heart of Prague: The Unforgettable Prague Zoo"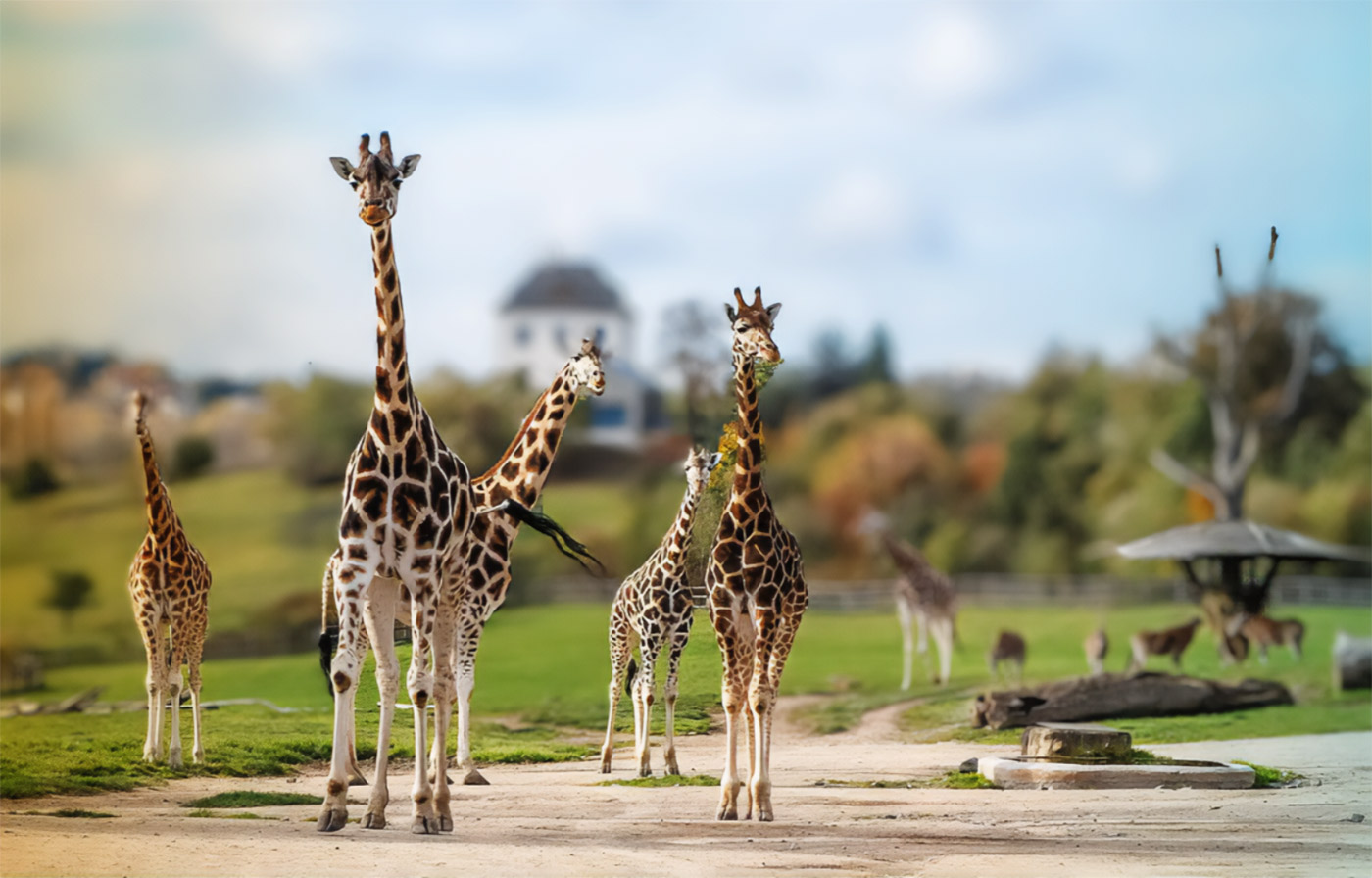 During my myriad of journeys through the eclectic city of Prague, one unexpected detour became a surprise highlight: the captivating Prague Zoo. Tucked away in the leafy Troja district, a scenic boat ride away from the city center, this vast, verdant oasis is home to over 5,000 animals representing nearly 700 species, some of them rare and endangered. It's a veritable Noah's Ark that invites you to embark on an extraordinary global expedition without ever leaving the city.
Strolling through its meticulously crafted habitats, you'll find everything from majestic elephants and playful penguins to the charismatic Komodo dragons. One moment you're in the savannah, marveling at giraffes gracefully prancing around; the next, you're in the Indonesian jungle, captivated by the orangutans' expressive gaze. What makes the Prague Zoo even more special is its commitment to animal conservation, evident in initiatives like their successful breeding of the critically endangered Przewalski's horse. This isn't just a zoo; it's a living testament to the beauty and diversity of our planet's wildlife, and an urgent call to protect them. If you're an animal lover or traveling with kids, or simply seeking a serene retreat from the city's hustle and bustle, a visit to Prague Zoo is an absolute must.
2. Staromestske Namesti
"Stepping Back in Time: A Day in Staromestské Námestí, Prague's Historic Heart"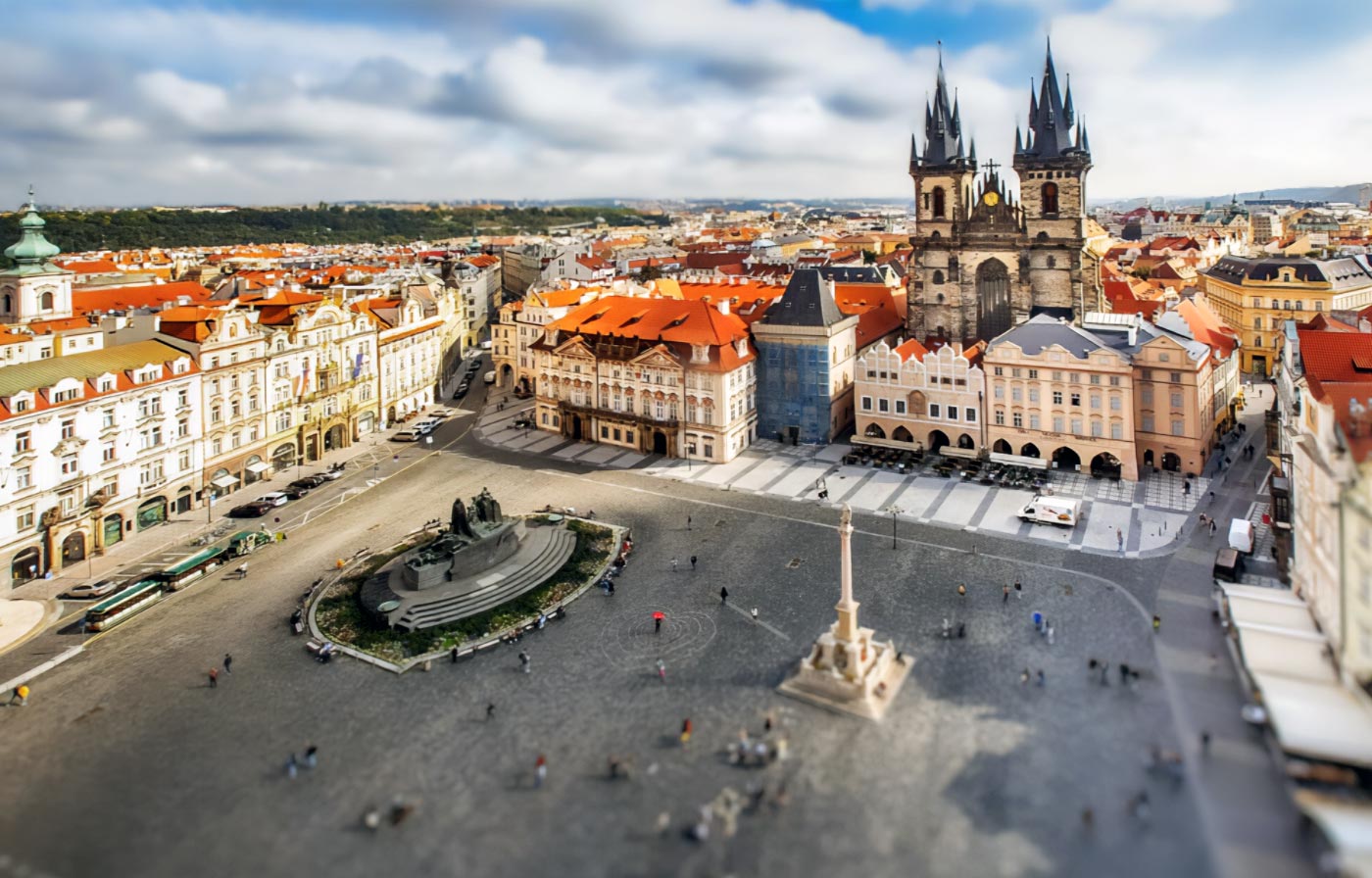 When in Prague, a visit to the Staromestské Námestí, or Old Town Square, is akin to stepping inside a rich, vivid tapestry of history. This bustling hub, nestled in the heart of Prague's Old Town, feels like an open-air museum teeming with architectural wonders from different epochs. From the grandeur of the Gothic Týn Church and the Baroque splendor of St. Nicholas Church, to the Art Nouveau beauty of the Old Town Hall with its mesmerizing Astronomical Clock, the square is an art lover's dream come true.
As you wander around this labyrinthine plaza, the city's historical narrative unfurls in front of your eyes. Each cobblestone here whispers tales from Prague's past - of medieval merchants, regal processions, and momentous revolutions. Stop by at a café for a glass of traditional Czech beer, savoring the square's vibrant atmosphere enhanced by street musicians and artists. When night descends, the square takes on a magical glow, with the lit up monuments casting an enchanting shadow play. So, whether you're a history buff, an architecture enthusiast, or a curious traveler seeking the quintessential Prague experience, Staromestské Námestí is where the city's heartbeat is most palpable. Remember to pack your camera - and a sense of wonder.
3. Charles Bridge
"Crossing Centuries: A Walk Down the Iconic Charles Bridge in Prague"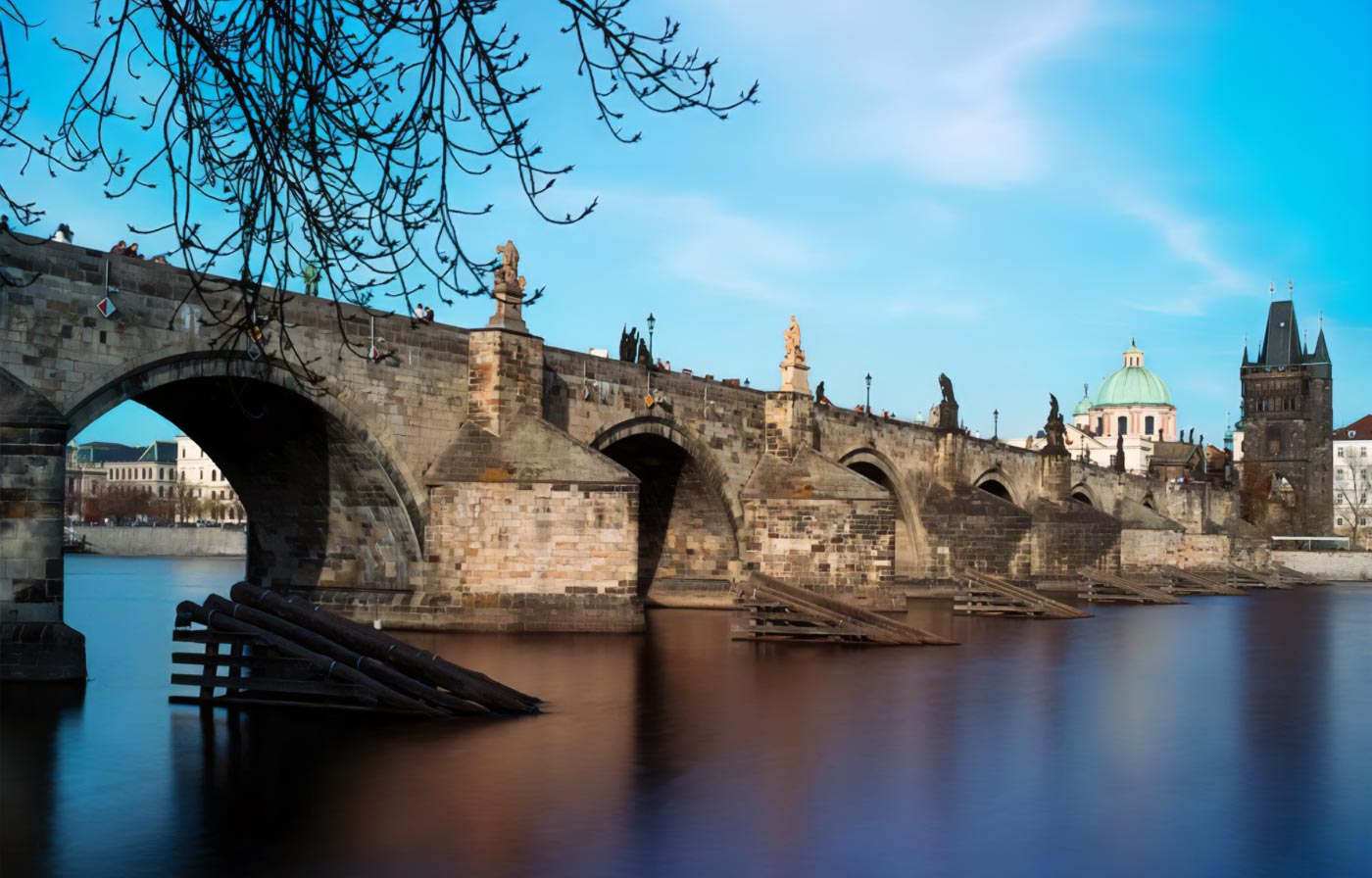 Few places encapsulate the soul of Prague quite like the Charles Bridge. A stalwart sentinel spanning the tranquil Vltava River, this iconic stone bridge connects the city's Old Town with the majestic Prague Castle district. Built by King Charles IV in the 14th century, the bridge's enduring allure lies not just in its historic grandeur, but in the timeless tales it tells, the artists it inspires, and the breathtaking panorama it offers.
A stroll across the Charles Bridge is akin to a journey back in time. Lining the parapet are 30 baroque statues, silent witnesses to the city's bygone eras and ever-changing landscape. Each dawn, the bridge transforms into a serene vantage point, offering ethereal views of the sun-kissed cityscape, while twilight sees it metamorphose into a vibrant social hub, alive with musicians, painters, and souvenir sellers. Amid the hustle and bustle, don't forget to touch the statue of St. John of Nepomuk - local legend promises good luck and a guaranteed return to Prague to those who do. Whether you're a romantic, a historian, or a curious explorer, the Charles Bridge promises a memorable blend of history, artistry, and breathtaking views. Prepare to leave a piece of your heart in Prague, as you cross this legendary bridge.
4. St. Vitus Cathedral
"Reaching for the Sky: The St. Vitus Cathedral, Prague's Architectural Masterpiece"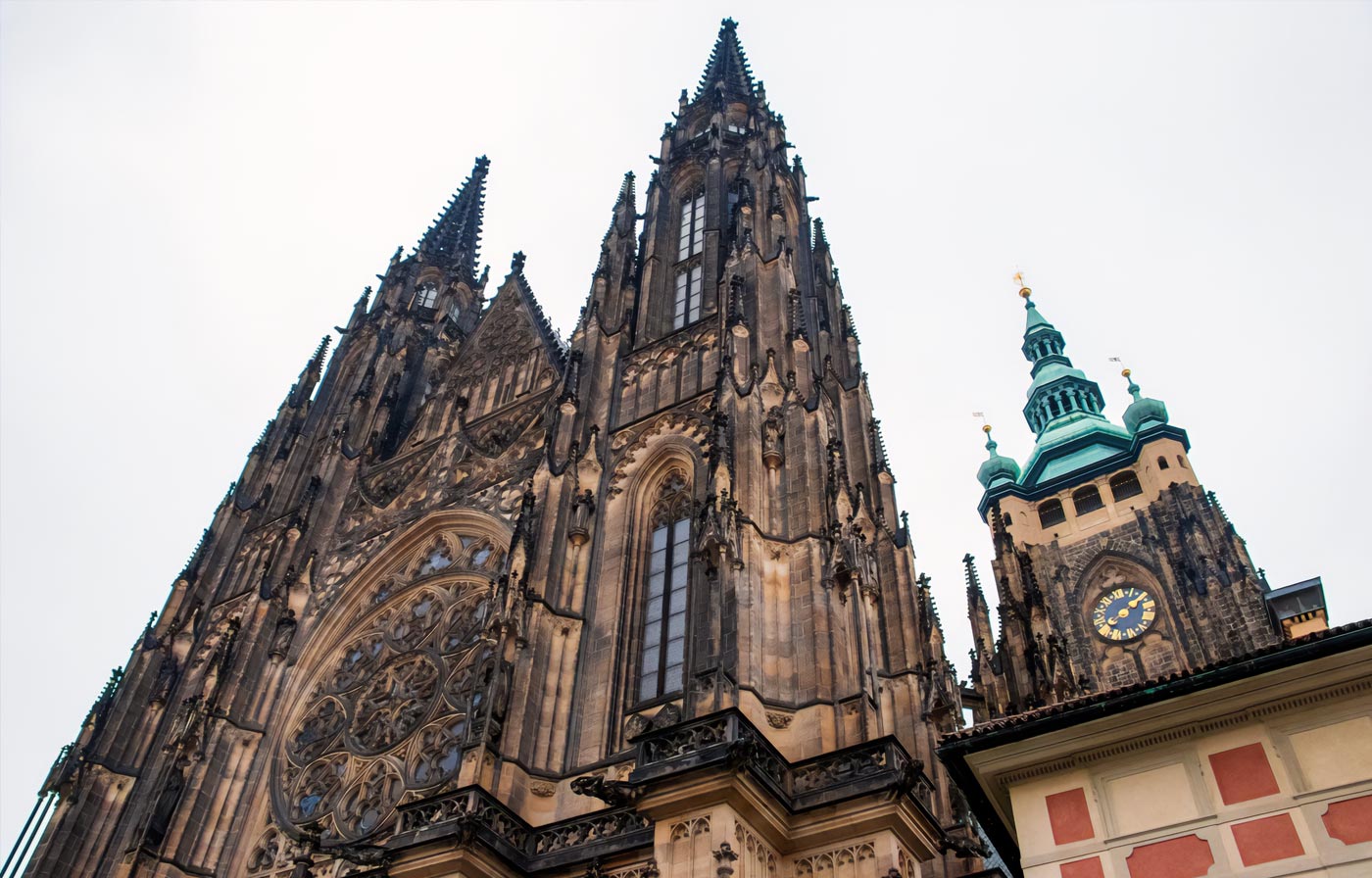 Perched atop the Castle Hill, commanding an impressive view of the city, the St. Vitus Cathedral is more than just a place of worship - it's a breathtaking architectural symphony that charts the course of Prague's history. With its soaring Gothic spires and stunning stained-glass windows, this cathedral, the largest in the country, has stood as a testament to the city's religious, cultural, and artistic heritage since the 14th century.
Inside, the cathedral unfolds a treasure trove of art and history. From the ornate chapels adorned with frescoes and gem-studded relics, to the royal crypt housing the tombs of Bohemian kings and queens, every corner tells a story. Climb up the Great South Tower to take in an unrivaled view of Prague, a sprawling panorama of red roofs, verdant parks, and the meandering Vltava River. The cathedral's beauty is particularly enchanting when bathed in the soft glow of the setting sun, its shadowy recesses sparking with an air of divine mystery. Whether you're a lover of history, architecture, or simply drawn to the allure of sacred spaces, the St. Vitus Cathedral is an unmissable stop on your Prague itinerary. Come prepared for awe-inspiring sights, and leave with a deeper understanding of Prague's soul.
5. Prague Castle
"Stepping into a Storybook: Discovering the Regal Splendor of Prague Castle"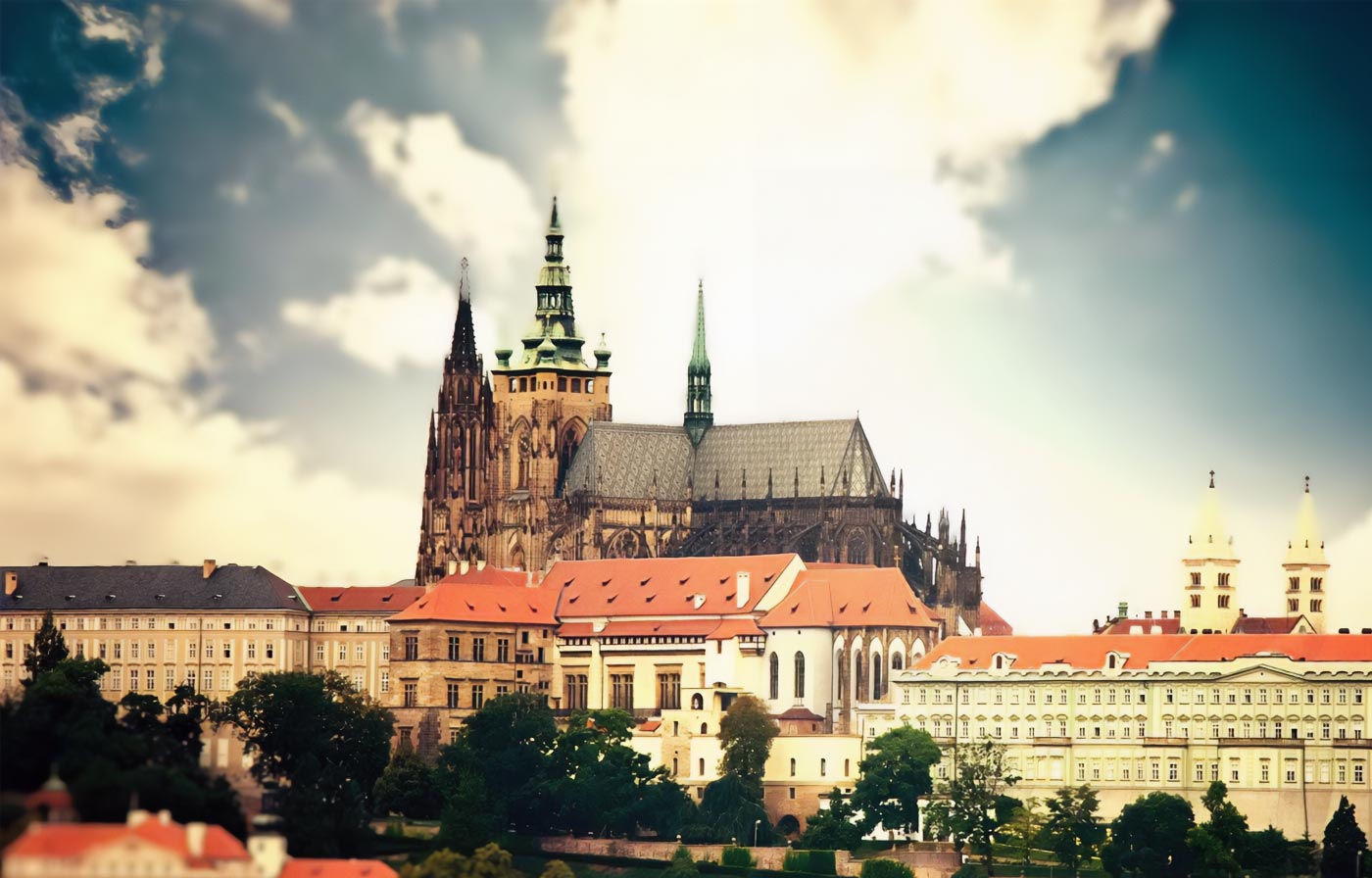 As a lover of tales steeped in history and grandeur, my visit to Prague Castle was nothing short of a dream. Perched high above the city, this magnificent castle complex has reigned supreme over Prague's skyline since the 9th century. With its collection of palaces, churches, and fortifications, each echoing a different architectural style and epoch, the castle offers a captivating glimpse into the city's royal past.
Begin your exploration with the awe-inspiring St. Vitus Cathedral, a masterpiece of Gothic design. Wander through the Old Royal Palace with its impressive Vladislav Hall, once a venue for coronations, banquets, and even jousting tournaments. Don't miss the quaint Golden Lane, a colorful row of 16th-century artisan cottages, now turned into a charming array of shops and exhibitions. Standing on the castle's viewing spots, you can drink in sweeping views of the red rooftops of Prague, the shimmering Vltava River, and the city's many spires - a sight that leaves you breathless. As day turns into night, the illuminated castle transforms into a fairy-tale vision, casting a spell over the city below. For anyone seeking to unravel Prague's history and romance, the Prague Castle is an enchanting journey that bridges the past with the present. So, dust off your imagination and let the castle's tales whisk you away to a time of knights, kings, and hidden treasures.
6. Lesser Town
"Beyond the Beaten Path: The Charm of Prague's Lesser Town"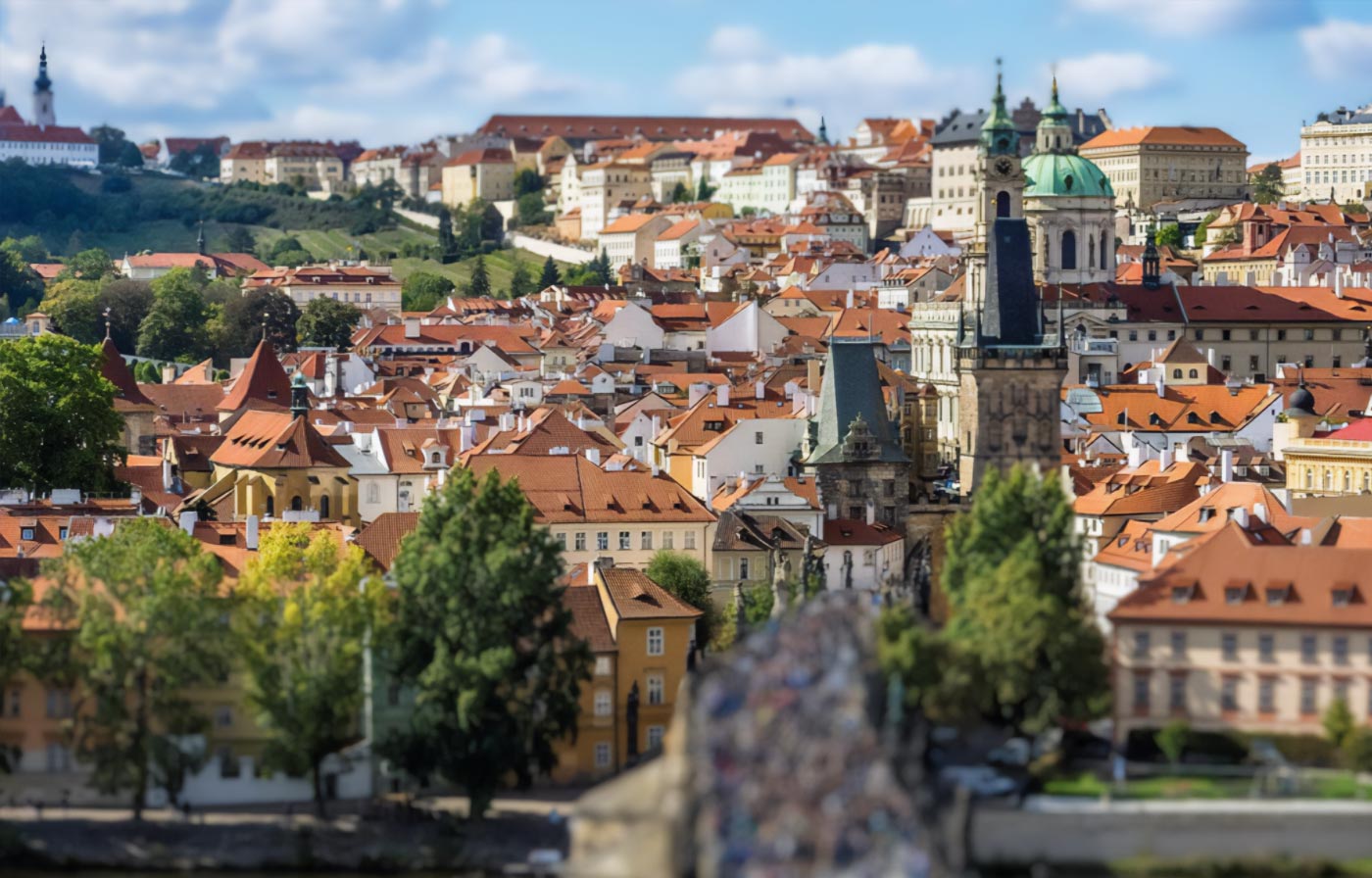 Stepping into the Lesser Town (Malá Strana), nestled snugly beneath Prague Castle, feels like entering a picturesque postcard brought to life. Known for its beautiful baroque buildings, quaint cobbled streets, and hidden garden retreats, this historic district offers a serene respite from Prague's bustling city center, all while brimming with its own vibrant character.
Meander through the maze-like streets, letting them guide you to unexpected architectural gems, such as the stunning St. Nicholas Church, or the Lennon Wall, a symbol of peace and rebellion covered in vibrant graffiti and Beatles' lyrics. Visit the Wallenstein Garden, where peacocks roam free among sculpted hedges, reflecting pools, and a grandiose palace. Enjoy a leisurely meal at a local tavern, savoring traditional Czech dishes as you soak up the ambiance of this enchanting neighborhood. And as the day wanes, find a spot on the iconic Charles Bridge to catch a breathtaking sunset over the terracotta rooftops. The Lesser Town isn't just a side note to the Prague Castle; it's a destination in its own right, promising a mix of historical treasures, local flavors, and tranquil moments. So, put on your most comfortable shoes and let the Lesser Town's charm lead you on an unforgettable exploration.
7. Vysehrad National Cultural Monument
"Rediscovering Roots: The Vyšehrad National Cultural Monument, Prague's Legendary Citadel"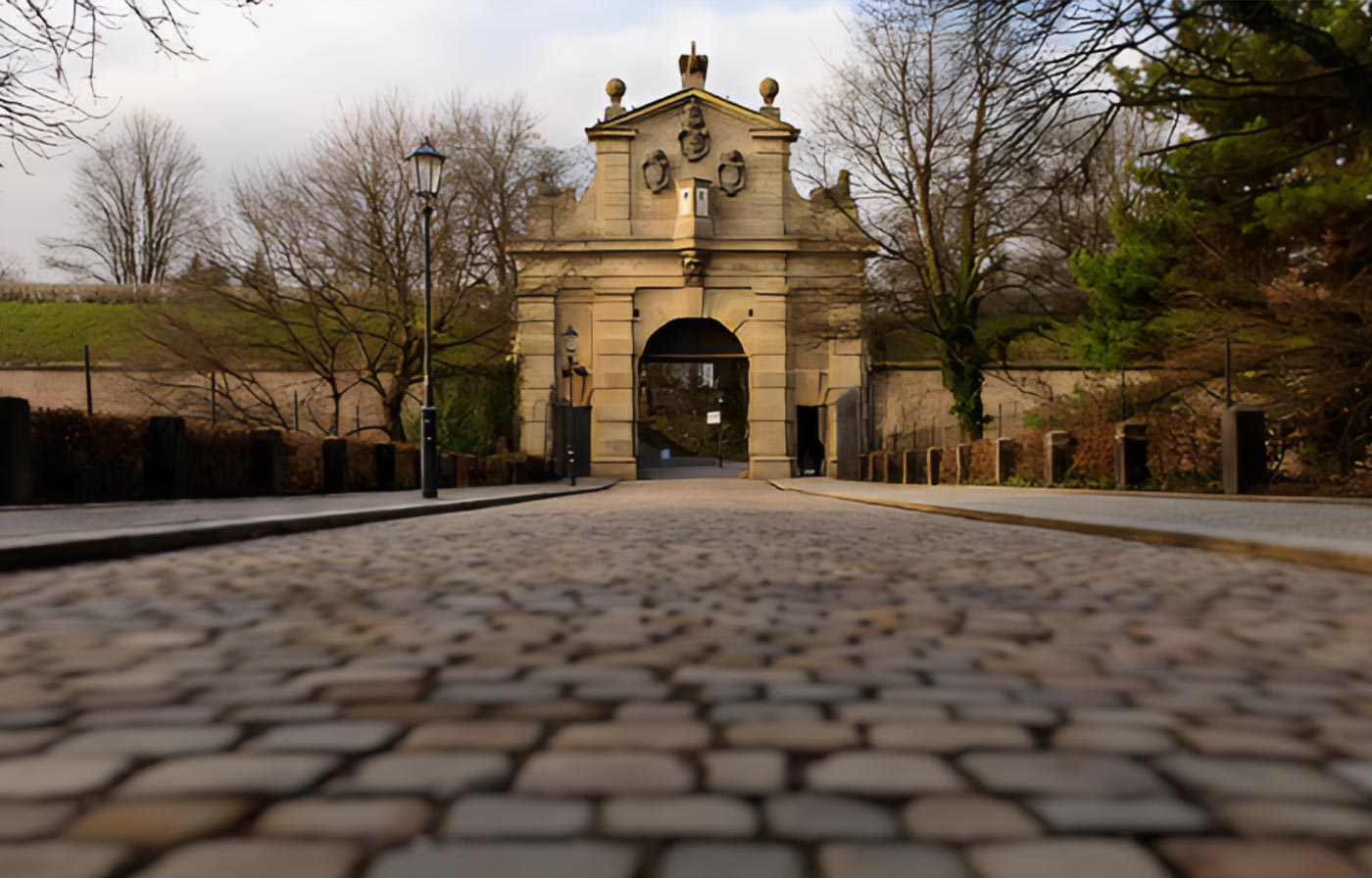 When it comes to Prague's sights, the Vyšehrad National Cultural Monument often remains an unsung hero. Yet, perched on a rocky bluff overlooking the Vltava River, this historic fortress represents a significant chapter in Prague's storied past. Steeped in mythology and history, Vyšehrad, or "the Upper Castle," is said to be the birthplace of Prague, offering a less-trodden path of discovery for those who venture beyond the city's popular tourist trails.
Walking through Vyšehrad's tranquil parkland, you'll find remnants of its medieval fortifications, the neo-Gothic Church of St. Peter and St. Paul, and the peaceful Vyšehrad Cemetery, the final resting place of many Czech luminaries, including composers Antonín Dvorák and Bedrich Smetana. The highlight of your visit might just be the panoramic view of Prague - a stunning vista of the city's red rooftops, soaring church spires, and the meandering Vltava River, all from a vantage point far from the madding crowd. As you stroll through the quiet pathways of Vyšehrad, you connect with Prague's past in a more profound and personal way. For those seeking a mix of history, culture, and natural beauty - all served with a dash of tranquility - Vyšehrad offers a sublime slice of Prague away from the city's usual hustle and bustle. So come, uncover the legend of Vyšehrad and create your own Prague story.
8. Gallery of Steel Figures
"Embracing the Art of the Extraordinary: A Visit to Prague's Gallery of Steel Figures"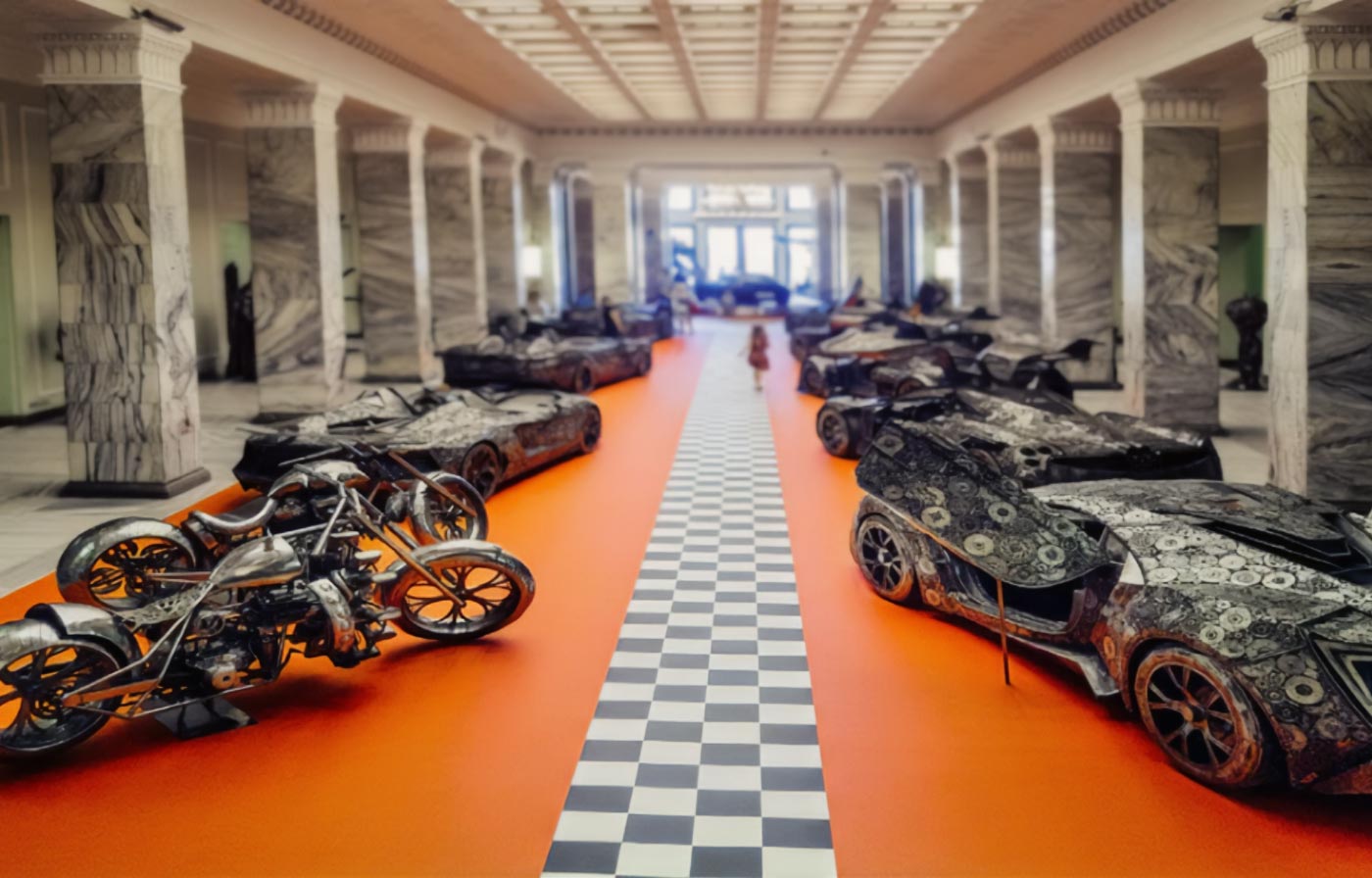 In a city renowned for its historic and architectural grandeur, the Gallery of Steel Figures offers a unique twist on Prague's art scene. Nestled in the heart of the city, this eclectic museum is a playground for the imagination, showcasing the creative potential of an often overlooked material - scrap metal. As a seasoned explorer always on the hunt for the novel and the unconventional, I found this gallery to be a fascinating deviation from the city's classic attractions.
The moment you step into this steel wonderland, you're greeted by a pantheon of pop culture icons, all intricately crafted from scrap car parts. Be it life-sized Transformers, whimsical Disney characters, or iconic vehicles like the Batmobile, each piece is a testament to the artists' skill and creativity. Don't forget to check out the interactive exhibits where you can touch, climb, or even sit on some of the figures. And yes, it's a selfie heaven - so get your camera ready! The Gallery of Steel Figures is more than just a museum, it's a testament to the transformative power of art and a must-visit for anyone looking to experience Prague's contemporary, quirky side. So, are you ready to step into this world where whimsy meets creativity? As they say, steel yourself for an experience unlike any other!
9. Old Town Hall with Astronomical Clock
"Unlocking Time: The Old Town Hall with Astronomical Clock - Prague's Timeless Wonder"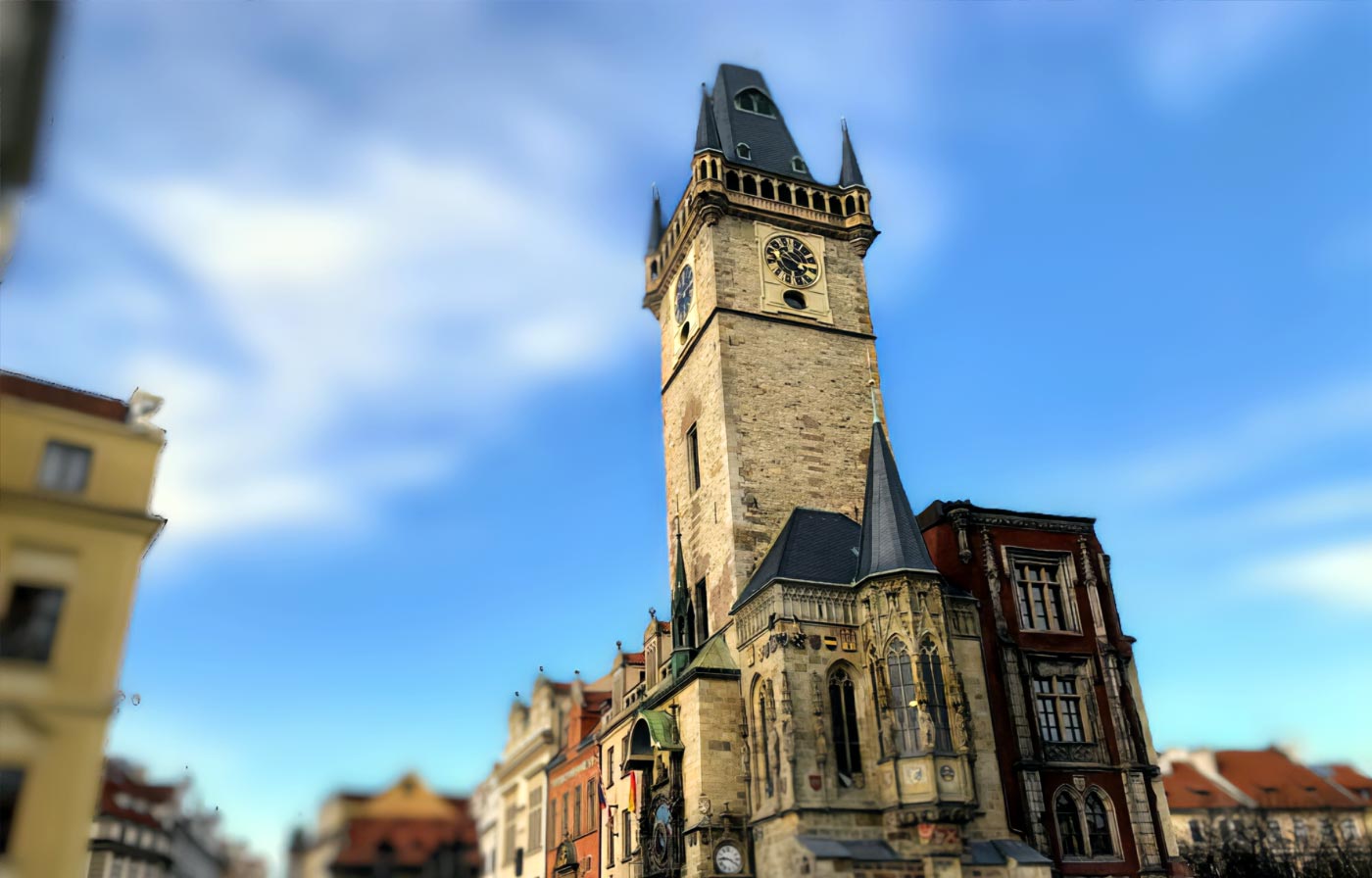 In the heart of Prague's historic Old Town Square stands a marvel that has witnessed the passage of time for over six centuries - the Old Town Hall with its Astronomical Clock. This iconic edifice, a blend of Gothic and Renaissance architectural styles, is a testament to Prague's rich history and ingenuity. As a traveler fascinated by the intersections of time, history, and art, I found the Astronomical Clock, or Orloj, to be a mesmerizing spectacle.
Gather around the clock as the hour approaches and join the crowd that forms to witness its mechanical performance - a captivating dance of figures symbolizing the passing of time. The twelve apostles parade past the small windows, while other figures, like the skeleton ringing a bell, remind us of life's fleeting nature. Make sure to climb the Old Town Hall tower - an elevator ride whisks you up to a viewing gallery offering a stunning 360-degree view of Prague's skyline, a sea of terracotta roofs, and the bustling square below. The Old Town Hall with Astronomical Clock isn't just a landmark; it's a living, ticking piece of history that embodies the spirit of Prague. Whether you're a history buff, an architecture lover, or a romantic soul, this timeless spectacle will leave you spellbound. So, step into the rhythm of Prague and let the Astronomical Clock unveil the city's magic, one hour at a time.
10. Lobkowicz Palace
"Diving into a Royal Legacy: A Visit to Lobkowicz Palace, Prague's Hidden Gem"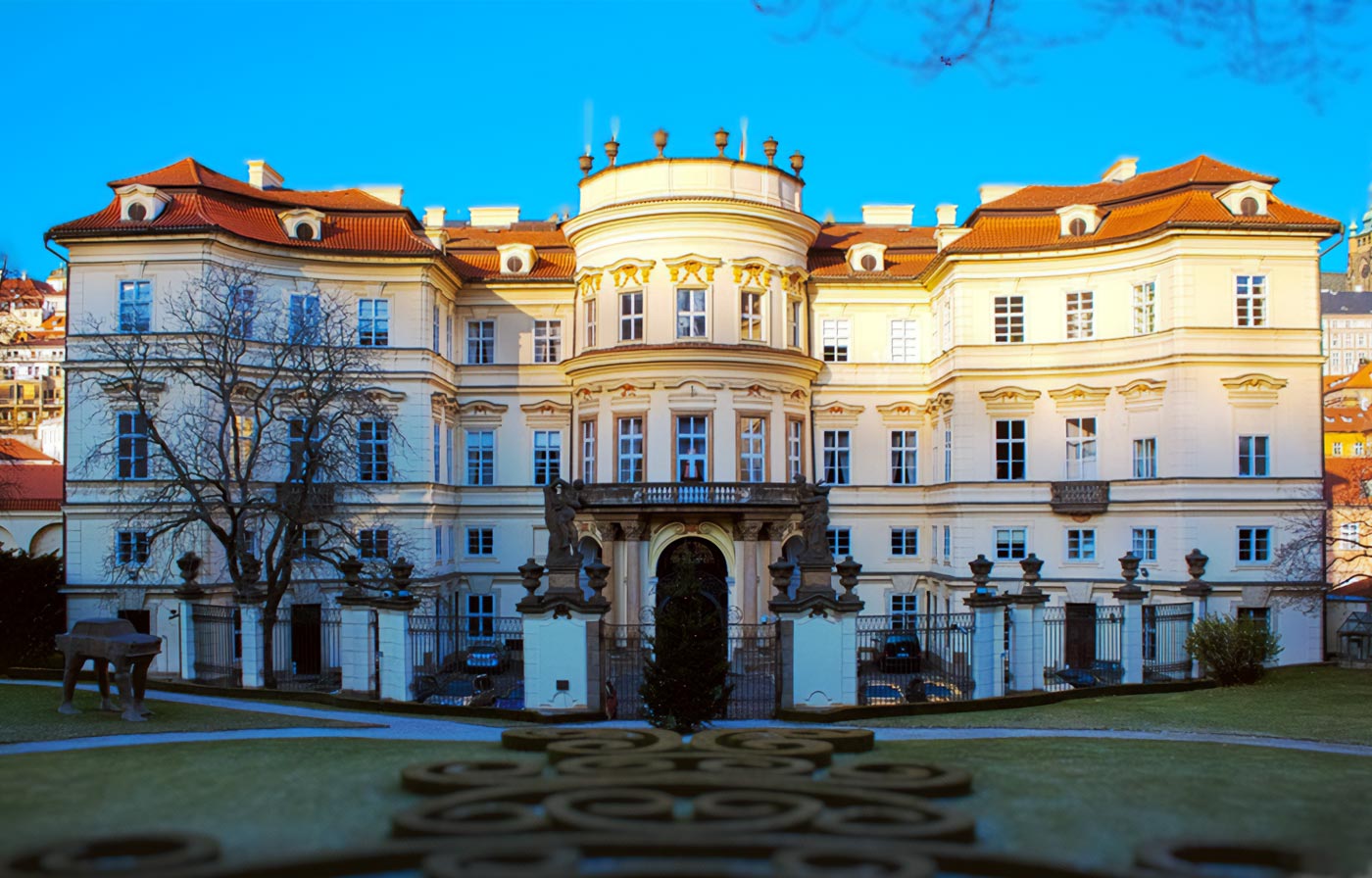 Tucked away within the sprawling Prague Castle complex, the Lobkowicz Palace often doesn't get the spotlight it deserves. Yet, as I discovered on my visit, this elegant Baroque palace houses one of the most fascinating private collections in Europe, offering a rich, immersive dive into centuries of European art, history, and music.
Step inside, and you're transported into a world of royal opulence. The palace's 22 exhibition rooms showcase a wide array of treasures from the Lobkowicz family's private collections - from Spanish and Flemish masterpieces, intricate decorative arts, to an impressive assortment of historic musical instruments and original scores by composers like Mozart and Beethoven. Don't miss the palace's balcony that offers a breathtaking panoramic view of the city, or the elegant café where you can enjoy a slice of the famous Lobkowicz torte. As a visitor, you're not just observing a static display; instead, you're invited to explore a living legacy, narrated beautifully via an audio guide by the current family members. The Lobkowicz Palace isn't just a museum; it's a journey through time that paints a vivid portrait of the people, passions, and dramas that shaped Prague's past. For those seeking to delve beneath the city's surface, the palace promises an enriching and intimate encounter with history. So, allow yourself to get lost in the grandeur of the Lobkowicz Palace - and leave with a treasure trove of stories.
As my journey through the enchanting city of Prague concludes, I leave you with this thought: Prague isn't merely a destination to check off your list; it's a city to experience, to engage with, and to get lost in. It's a place that marries the old with the new, the grand with the intimate, the historical with the quirky. So wander its charming lanes, savor its hearty cuisine, immerse yourself in its rich history andc culture, and let the city's magic seep into your soul. As every local and repeat visitor will tell you - once you've felt the heart of Prague, you'll yearn to return. So here's to your own Prague adventure. Na zdraví!
Feel free to explore these pages as well: